Response Times Will Improve from 18 to Six Minutes on Average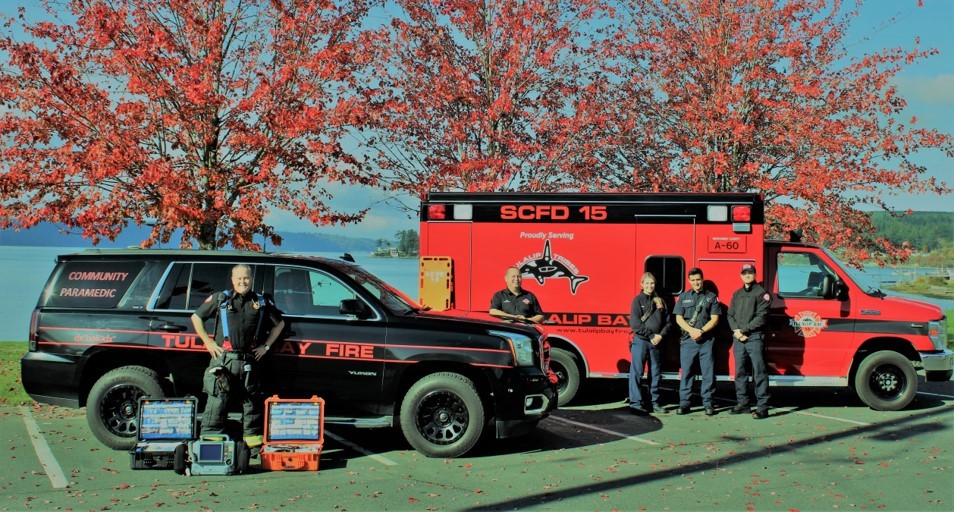 [Tulalip, Wash.] – The Tulalip Bay Fire Department (also known as Snohomish County Fire District 15) received a license to provide Advanced Life Support care from the State of Washington. This is the first time such care will be provided from sovereign lands, and will benefit all taxpayers in the district.
Previously, patients had to wait 18-23 minutes for a Paramedic to arrive. With the license, the Fire Department will employ full-time Paramedics to provide these services reducing the average response time to six minutes.
"This life-saving program is made possible thanks to the generosity of the Tulalip Tribes," said Fire Chief Ryan Shaughnessy. "We could not provide this level of service for all residents without tribal support, and we are grateful."
The Fire Department has a funding agreement with the Tulalip Tribes that makes this possible. In it, the Tulalips agree to pay the same amount in taxes as non-tribal members who own property in the Fire Department's service area.
Prior to receiving its license, the Fire Department provided Basic Life Support, or BLS. ALS stands for Advanced Life Support, and is the highest level of emergency medical care that an agency can provide. It includes medication therapy for stroke and cardiac events, advanced respiratory care, and seizure control for patients.
"We have had a Paramedic response to our fire district since the late 1960s," said Deputy Chief Jim Reinhardt who oversaw the license application. "We are grateful to the neighboring agencies who provided this type of mutual aid in the past."
There are two licenses that an agency can apply for in Washington State. One is for ALS Aid and the other is for ALS Transport. The Fire District secured its ALS Aid license, and will continue to rely on neighboring jurisdictions to transport patients to area hospitals. These partners include Arlington, Everett, the Marysville Regional Fire Authority, and the North County Regional Fire Authority.
Deputy Chief Reinhardt is a licensed Paramedic. The Fire Department is in the process of hiring another, who is expected to be on board in November.
The licensing process took approximately two years to complete, and was comprehensive. The Fire Department effectively had to prove it had an ALS program in place before it could qualify for a license. The state inspected its ambulances, equipment, pharmaceutical and narcotics tracking, certification of personnel, and daily audit of medications being used in response to calls.