Dazzling holiday tradition presented by Quil Ceda Village features outdoor skating rink, visits by Mr. & Mrs. Claus, The Grinch and Buddy the Elf, a holiday marketplace, which doubles last year's three million lights at Tulalip Resort Casino, Quil Ceda Creek Casino and Tulalip Bingo & Slots
TULALIP, Wash. (October 26, 2023) – The largest holiday lights display in Washington state will be back and twice as big as last year, when "Tulalip Lights" returns with a massive showcase of more than six million holiday lights brightening the winter sky starting at 4 p.m. Wednesday, November 22. Seasonal displays will adorn Tulalip Resort Casino (with 4.2 million lights alone!), Quil Ceda Village, Tulalip Bingo & Slots and Quil Ceda Village Retail Center, and will be on display through January 15, 2024.
"Tulalip Lights" is located along Interstate 5 and accessible at westbound exits 200 or 202. The event is presented by Quil Ceda Village at Tulalip, WA. Viewing of all the lighting displays is free to the public.
When all you want is everything, in addition to the massive lights display – which rivals some of the largest in the nation – there will be much more fun for those in the holiday spirit, including an outdoor ice skating rink, holiday marketplace, visits by iconic holiday characters, and more.
"Tulalip Ice" Outdoor Ice Skating Rink
The holidays wouldn't be complete without a trip to "Tulalip Ice," a 40'x 80' outdoor ice rink made of real ice at the Tulalip Amphitheatre surrounded by a display of more than 1.3 million lights. Presented by Blue Line Sports and Entertainment, the rink will be open to the public Wednesday, November 22, 2023 through January 15, 2024. Rink hours are as follows: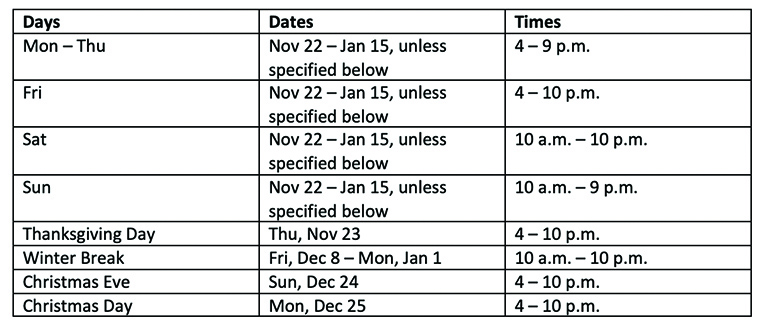 Tickets for one-hour skating sessions (with skate rentals included) are $15 for adults and $12 for children (12 years old and under) and can be purchased at the rink or in advance at https://tulalipice.ticketspice.com/tulalip-ice. A $1.50 processing fee will be added to all tickets at checkout. Special rates are available for private use of the rink and birthday parties. Visit Tulaliplights.com. for more information. Entry to the Amphitheatre is free, where visitors are encouraged to view the on-the-ice fun. The only cost is for those who wish to skate.
Mr. & Mrs. Claus, The Grinch and Buddy the Elf Visits and Holiday Market at Tulalip Amphitheatre
More family-friendly activities will be happening throughout the season at the Tulalip Amphitheatre as part of the "Tulalip Lights & Ice" festivities. This includes appearances by "Mr. & Mrs. Claus," "The Grinch" and "Buddy the Elf," an open-air holiday market featuring a variety of delicious, quality food vendors, gifts and crafts, and fun activities like balloon artists, caricaturists and much more. A full schedule is as follows: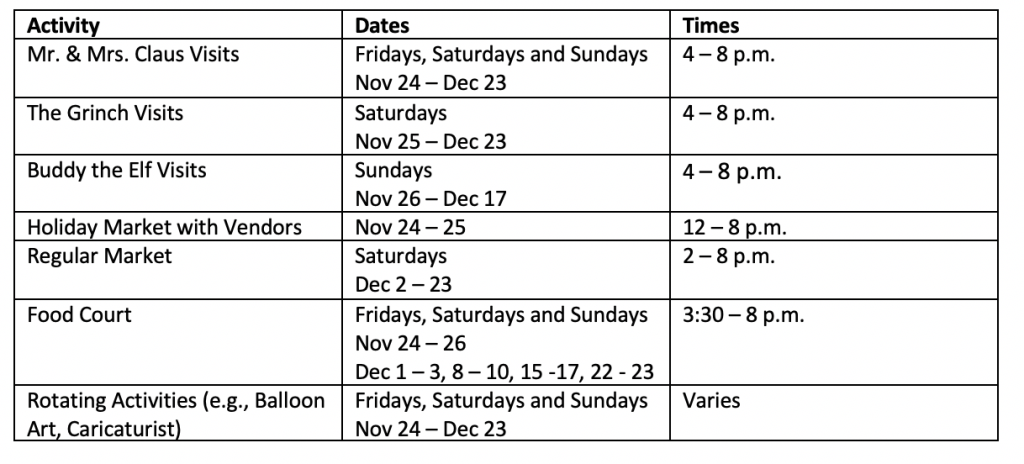 "We launched this grand event in 2022 and it became an instant favorite with visitors. It is bigger and even more spectacular this year and we encourage folks to add this tradition to their 'must do' experiences this holiday season," said Kevin Jones, general manager for Quil Ceda Village. For more information on "Tulalip Lights & Ice" visit www.quilcedavillage.com, www.quilcedavillage.org or www.everythingtulalip.com.