By Brandi N. Montreuil, Tulalip News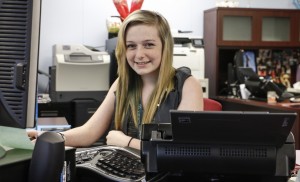 TULALIP – Each year Tulalip youth, 14 -18 years old, have a chance to gain work experience before graduation through the Tulalip Tribes Youth Employment Program. The program, funded by the Tulalip Tribes Youth Services Department, is designed to provide Native youth with a positive work experience to foster future growth.
This year funding was available originally for 70 positions with a stipulation that youth applying attend a three-day orientation and meet a 2.0 GPA standard. After receiving additional funding allocated by the Tulalip Board of Directors, the GPA restriction was removed and 30 additional positions added. The program, at the time of this article, had 75 youth employed.
"The most important role of this program in the community is that we are showing our youth that work and dedication is important. Starting work at a young age is a good thing, then they they turn 18, they are more prepared to get a job and be successful employees," said Jessica Bustad, Tulalip Youth Services Education Coordinator.
The goal of the program she says "is to have youth gain skills, confidence and knowledge that they can use to obtain a full time job in the future." This essentially puts youth who participate in the program ahead of their peers when applying for future jobs. These youth will have already established critical job skills that ensure success, such as abiding by professional standards, keeping confidentiality, and time management.
In fact, the Tribe has hired youth who have participated in the program said Bustad, due to the youth's excellent work while in the program. "There have been several throughout the years and it is an awesome thing to see. Two years ago we had an 18-year-old start the Youth Employment Program and resign from it because she applied and received a regular position with the department she was assigned to."
Youth are treated like regular employees, which means they are required to work a typical 40-hour workweek, a task that may seem daunting for those who are suddenly required to conduct themselves in a professional manner in a government setting, such as the Tulalip Tribes. However, many youth relish in the opportunity to be responsible. Demery Johnson is one of them.
Despite being only 15, and in her second year working in the program, she chose to work in the Tulalip Tribes Probation Department at the Tulalip Tribal Court, a position that requires strict confidentiality and professionalism.
"I chose this department because I wanted to get a more business feel," said Johnson who worked last year at the Tulalip Boys & Girls Club and plans to open her own bakery one day. "I wanted to be able to put on my resume that I have worked in a professional environment. I have learned how probation works and how the court operates."
Although a court house and a probation department may seem like high-risk positions to have youth work, Bustad explains the Tribe's youth services education staff decide job placements based on surveys youth fill out that ask questions such as what their interests are.
"We provide the youth with a survey and look at what requests we have for youth. We try to place youth where they will be successful and interested. This can also be a challenge if we do not receive youth worker requests from departments that youth wish to work at," said Bustad.
"This program helps in many different ways," said Bustad. "Supervisors and co-workers provide youth with training and other learning opportunities within the departments. This program is teaching them good work ethics and how to communicate properly with others in the workforce."
"This program benefits me and other youth in a way that we can actually experience what the real world is like and be put into real world situations and actually experience them with a little bit of training wheels instead of just being put into them without any guidance," said Johnson, whose job duties include office tasks, such as answering phones, greeting clients, taking messages, and filing and data input. Her position in probation teaches her how court cases are processed and how to interact with clients in addition to how a probation department supervises clients during criminal proceedings
"What I like most about the probation department is that I am not treated like a child. I am treated like an equal. I thought it would be boring but what surprised me was going into court and seeing how it works. I am glad to be here and gain this experience. I would encourage everyone to participate," said Johnson."The GPA requirement wasn't a problem for me. A 2.0 is a C-, and having a GPA requirement is a good thing. Last year there were many kids who didn't want to work, and this is actually achieving a goal. They are hanging a paycheck in front of you saying you have to be able to at least get this, and it is doable. I think that it is a great thing to do. Just like making them take a drug test, which is perfectly normal, it is what you would do in the real world. It shows you that you have to actually work to get stuff in the real world. I don't see what would hold anybody back. Other than amusement parks, I would be just sitting at home. There is nothing to lose, you get paid and you get experience."
Brandi N. Montreuil: 360-913-5402; bmontreuil@tulalipnews.com