By Micheal Rios, Tulalip News 
Twenty-one aspiring athletes recently returned from a once in a lifetime experience in which they not only represented their Tulalip community with pride, but did so while playing the sport they love, tackle football. For these boys, football is much more than just a game. It's a passion that teaches discipline, perseverance and commitment. And for those fortunate to play at the highest level, they got a glimpse of glory on the national stage.
Such was the case with the Tulalip Hawks 12-u youth football team. With a loaded roster of thirteen talented Tulalip kids along with Anthony Najera (Port Gamble S'Klallam) and Michael Abbott (Alaskan Native), the Hawks squad made history all season. They went undefeated, being crowned North Sound league champs and Northwest Regional champs along the way, before receiving a highly coveted invitation to play in the Pro Football Hall of Fame World Youth Championship hosted in Canton, Ohio. The Hawks were one of only ten teams in the entire country within their age bracket to be invited to play for a national title.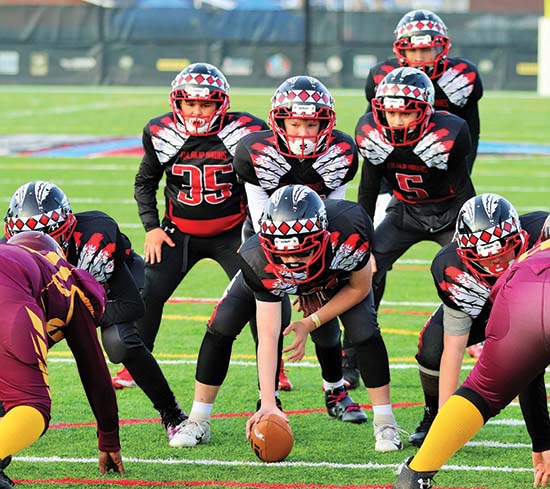 "This is a special place for football, where only the best are called to play," explains Rich McGuiness, Director of the Hall of Fame World Championship. "We think football is the greatest team sport and more than that, it is the most democratic. Height and weight, speed and strength all have their value, but those qualities alone don't win games. Football is a great equalizer that way, in that regardless of color or socioeconomic status athletes have to play as a team to create a game plan and execute it on the field versus quality competition."
With team sponsorship covered by the Tulalip Tribes, and a devoted group of team moms that fundraised nonstop for weeks, the Hawks were able to afford the hefty price tag and ancillary costs that come with a national tournament.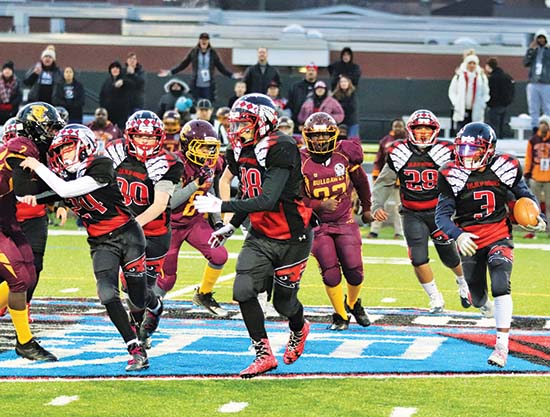 "I was very impressed with our parents who went out of their way to help fundraise for the trip. In total, we raised $13,000 in a month's time with a variety of fundraising events," said Malory Simpson, one of two official team moms. "The community support we received was amazing! As parents, we're so thankful to have had the opportunity to travel with the boys and support them on their Ohio journey."
The team spent nearly an entire day traveling across three time-zones before arriving in Canton on the evening of Tuesday, December 11. They got a much needed night of rest ahead of their introduction to a national viewing audience at Media Day.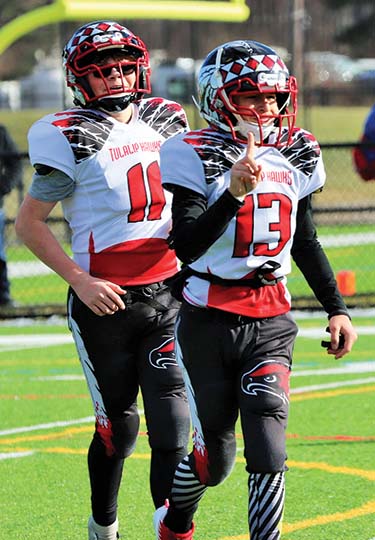 At the team's Media Day, the young athletes moved as one cohesive unit with coaches in tow while taking in a number of unique experiences. They glimpsed the custom championship belts that would be awarded to the winners of each age bracket before being put on stage and interviewed about all the hard work that got them to this point. In a random chance meeting, the boys got to meet and take photos with former NBA slam dunk champion and Seattle-area icon Nate Robinson. Another highlight of the day was getting a quick lesson by a Hall of Fame educator detailing the history of football. Nearly each Hawk player got their mind blown when viewing football equipment used in the 1920s through the early 60s.
"It was cool to see the history of football helmets and the evolution of footballs," said 13-year-old wide-receiver Jayden Madison. "After seeing how small and different old school cleats, helmets and pads were, I think it must have been pretty hard to play football in that stuff."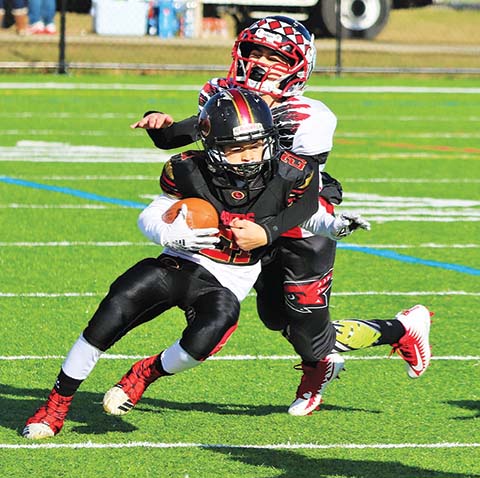 "When I first saw that old equipment I wondered 'what the heck is that stuff?'" added 12-year-old Image Enick. "The first helmet didn't cover the whole head or have a chin strap. I wouldn't play football if that was the only gear we could play in."
Luckily for youth playing today, they have loads of gear that can be considered revolutionary when compared to what was used at the sport's inception. The boys' equipment includes one-of-a-kind Native American designs that is only befitting of the first-ever tribal team to qualify for the Hall of Fame's national tournament.
During the afternoon of Thursday, December 13 the undefeated and multi-championship winning Tulalip Hawks made their Hall of Fame tournament debut versus the Georgia Bulldogs. In near freezing temperatures, the Hawks were on fire early. As a team the boys were executing their game plan and playing with the same style that had garnered them national spotlight. Lead running-back Gio Hernandez rushed for a touchdown on the opening drive and the Hawk's stifling defense came up with a 4th down stop on Georgia's next possession. After running-back Gaylan Gray rushed for a touchdown early in the 2nd quarter, Tulalip jumped out to a 15-0 lead.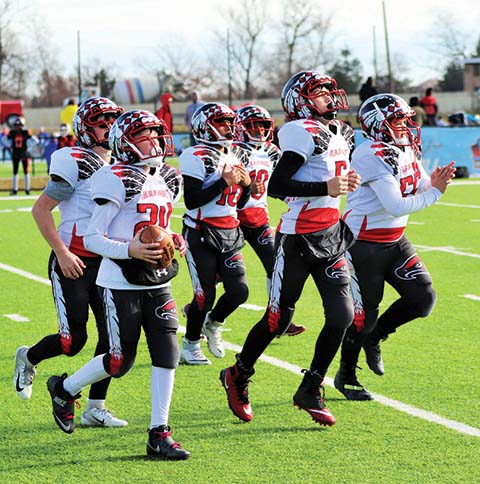 They say football is a game of adjustments. Georgia didn't wilt after the early deficit and adjusted their game plan to make use of their near 6-foot tall pass catchers. In combination with a bunch of Tulalip penalties, including costly turnovers and some that were very iffy, Tulalip saw their lead disappear. Georgia would score 25 unanswered points to finish the game, handing the Hawks a 15-25 loss. The stunning defeat was the Hawks first 'L' in two years under Coach James Madison. 
"It's tough because it was our first loss in two years, but we are using it as energy for the next game. I'm using that loss as motivation for sure," insisted defensive end Ryelon Zackuse. "We're representing Tulalip and that feels good because we're a small tribe and we're the only tribal team that made it here playing against teams from states like Georgia and New York."
With a quick turnaround, the Hawks had no choice but to get over their disappointing first game ahead of an early morning matchup with the Las Vegas 49ers. The determined Tulalip football team did use the previous day's loss as motivation to showcase their skill and game breaking ability. In 30-degree weather, versus a loaded Las Vegas squad, the Hawks earned an impressive 30-14 victory backed by a stellar defense that came up with two interceptions and two forced fumbles. They represented the Tulalip/Marysville community with pride, showing their resilience. With the 'W' the boys proved they can compete with the very best in the country.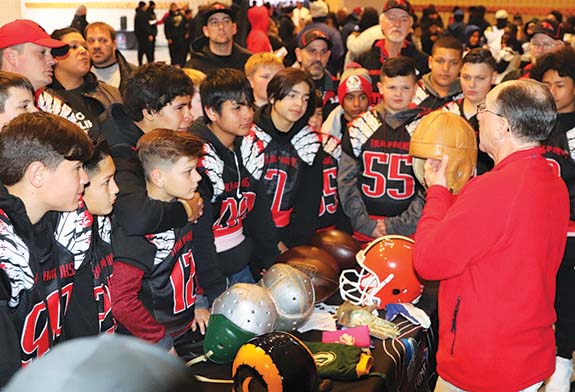 "We stood tall, played hard, fought hard and gave both games everything we had. I couldn't be prouder of any set of kids in my life," beamed head coach James Madison. "The greatest thing I saw out of this whole trip is seeing these boys step up and play the best competition in the nation. To have the season we had, it's beyond a dream come true. I want to thank everyone who has sponsored us and supported our kids all season long. It's been one amazing achievement after another and we did it all as a family."
Only teams that went 2-0 in their opening games continued to play. The Hawks' 1-1 record left them out of the remaining tournament games, but even so they left the national platform with a top eight ranking among the best of the best.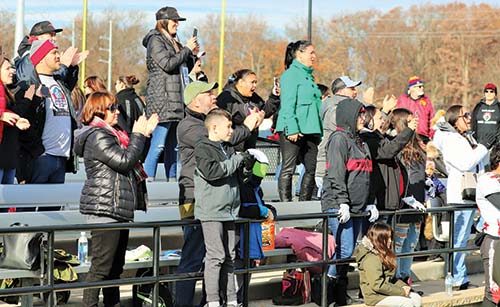 The boys had a lot of fun at Media Day, made memories galore exploring the Ohio area and Hall of Fame complexes with their family and teammates, and had their competitive spirits fulfilled with a historical win. The glimpse of glory allowed them to dream bigger and set loftier goals with their football futures. 
"It means a lot to me making it all the way to the Hall of Fame tournament and especially good when we were all on stage together at Media Day," shared Hawks standout Gaylan Gray. "My goals are to return next year and win it all, then my focus will be to get good grades in high school and make it to the NFL."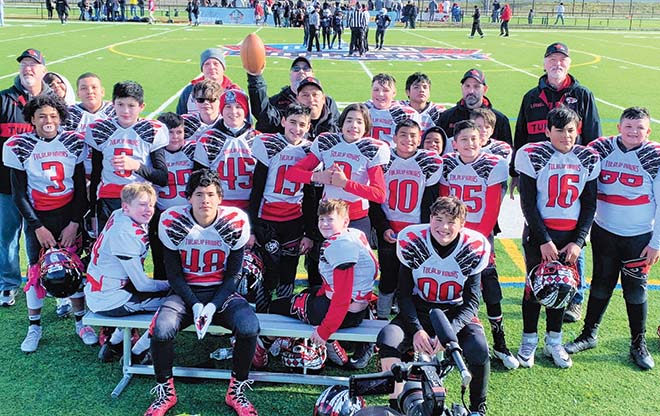 "It's been really cool to be in Ohio to play football and win a game with this team because we play as a family. We protect each other and always have each other's back," reflected 13-year-old cornerback Adrian Jefferson, who has played football since he was just 5-years-old. "What I'm going to remember most is how we worked so hard just to get here and experiencing Ohio as a team, but I'm ready to be back home. I've missed school, I mean football means a lot to me, but school is more important. Being gone a week means I have a lot of homework to make up."