By Micheal Rios, Tulalip News 
In the midst of fast-paced urban Tulalip, there exists a lush, quiet oasis. A special place that invigorates the spirit and awakens our long-held connection with nature. Located next to the health clinic, this hidden gem is the Wellness Garden and Trail.
Carefully cultivated and crafted over the last few years, the Wellness Garden and Trail has come to represent community engagement at its finest. Veronica Leahy, Diabetes Program Coordinator for the Tulalip Health System, and her dedicated team of health-conscious staff members have been instrumental in fostering the sense of community a wellness garden can offer.
"Our goal has always been to make everyone feel welcomed, needed and valued," reflected Veronica on the success of garden day classes routinely hosted at the Wellness Garden. "Our diabetes prevention team is greatly appreciated; everyone gives their all for our events. I feel humbled to be a part of the effort to teach people about healthy foods and increased activity in ways the community connects with. This is the essence of a proactive, holistic approach to diabetes care and prevention."
A community of expert and novice gardeners made up of tribal members of all ages routinely attends the monthly garden day classes. Over the past planting season, the group tended the soil and grew vegetables (kale, squash, zucchini, cabbage), edible flowers (sunflowers, lavender, nettles), an assortment of seasoning herbs, and berries galore. Raspberries, strawberries, elderberries, and salmonberries, just to name a few, have all taken to the Wellness Garden's planting beds and have shared their sweet nectar via healthy snacks and meals.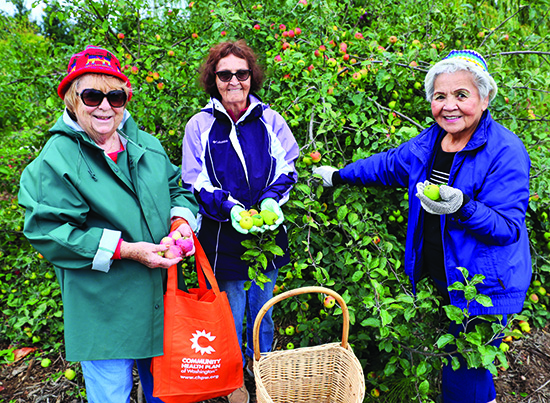 During summer's final Saturday, the community gardeners came together for this season's last garden day walk and gathering. There were nearly 30 community members altogether, varying in age and expertise, who enjoyed getting their hands dirty by weeding and pruning the garden, before harvesting apples and pears aplenty. A memorable experienced was shared when the group planted several baby Cedar trees. 
"It's been such a lovely day," shared honorary tribal member, Father Pat Twohy. "Everybody came together with good spirits to work in the garden. There was so much happiness shared while we picked apples, pulled weeds, and especially when we planted Cedars. To top it off, the cooks provided us with a lovely breakfast and magnificent lunch. Altogether, it was a happy day and I'm so grateful for everyone who made this possible."
Gardening is a great way to incorporate the power of ancient wisdom and traditions while cultivating food to bring about growth and healing. There is tranquility in the sounds of nature, the smell of fresh earth, and the warmth from the sun. Most gardeners agree that they feel a sense of calm wash over them as they work with the plants and flowers. Some even are reminded of a time not too long ago, before cell phones and the internet ruled the day.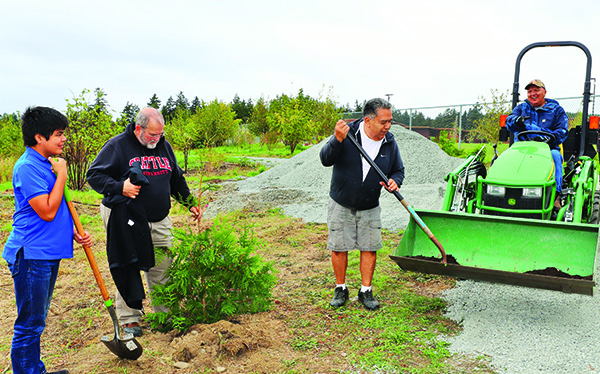 "It warms the heart to see so many happy people in one place," beamed Tulalip elder Virginia Carpenter. "I just love gardening, and it's so great to see the younger generation come out and be a part of this. Seeing families, parents with their kids, out here having a good time it reminds me of the olden days; when kids used to go with their parents everywhere and people were happy to be out of the house."
Of the 30 community member who attended the September 22 garden day, several were first-time tribal member participants. They jumped right in to the garden activities and assisted their elders whenever possible. 
The youngest and longest attending tribal member, 15-year-old Kaiser Moses who has been attending gardening classes since he was just 4-years-old, was seen teaching others how to plant a variety of crops and how to best harvest the ready fruits. Kaiser reiterated our connection with nature by sharing, "the plants and trees are alive, and it's up to us to take care of them and keep them healthy."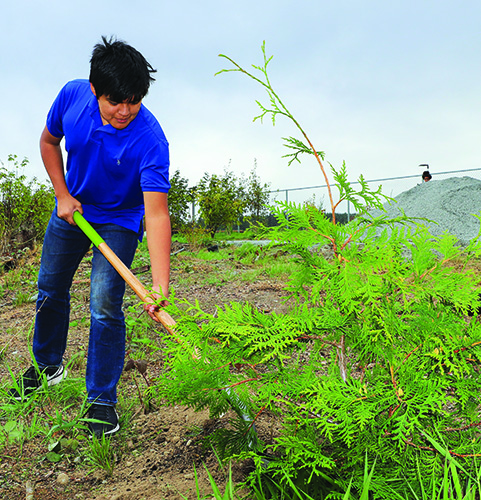 "I stood back and listened to Kaiser's words and teaching and my heart was so full, it was hard to hold the tears back," added Veronica. "I watched our elders work with the new tribal members and saw real joy in their faces; this is my motivation for the garden days. Every bit of effort and time is worth it to see and feel the community effort shared by all. It has always been and continues to be a very special time for whoever comes and joins us."
Following several mindful hours in the Wellness Garden, the group organized indoors for a delicious meal cooked by culinary chef, Britt Reed. There were pumpkins and pumpkin carving kits given to everyone, along with a variety of raffle prizes that included gardening supplies and cooking utensils. 
This upcoming winter, an all-new greenhouse project will be opening to the community which will allow the gardening activities to continue inside and more classes to be taught around food preservation. Be on the lookout for future flyers detailing this project on Tulalip News and Tulalip News Facebook page.