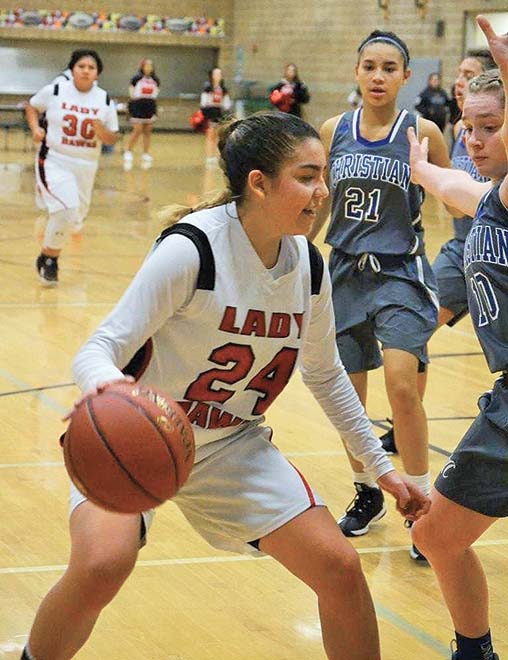 By Micheal Rios, Tulalip News 
Last season, the Tulalip Heritage Lady Hawks basketball team went (18-3) in the regular season, won two playoff games, and made a Tri-District tournament appearance for the second consecutive year. Expectations for this season would have to be more managed however, with only four players returning from last year's squad. Seniors Keryn Parks, Deandra Grant, Georgie Randall, and sophomore Deachae Jones are joined by a group of fresh faces and a new head coach in Tina Brown.
The new-look Lady Hawks made their season debut on November 29th in front of their home fans when they hosted the Mount Vernon Christian Hurricanes. These two teams faced off last year in the playoffs, with Heritage edging out a 48-40 victory.
Having to carry more of the offensive production on her shoulders this season, guard Keryn Parks started the new season hitting her first two-shots of the game and later assisted on a bucket by center Deandra Grant. At the end of the 1st quarter the score was 6-15, Hurricanes.
In the 2nd quarter, the Lady Hawks got hot from downtown as 3-point shots swished in by Keryn and guard Loralei Eli. But it seemed the Hurricanes were quick to answer with buckets of their own anytime the home team scored. At halftime Heritage trailed 15-32.
The Hurricanes adjusted their team defense in the 2nd half by double-teaming Keryn and constantly pressuring her in the backcourt. Her younger sister, freshman Krislyn Parks, and Deandra stepped up their offensive games, taking advantage of the smaller Hurricane players in the post. However, the Hurricanes continued having little difficulty scoring point of their own.
Heritage dropped their season opener 39-53. They were led in scoring by Keryn with 14 points, while Deandra and Krislyn both scored 10 points.
Following the game spirits were high for sisters Keryn and Krislyn who were able to play their first-ever high school game together.
"It felt really good to play with my little sister," said Keryn. "She transitioned from MP to play here. She's a really hard worker and I'm looking forward to seeing her grow as a player."
Krislyn added, "Playing on this team means playing with family and that's a cool feeling. It's been an exciting process getting to learn from Keryn and it brings us closer as sisters."
Tulalip has an upcoming two-game home stand when they host Orcas Christian on Thursday, December 7, and the Marysville-Getchell JV team on Saturday, December 9.