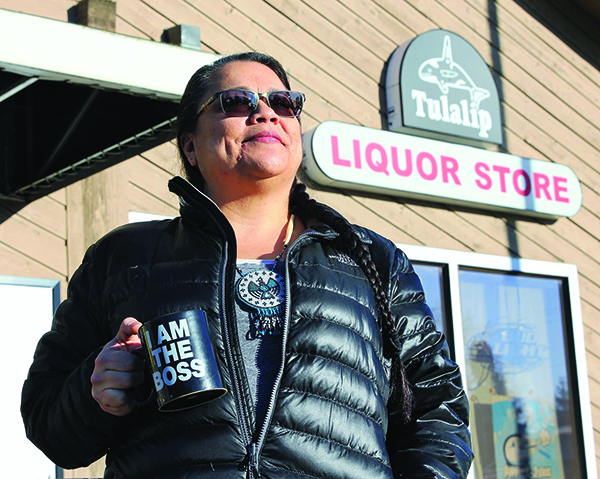 By Micheal Rios
Carrie Fryberg is Manager for the Tulalip Liquor Store, which is conveniently located off of I-5 exit 199 right next to Marine Drive Chevron and Quil Ceda Creek Casino. We recently asked Carrie about her tenure in the liquor sales industry and her vision going forward.
Q: What are some of the essential things you'd like people to know about you?
A: First off, I am proud to say that I was born and raised here on Tulalip. I've lived here my entire life. I'm married to a wonderful husband, William Mclean, Jr., and we've shared a life together for 25-years now. Together we have three children, Kesha, Nico, and Martie. I've also raised three step-children, Anthony, Lloyd, and Kandace.
Q: What is your favorite cultural activity?
A: Stick Games! My family and I travel all around to the tribes in the Pacific Northwest to play Stick Games. In fact, I've ran the annual Stick Games Tournament we have here at the Tulalip Amphitheatre for the last five years.
Q: How did you get into the liquor store business?
A: Well, back in 2002, I was working at the Health Clinic and looking for a career change. Then in October 2002, I accepted a position as Shift Supervisor for the liquor store. That position stuck for 12 years, until I was promoted to Manager in May 2014.
Q: In your 16-years at the Tulalip Liquor Store, what is the biggest change you've seen?
A: Adding Chevron to our parking lot is definitely the biggest change. It brought a lot more traffic into our area and helped boost our sales. We took a significant hit in sales when the State approved liquor to be sold in grocery stores, so building the Chevron and sharing a parking lot has helped offset those losses.
Q: Tell us a little about the staff you manage.
A: My team is made up of 17 and a half members. I always add in that half because we have a grounds maintenance worker that half his salary is paid for by the liquor store. My team includes 15 cashiers/shift supervisors and a maintenance lady. Janet Williams and Naomi Moses have worked here with me nearly the entire time I've been here. There's a strong feeling of us as a family because we've grown close to one another.
Q: When it comes to moving product, what are the three most commonly sold bottles?
A: R&R Whiskey, Monarch Vodka 80 proof, and Fireball. People love Fireball!
Q: What is your vision for the Tulalip Liquor Store?
A: My vision includes getting a remodel/upgrade to our store, so we can be refreshed and have a new look. This would help attract new customers and help the store fit in better with all the newer businesses in our area, which equals better revenue and possibly new product.
Q: How would you describe your 16-year tenure with the liquor store?
A: Well-spent and adventurous. Adventurous in the sense that when you work right next to the "Q" Casino for so long, we've definitely seen some crazy things. I love the people who I work with because everybody works as a team. I'm a lifer, so hopefully, one day, I'll be retiring from here because there's no place else I'd rather work.