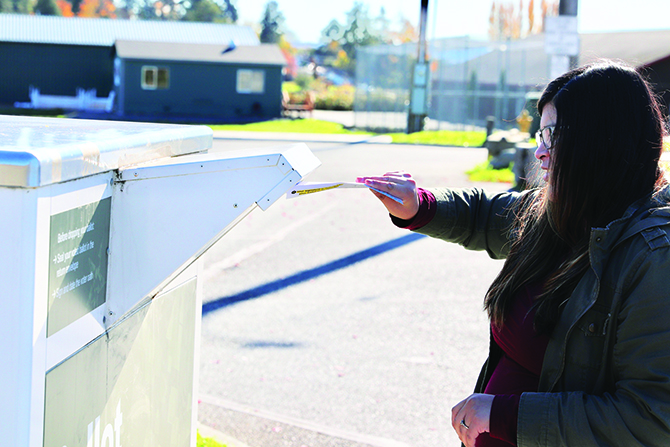 By Kalvin Valdillez, Tulalip News
A number of signs with red arrows are currently placed throughout the Tulalip Reservation, all pointing toward the direction of the Don Hatch Youth Center. In large text above the arrow, the signage reads: Ballot Box. 
Across the country, Native Americans of all nations have a long and complicated history in regards to voting in local, state and congressional elections. In a move that seemed to benefit the assimilation agenda, the United States granted Indigenous Peoples U.S. citizenship in the 1920's. This, however, did not allow Native people the right to vote. In fact, the government left it up to each individual state to determine if tribal members could cast a vote come Election Day. 
For approximately forty years, the tribes fought for the right to vote. With Utah guaranteeing voting rights in 1962, Natives could legally participate in many, but not all, voting events within their cities, counties, states and country. But, the fight was far from over.
From the sixties to present day, Native communities often face a number of obstacles during voting season. Making national headlines in the fall of 2018, North Dakota received a U.S. Supreme Court ruling that allowed the state to enforce a voter ID requirement upon its citizens in order to register to vote. The voter ID requirement asks voters to show an identification card with a residential address at polling stations, noting that tribal status cards are not an acceptable form of ID. Being that most reservations adhere to the P.O. box system and generally don't have physical street addresses, thousands of voices were silenced in result of the ruling. 
Another barrier Native voters have to overcome is distance. More often than not, polling places and ballot boxes are located miles away off-reservation. 
Unfortunately, due to the many hoops Native people have to jump through in order to have a say, a lot of them feel discouraged from voting, resulting in record low turnouts and thousands of unfilled ballot choices each year.
In a Nation that appears to be deliberately suppressing the Native vote, Washington State passed Senate Bill (SB) 5079, also known as the Native American Voting Rights act, this past February.
"Voter participation is not a partisan issue; it is the foundation of our democratic system and must be protected by all sides," stated Senator John McCoy, Prime Sponsor of SB 5079 and Tulalip tribal member, on the Senate floor.
The bill passed with a 34-13 vote and addresses Native American voter suppression by allowing voters to register online with a tribal ID, use a tribally designated building as a mailing or residential address, as well as place one ballot box on each reservation, at the tribe's request. The bill was officially signed into law by Washington State Governor Jay Inslee on March 14.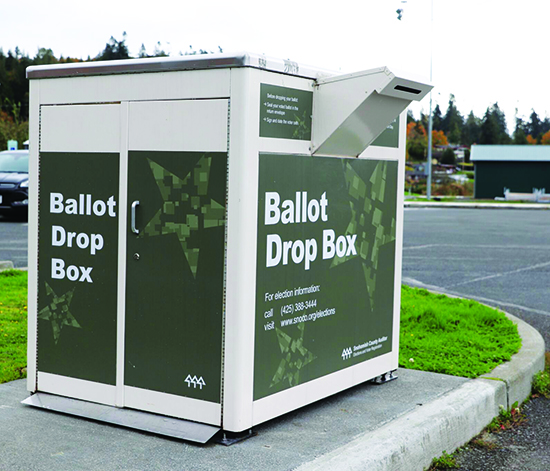 Just in time for Election Day, a new ballot box was recently established inside the parking lot of the Don Hatch Youth Center. An approved amendment to the bill states the location of the drop box must be accessible by way of road to the county auditor. The location must also be central and accessible to all tribal members.
"Historically, the Tulalip gym was a voting place for many years," said Democratic National Committee Native American Political Director and Tulalip tribal member, Theresa Sheldon. "The Tulalip community would come to the gym every year to cast their vote by machines. Once we moved to mail-in elections, Tulalip lost our voting place. Since then, we have been aggressively requesting from Snohomish County to be an official ballot drop off location. This didn't happen until Senator John McCoy passed a bill in the State legislature stating a ballot box must be located on every reservation to ensure access to voting."
A few days after Governor Inslee signed the Native American Voting Rights act into law, he also signed a universal voter registration law, which automatically registers Washington State citizens, who are obtaining an ID card or driver's license, to vote. This law of course eliminates the issue of utilizing your tribal status card as a form of identification when registering to vote.
"I'm very thankful for any law that makes voting more accessible," expresses Theresa. "We all live such busy lives so having a designated place to drop your ballot off, any time of day, is very much appreciated. Washington State's new voting laws also make it so everyone over the age of 18 years old is automatically registered to vote. They use your address from your driver's license.
If you need to update your address or did not receive your ballot, please contact Snohomish County auditor's office if you live within Snohomish County. Their phone number is (425) 388-3693, they have an actual human being who answers the phone and is very helpful.
If you misplace your ballot, you can always go to the County office to vote in person. Also, if you would like help with your ballot and the massive amounts of issues, here is a great resource, https://progressivevotersguide.com/Washington/."
The new ballot box is accessible 24 hours a day, until 8:00 p.m. on November 5, Election Day.