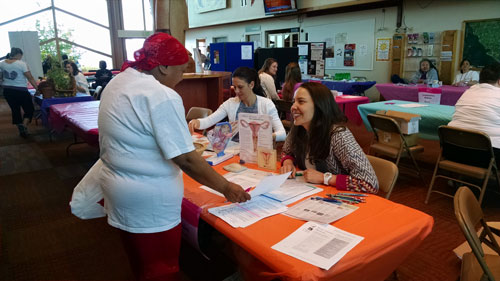 By Brandi N. Montreuil, Tulalip News

TULALIP – For the first time in three years women packed into the Tulalip Karen I. Fryberg Health Clinic to attend a health fair tailored specifically to their health needs. On Friday, May 8 the lobby at the clinic was transformed into a woman-only zone that featured over 20 informational booths on women's health from A to Z.
Funded by the Tulalip Stop Smoking Program due to budget constraints, the fair highlighted the forgotten issues of women's health, such as routine health check-ups, proper footwear and wearing a good supporting bra.
Health fair organizer Jennie Fryberg, said this year's health fair was meant to draw attention to the things women tend to put off due to work or family responsibilities.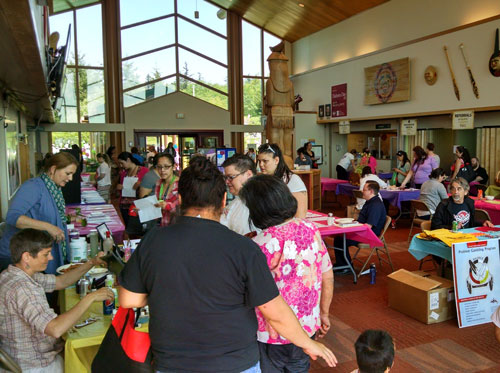 "The idea was to do something different and have booths that offered information on other forms of health care, such as essential oils and other alternative health care. There is no mammogram bus this year but we have a great booth that has information on breast and cervical health. We have The Bra Shop attending this year and they accept HMA health insurance so you can get a proper fitting and get a good supporting bra," said Fryberg, whose mother Karen Fryberg started the tradition of health fairs at the clinic 30 years ago.
Deandra Grant, 15, attended the fair in the afternoon and said she learned how important health can be later in life. "I learned don't do bad stuff to your body and brush your teeth. You have to take care of yourself. The kidney station was my favorite so far and the diabetes booth. The whole fair is informational for me."
Held in conjunction with Mother's Day, the clinic organized a special makeover for three ladies chosen by staff following in the tradition of previous health fairs that provided makeovers to cancer patients.
"This year I knew I needed to do something special for three particular women in our community. The Clinic didn't have funds for the fair so I knew the makeovers would have to be funded in a different way. The Stop Smoking Program kindly donated the funds for the fair and we did fundraising for the makeovers," Fryberg said.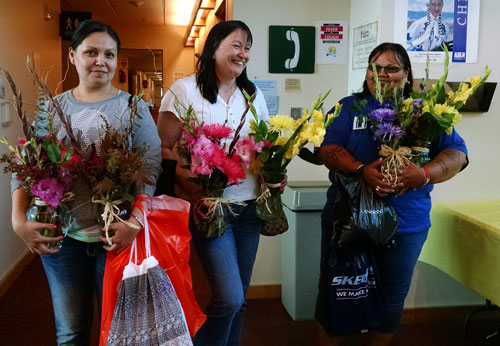 Chosen were Lahneen Fryberg, Lavinia Phillips and Nessie Hatch, all mothers of victims from the October 24 shooting at Marysville-Pilchuck High School.
"I wanted them to have something special before Mother's Day and show how proud we are as a community of their strength and that we are here to support them," continued Fryberg.
For more information on women's health check out the website www.healthywomen.org, or make an appointment to see a physician at the Karen I. Fryberg Health Clinic by calling 360-716-4511.
Brandi N. Montreuil: 360-913-5402; bmontreuil@tulalipnews.com