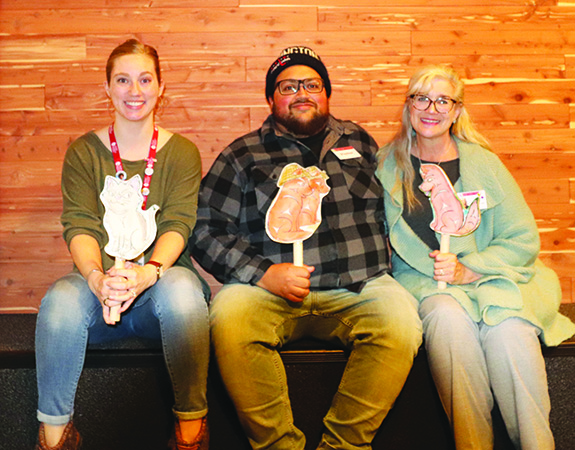 By Micheal Rios, Tulalip News
The Seattle Children's Museum is a destination place for people from all around the world. Located at the heart of Seattle Center, the always active and engaging museum sees close to 200,000 visitors every year. With a mission to bring to life the joy of discovery for children and their families through creative, hands-on exploration of the world around them, the museum's heralded Global Village recently debuted an all-new permanent exhibit titled Tribal Tales.
Created by and inspired from the beautifully diverse and thriving Native cultures encompassing the Puget Sound area, Tribal Tales was development over the past two years in direct collaboration with Native artists from Pacific Northwest tribes.
"We thought it would be great if we developed a space that helps us create a real relationship with local tribal communities and members," explained Amy Hale, director of education for Seattle Children's Museum. "The artists we collaborated with drew from their own individual experiences in order to create culturally relevant representations of their culture."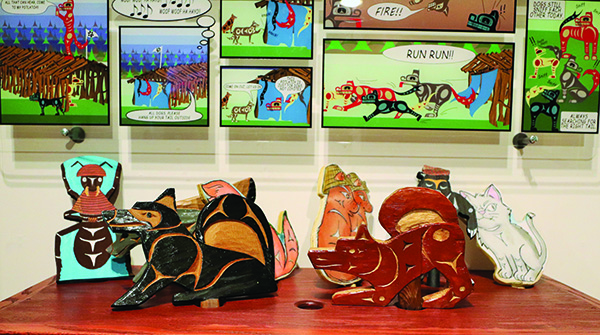 Native storytellers who collaborated on the project include John Edward Smith (Skokomish), Roger Fernandez (Lower Elwha S'Kallam), and Tulalip's own Ty Juvinel.
"Because of Ty's trust and active willingness to participate in building up this idea from the very beginning, his efforts had a direct influence on other artists and their willingness to commit," added Amy. "When I look at this final project, I see not only Ty and his amazing individual pieces, but his influence that led to more artists of other tribal communities working with us and really making Tribal Tales an immersive exhibit."
Prior to becoming the home of Tribal Tales, the space housed a puppet theatre. The original seed money that created the puppet theatre came via Tulalip Cares, the charitable contributions division of the tribe. It's only too fitting then that the puppet theatre space was transformed into an interactive, educational exhibit showcasing the richness of Native values and oral tradition, while being co-curated by Tulalip tribal member Ty Juvinel.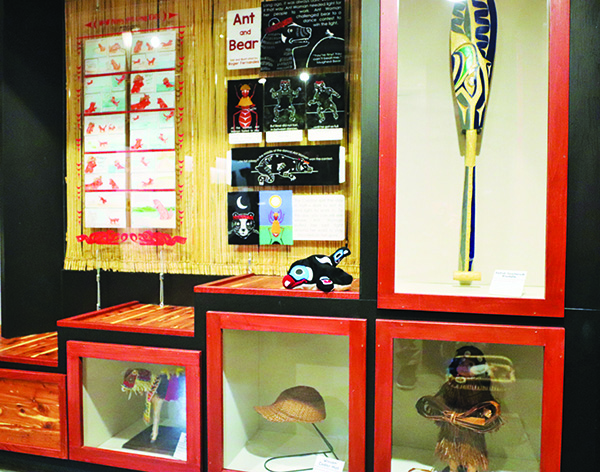 "This exhibit really honors the Indigenous peoples of this land and gives the acknowledgment that our people were here before first contact," shared the Tulalip storyteller. "Tribal Tales is all about acknowledging the past people that were here while honoring the many Coast Salish tribes thriving today.
"I contributed an original story created for my kids How Puppy Got His Ears, a Salish Sea map detailing all the tribes in Western Washington, a couple house posts, and hand puppets that go along with my story that visiting children can play with," continued Ty. "The fact the museum got money a long time ago from the tribe and now I'm refreshing the concept for my generation is just awesome."
Tribal Tales explores the universal art of storytelling through a collective showcase of Native art and culture, curated by the actual artists themselves. "As opposed to white bodies dictating and reflecting back to ourselves what other cultures look like, we gave the artists all the agency to share with us their stories," added Amy.
The direction and attention to detail is what really makes Tribal Tales stand apart from the many other Global Village exhibits. And for the countless children who visit the museum every day, they've already shown a fondness to the exhibit's bright colors and hands-on puppetry that makes the Native stories easily understood.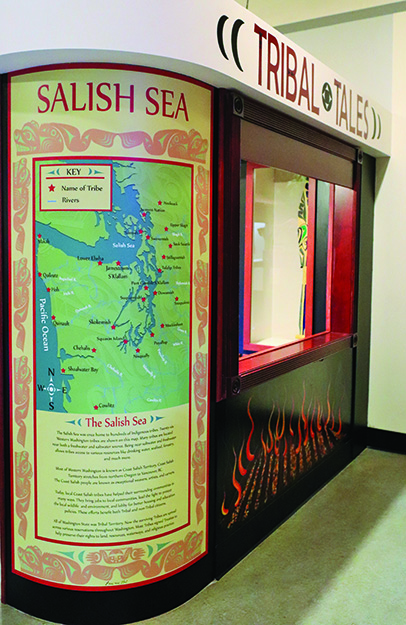 "The Children's Museum shares all kinds of fantastic things, like science, knowledge and culture," said Roger Fernandes, sharer of the prolific Ant and Bear story. "I thought it would be a good way to get our stories out there. Each of the stories were illustrated by the Native artists, so the children could not just hear the story but see some visuals that would help them remember it. Ultimately, this project was well thought out and as a result now more kids will have the chance to hear our traditional stories."
With over 18,000 sq. feet of play space designed for kids ages birth to 8-years-old to enjoy with families, the Seattle Children's Museum is open Tuesdays – Sundays from 10:00am – 5:00pm. First time visitors are sure to be blown away by the hands-on exhibits and open-ended exploration, especially those who experience the richness of Tribal Tales.