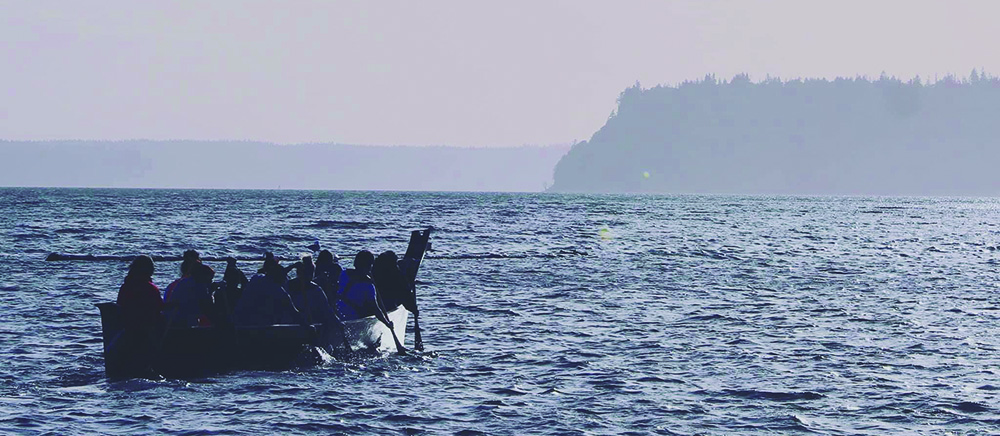 By Kalvin Valdillez, Tulalip News
You are water vapor rising high up to the atmosphere. With thick moisture in the air, other vapor molecules began to attach to you and you begin to grow. It's mid-winter and the cold temperature causes you to freeze to ice crystal form and now nearby crystals also cling to you, all while attaching to particles like dust and pollen in the air. And as this process continues, a cloud is formed around you and shortly you'll begin your descent back to the Earth's surface. Once you are heavy enough, it happens; you fall quickly to the ground. Your voyage is short lived, however, as you fall to the top of a mountain and now you wait once again, but this time for warm weather while more snow gathers around you.
In what seemed like a few short months, you patiently stood the test of time and, due to the damaged ozone layer, the sun heats up the Earth sooner in the year and at a much faster pace. You leave your frozen state, slowly transforming to liquid and begin a journey through nature. Traveling down the mountainside, rushing through rivers, flowing through streams, passing through culverts and even trickling through underground soil corridors, you eventually find yourself at a standstill. With no wind and not nearly enough water to form a stream, you're left to wait again either for rain or evaporation.
A nearby farm just received the okay to utilize fertilizer and pesticide on their grounds, and unfortunately for you, they are no longer required to worry about any body of water that is located in close proximity of their agricultural business. When the rain comes, your journey will continue but this time you'll be accompanied by new pollutants. Wherever your journey ends, whether it's through consumption by humans, fish, bird, animal, insect or plant, those byproducts will be intertwined with you, and thereby can negatively impact the health of the consumer, and the Earth itself.
In 1972, the Clean Water Act was established to protect the waterways of the United States from harmful pollution. Since then, a political debate has taken place about the verbiage in the act, specifically the term 'navigable waters'. The divide stems from the lack of a clear definition of which bodies of waters exactly are protected by the Clean Water Act.
Many farmers, land developers and capitalists argue that small creeks, ditches and streams shouldn't be considered navigable waters and have little to no impact on the environment since they are not directly or constantly flowing through the waterways and ecosystem. Environmentalists and scientists have conducted countless studies, proving that all water eventually feeds back into the ocean, causing further disruption in the food chain and endangering the health of Mother Earth and all of her inhabitants if that water is contaminated.
"Prior to a decision that was made during the Obama administration there was some confusion about what the 'Waters of the United States' are," explains Ryan Miller Environmental Liaison Program Manager of the Tulalip Tribes Treaty Rights Office. "Those are the waters that are protected by the Clean Water Act, which in general terms states you can't pollute waters of the United States. In 2015, the Obama administration defined the waters in a way that protects the environment, which was the intent of the Clean Water Act in the first place, protecting ephemeral streams or waterways, commonly referred to as seasonal waterways, or wetland that isn't wet all year round that, during a wet season, feeds into a creek or stream. Essentially their definition stated that anything that feeds into these permanent waterways are considered Waters of the United States because it contributes to a stream or river that flows all year round.
"That benefited tribes because it helped protect the trust resources that are guaranteed to tribes in their treaties," he continued. "It helped protect water quality for all the different salmon species. It helped protect against the release of toxins which build up in southern killer whales as they consume fish species, it helped protect Native people and all citizens against toxins that build up in shellfish and finfish that we consume. Obviously that's important for Native people because we consume higher rates of shellfish and finfish than non-Indian people do."
On January 23, the Trump administration and the Environmental Protection Agency (EPA) announced the repeal of the Waters of the United States rule, the evidence-based amendment to the Clean Water Act made by the Obama administration. The EPA rule, also known as the Navigable Waters Protection Rule, not only removes protection from ephemeral streams and wetlands, it also allows landowners to deconstruct and build over ponds, wetlands and watersheds, which in turn can lead to polluted waterways.
But there's more. Since the start of his campaign to presidency, Trump has promised the removal of the Waters of the United States rule. He took it a step further by lifting restrictions for landowners and farmers which prohibited them from dumping hazardous chemicals directly into the waterways.
The removal of federal protection from these streams and wetlands could have some serious effects on our health and our drinking water. And the water that is consumed by the food we eat, i.e. animals, plants and fish, is now more than ever susceptible to pollution.
"The repeal was proposed last year and of course the way that these types of processes legally have to take place, they had a public comment period," Ryan said. "Lots of tribes, environmental groups, states, counties, submitted comments and expressed their concern about what this would do to the protection of waterways and the natural resources that depend on them. The reality is that this administration places a significantly higher priority on making it easy for businesses to make as much money as possible, to extract resources, to damage natural resources. Their priority is that over the protection of the environment, watersheds and even human health."
With the salmon population already irrevocably damaged by pollution and an endangered southern killer whale population as a result, the Salish Sea cannot afford any setbacks or any more pollution. Unfortunately, this new rule sets the stage for years of struggle as we prepare for a long fight against the government and EPA to protect our natural resources. That fight began when the repeal of the Waters of the United Stated was put in motion last Fall, and fourteen states took initiative by filing lawsuits against the EPA.
It is important to note that at the end of 2019, the Scientific Advisory Board of the EPA, comprised of many officials handpicked by President Trump himself, stated that the regulation repeal and its replacement 'neglects established science', is 'failing to acknowledge watershed systems', and also there was 'no scientific justification' for stripping the protection from the smaller bodies of water. And still, even with those findings, the final decision was made by 'political management' within the EPA.
"I believe that there are numerous states who already filed suit over this issue," Ryan stated. "Washington, I'm sure is one of them. We had conversations with the department of ecology, which regulates toxins in the waters in Washington State, and I'm pretty sure they already filed suit against the federal government over this. It's probably going to play out in court like many of these things do and hopefully we're going to have a better outcome. In the long run, this could end up being a good thing if we can get a clear court decision that defines the Waters of the United States in a favorable way, which we really didn't have before. But, for right now it limits the protection that these ephemeral streams and seasonal wetlands have under the Clean Water Act. Essentially, they no longer have any protection."
So what can you do to help ensure the waterways are protected and clean? In addition of limiting your single-use plastic products and recycling your plastics and metals, you can also safely dispose of any harmful chemicals including paint thinner, pesticides and fertilizer at the Snohomish County Household Hazardous Waste Drop-Off Station in Everett. They are open Wednesday-Saturday between 7:30 a.m. and 4:00 p.m. You can participate at local beach clean-ups and utilize your voice to help raise awareness about the fading salmon and orca populations at rallies and gatherings that occur regularly throughout the year.
"My recommendation on anything like this is always, call your representatives; state, county, federal and let them know that you don't like this and you want them to do something about it. The reality is, for elected officials, there are only two things they respond to; money and pressure from the people who vote for them. And as regular citizens, most of us don't have the money to influence political outcomes or political campaigns, so what we can do is vote with our voice and tell our elected officials that this is an issue that matters to us and that we want them to do something about it."