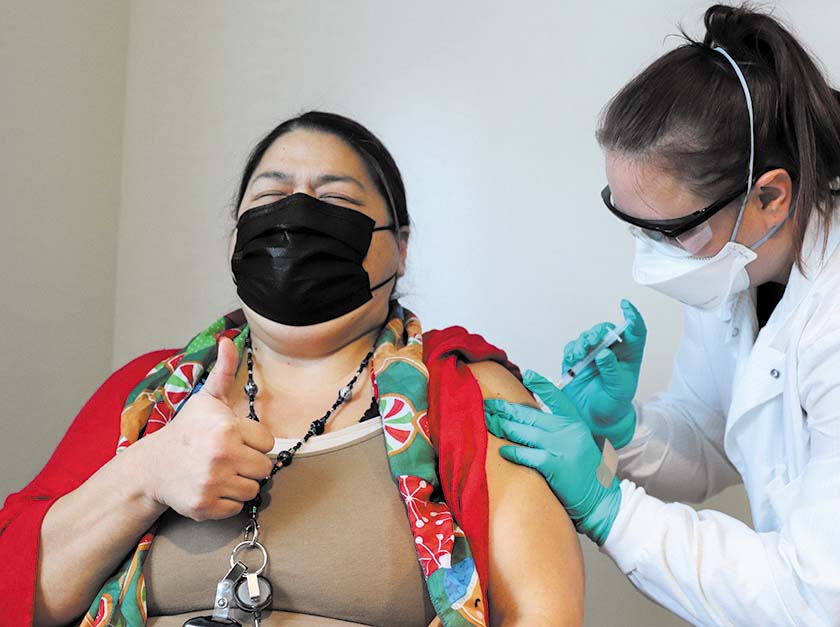 By Micheal Rios, Tulalip News
On January 19, 2020, a 35-year-old man presented to an urgent care clinic in Snohomish County with a four-day history of cough and subjective fever. He disclosed he returned to Washington only days prior after traveling to visit family in Wuhan, China. After multiple days of examination and a litany of tests, it was revealed that the man was positive with a severe acute respiratory syndrome caused by a novel coronavirus. This was the first confirmed case of COVID-19 in the United States.
Nearly one year later, the COVID pandemic continues to rage on. According to the Department of Health, there have been 246,000 confirmed cases and 3,482 deaths in Washington State attributed to the virus at the time this article was published. A whopping 91% of those deaths are individuals at least 60-years-old.
On the Tulalip Reservation, those who are 60+ are revered as elders. They are a living history, a source for cultural and spiritual knowledge whose wisdom is irreplaceable. Protecting them from COVID is of utmost importance, which is why the Tulalip Health Clinic was full of hope and excitement on December 23 as the first doses of the much heralded Moderna Vaccine were administered to Tulalip's most vulnerable.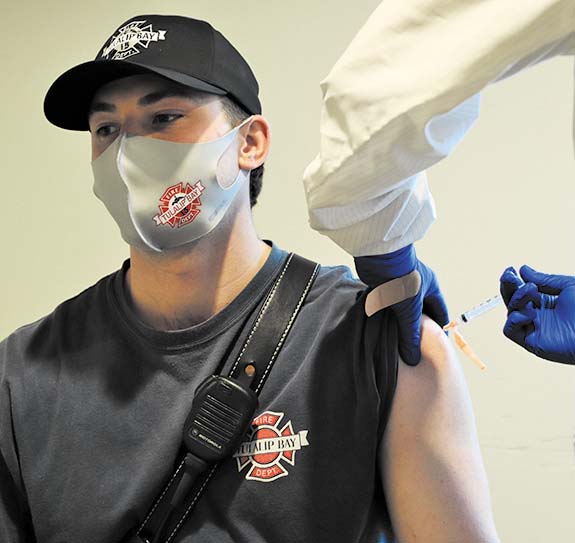 "Today is a great day for Tulalip! We have received the COVID-19 vaccine," marveled Tulalip tribal member and Patient Care Director, Jennie Fryberg. "My hands go up to everyone who comes to our health clinic to get vaccinated and help save lives, save our community, and save our elders. The 2020 year was a tough one for us because we lost some loved ones to the pandemic. I'm getting vaccinated for my parents, so I can protect them and avoid possibly spreading COVID to them. My advice to our community is come and get vaccinated so we can have a much more hopeful 2021."
After months of battling the pandemic at the reservation's go-to health care facility, Tulalip's emergency management team's latest update states four Tulalip elders have died with COVID-19. Two were in their 70s and two were in their 80s. Their memories live on in the younger generations who carry on their cultural traditions with pride.
In order to protect as many remaining elders and high-risk tribal members, Tulalip's medical personnel promptly rolled out phase one of COVID vaccinations after receiving 400 initial doses from Moderna. The immediate recipients were Tulalip's elders, most high-risk citizens, first responders, and frontline healthcare workers.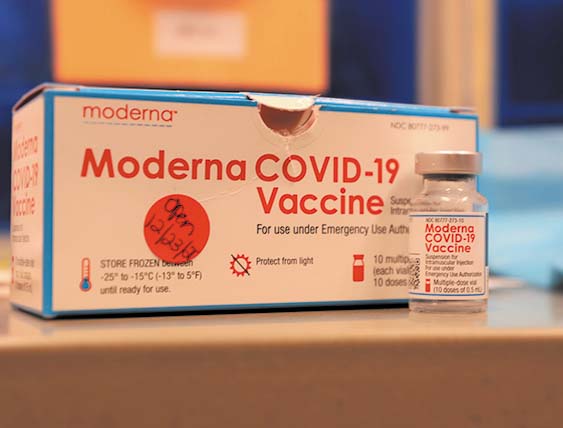 "This is an amazing event taking place and I feel so fortunate to play a role in offering protection and hope to such a beautiful community," said medical assistant Kristina Bartek while filling syringes with the potential lifesaving Moderna Vaccine. "My grandfather is 84-years-old and it scares me to think of what could happen if he gets COVID. I'll be getting vaccinated to protect him, myself, and anyone I come into contact with."
History was made as the first administered vaccination went to Tulalip elder Dale Jones. "We are fighting a very dangerous virus and have already lost some of our people because of it," shared Dale moments after getting vaccinated. "This vaccine means we finally have protection for our people, especially our elders."
Real life heroes who put their lives on the line every day to keep the community safe were eager to get a literal shot in the arm to ensure they can carry out their duties while preventing COVID exposure to others.
"This is a big moment for our community and our fire department by ensuring the health and safety of our first responders," said Fire Chief Ryan Shaughnessy while joining his team in getting vaccinated. "We're really excited and grateful for the Tulalip Tribes generosity to vaccinate our team. Moving forward, we can fulfill our duties with more confidence knowing we're vaccinated against this deadly virus."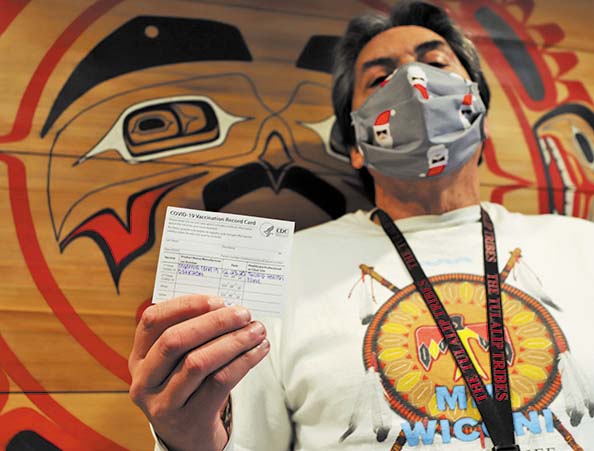 It's been two weeks since Tulalip received the vaccine and the health clinic has administered 407 vaccinations as of January 4. Phase two of vaccinations is now underway. Tulalip tribal members ages 50+ and who have chronic health conditions may now stop by the clinic for a vaccination visit.
If you are a Tulalip elder and not yet received the vaccine, please visit the clinic as soon as possible to do so. You do not need to make an appointment nor call.
"The Moderna Vaccine is a remarkable tool that helps us to decrease the spread of COVID and mitigate life threatening concerns associated with COVID," said Dr. John Okemah, Chief Medical Officer. "Finally having a vaccine available to our people brings about a new sense of hope to our people throughout Indian Country. We've been dealing with this global pandemic for close to a year now. By getting vaccinated we, as a community, are now fighting back and doing what we can to protect our loved ones."