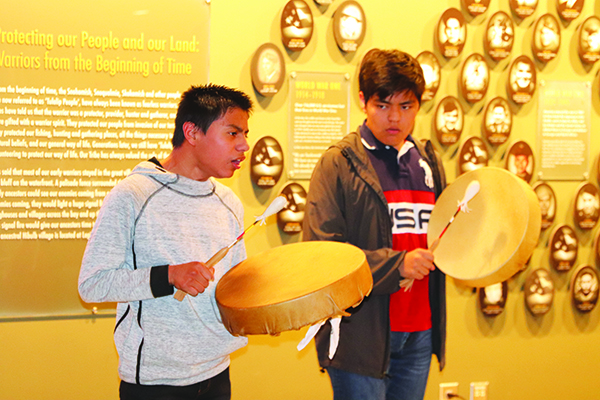 By Kalvin Valdillez, Tulalip News
"Who is a problem gambler?" asked Tulalip Problem Gambling Coordinator, Sarah Sense-Wilson. "A problem gambler is anyone whose gambling is causing psychological, financial, emotional, spiritual, relational, legal or other difficulties for themselves and others around them, including family and community.
"Here's a little data for you," she continued. "Up to 1-3% of Washingtonians struggle with problem gambling. To get some perspective on that, imagine the Seattle Seahawks stadium filled to capacity four times – that's the amount of problem gamblers in Washington state. Sadly, only 1 in 10 seek professional help. 92% of problem gamblers experience suicidal ideation at some point in their gambling, up to 40% attempt suicide. That number is too high." 
Many of us have shared a story about one of our gambling escapades with a close friend or family member. You know the one, it usually begins as a fun night out with good company at a casino and includes plenty of dancing, delicious delectabls and drinks. And if you're feeling lucky, you might even hit the floor. Whether your poison is table games or the machines, the story can only have one of three outcomes; you win, lose or break even. At times we recall these stories as if they were tales of war, recapping each spin or hand dealt. However, it tends to end along the lines, 'I was winning and then lost it all. Should've left while I was up', or 'I won! I got the bonus, five free spins and then hit a bunch wilds'. Because in the moment it's all fun, it's as if you become hypnotized by the music and obsessed with obtaining more credits.
For most, gambling is a fun social event. Many set a limit of how much money they will gamble before even stepping into a gaming establishment. That way if they lose, it's already accounted for. While others can get caught up in the thrill of chasing jackpots, willing to risk it all in hopes of a big payout. Like most vices, gambling is addictive and provides a high. And if you're a compulsive gambler, you lose the concept of time and reality, only to snap out of it when you're forced to stop i.e., run out of cash or hit a jackpot. The odds are always against you, but even when you lose, you might feel compelled to 'win it back' and visit the nearest ATM.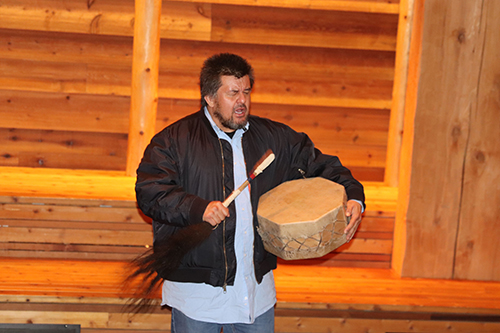 At each ATM located within a Tulalip Gaming Establishment, a message is provided at the bottom of the screen throughout the entire transaction process. A message that unfortunately goes unread, or is ignored, quite too often. A message for compulsive gamblers from the Tulalip Tribes Problem Gambling program that states, 'if you or a loved one suffer from a gambling addiction, please contact (360) 716-4440.'
Every March is National Problem Gambling Awareness Month, an initiative that launched fifteen years ago and was inspired largely in part by the mass amount of NCAA March Madness basketball bracket pools. In an effort to raise awareness and to provide support as well as education, the Tulalip Problem Gambling program actively participates in awareness month by hosting a number of events every third month of the year. 
On the evening of March 2, the Tulalip Problem Gambling program kicked off National Problem Gambling Awareness Month at the Hibulb Cultural Center during their 4th Annual Community Gathering night. 
The community gathering is a popular event that welcomes those who are recovering from their addiction, as well as their families. The theme for this year's event was titled 'Our Healing Journey' and the Problem Gambling program offered good medicine throughout the night. The community filled the Hibulb Longhouse, enjoying an evening complete with dinner and entertainment. Master of Ceremony and Tulalip tribal member, Whaa-Ka-Dup Monger opened the event with a prayer before community member Terrance Sabbas led his family in a drum circle, offering a prayer song to the participants.
One of the highlights of the evening came right before dinner as two young Tulalip Youth Council members, Image Enick and Kaiser Moses, offered words of encouragement and a traditional Tulalip song for those healing from problem gambling.
"I'm speaking on behalf of the Youth Council and representing the youth," said Kaiser. "I'd like to say that we're all very proud of you for being here and taking a moving step forward. It's very important. It touches all of our hearts that you care so much and that you're able to recognize how this affects us. We're happy and overjoyed to be here with you and we're really proud and hopeful for your future."
Charlotte, who was celebrating three years and six months of her personal healing journey, openly shared her intimate story with the community. In 2015, she was caught embezzling from a non-profit, of which she was the treasurer, to fuel her gambling addiction. She eventually was admitted into a deferment program for her crimes and found herself at the Tulalip Problem Gambling program with Sarah who helped her through the recovery process. Sarah tasked Charlotte with creating a timeline of her gambling problem. When working on her timeline she learned that the addiction stemmed from a year of hardship, in which she lost family members due to cancer and alcoholism, along with a traumatizing event concerning her child. 
"You've done everything you can, you're trying to keep yourself together but your family's falling apart, your kids are falling apart. So what did I do? I gambled," admitted Charlotte. "Because at that casino, I checked out. I did not feel; I did not think. I checked out emotionally, physically, mentally. It's very easy to hide. I'd get up and go to work every day and come home and play mommy, but at nine o'clock every night I was leaving. My excuse was always, I'm just so stressed out and I need to get away."
Charlotte explained that she made recovery a priority and began learning about her addiction; why she gambled, how it was affecting her and why she was covering it up. Therefore, she learned how to deal with her feelings and work through her adversity. 
"I started learning I could live and not gamble. Wow, I just said that. I can live and not gamble – amazing! I found people who understand my gambling, people I can talk to about it. I'm not hiding it anymore. That's my recovery. Today, I'm healing."
The community gathering concluded with a performance by Native comedian Vaughn Eagle Bear whose claim to fame was the song John Wayne's Teeth which was featured in the Native cult classic, Smoke Signals. After participants finished drying their eyes following Charlotte's moving testimony, Vaughn made the crowd cry once more, but this time the tears were caused by his hilarious rez humor. 
"This evening we really wanted to highlight and celebrate that whole healing journey, it's not just the individual or the family, it's the community," said Sarah. "This is a disease, it's an addiction, it's a problem. At Tulalip Tribes we recognize that and we provide a variety of services to support problem gamblers, their families and the community. Some of those services are family night where we provide education and support, we do individual counseling, referrals to in-patient or other treatment programs, we also do individual assessments. We are one of the most comprehensive tribal-run gambling programs in the entire state of Washington and we're really proud of that. To me, that reflects the dedication and commitment of the tribe to promote health and wellness throughout both tribal and the local community. Our services are for non-natives too and the fact that Tulalip Tribes is so progressive in providing that support speaks to the value system and the overarching cultural beliefs."
Problem Gambling will continue to host a number of events throughout National Problem Gambling Awareness month. If you or a loved one suffer from a gambling addiction, please contact the Tulalip Problem Gambling program at (360) 716-4440.