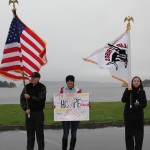 Article and photos by Jeannie Briones
TULALIP, Washington –  Tulalip Tribal members and community members joined together on December 19th for a walk to honor loved ones lost to tobacco and drug-related illness and to support the many efforts taking place to reduce tobacco use and exposure to secondhand smoke, and raise awareness of the health impacts of using drugs.
The first annual "Walk Against Tobacco and Drugs, " organized by Tulalip Tribal member Tisha McLean and friends, began at the Tulalip Longhouse and spanned almost 2 miles, finishing at the Northwest Indian College Tulalip site. Despite the cold and rain, people showed their support, sending the message that they care about each other and share in the common goal of saying no to alcohol, tobacco and other drugs.
"I am walking, in part, for my son who is an addict. He has the same problem as a lot of tribal members. I am a spiritual person and our ancestors are walking with us and they're thankful that somebody's paying attention to the problem we have. It doesn't have to be leaders; it has to be our community, our kids that are here today. Tobacco is the leading killer, it tops alcohol and drugs," said Tulalip Tribal Board Member, Marlin Fryberg.
"It's truly an epidemic. We all care so much for everybody in our community and want to help everyone," echoed Tulalip Tribal Board Member, Mark Hatch.
Halfway through the walk, community members where greeted by the Tulalip Police Department, who rallied together to show their support, offering warm beverages.
Wrapping up the event at Northwest Indian College, participants took in a visual display, created by Tulalip police officers, outlining the dangers of addiction. Community members also enjoyed a light lunch, while sharing stories of family members and friends who are addicted to drugs, and the affects this has on their loved ones.
"I have dealt with it my entire life. My parents were addicts, my dad got better, but my mom is still an addict. And I have siblings that followed in their footsteps," said Tisha, who went on to say that tribal members need to take the first step in wanting help and that people such as herself want to help them embrace a healthy lifestyle and say "no" to drugs, alcohol, and tobacco use.
Jeannie Briones: 360-716-4188; jbriones@tulaliptribes-nsn.gov