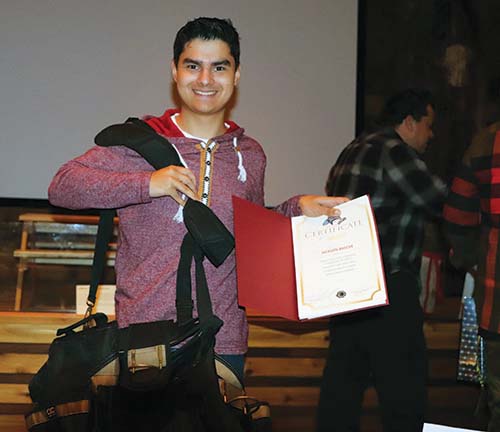 By Kalvin Valdillez, Tulalip News 
"It feels great," says TERO Training Vocational Center (TVTC) graduate and Tulalip tribal member, Joseph Henry. "It's a blessing to be a part of this program. It gives us a lot of opportunities, opens many doors for us. It's the stepping stone of where we want to go. What I learned from this program is to be humble, utilize all your tools. It gives us a career, more than just a temporary job. I have several trades that I wouldn't mind pursuing, cementing, masonry or carpentry, that really caught my eye. The goal is to build my own house one day. We've gained so much skills, it's really an honor to be Native and take part in a program like this."
TVTC is a hands-on learning experience that trains Native Americans, from all tribal nations, and their family members in the construction trades. During the sixteen-week course, the students learn several skills that they can apply at a variety of well-paying jobs including carpentry, cementing, plumbing as well as electrical and mechanical work. In addition, they also earn their flagging, first aid and safety certifications. 
TVTC is well known throughout the nation and has welcomed Indigenous Peoples from many tribes. It is one, if not the only, Native pre-apprentice program in the United States. Most recently, the training center began adding new vocational trainings for their students such as marine technology and medical pre-apprenticeship. 
On the morning of December 17, friends and family of twenty-three TVTC students gathered at the Hibulb Cultural Center longhouse to witness their loved ones graduate from the program.
With fifteen Tulalip graduates, seven graduates from other tribal nations and one Tulalip spouse, this latest graduating class saw a whopping twenty-two students complete the construction program and one student successfully finish the medical apprenticeship program. TERO strives to provide 'training for a better tomorrow' by teaching tribal members how to work with their hands, giving them the tools and foundation to build a new future for themselves.
"Our construction students did sixteen weeks of intense training," explains TERO Director, Summer Hammons. "That's five hundred and sixty-hours and twenty-eight college credits. They're walking away with OSHA (Occupational Safety and Health Administration) training, forty-hours of HAZWOPER [Hazardous Waste Operations and Emergency Response] training, forty-hours of scaffolding, flagger certification, CPR/First Aid training and boom, scissor, and fork-lift certification. 
"Our medical apprenticeship program, we started at our health clinic," she continues. "It's about a year-long and we worked with the Washington Association of Community and Migrant Health Services. They do forty hours a week, completing a 2000-hour apprentice program in the medical field, requiring additional online classes, ten to fifteen hours a week, plus three Saturday, full-day clinical workshops. And bringing the cultural element, we've also brought a new aspect called marine technology and that's working with the waters and the fishing component, so that our students can learn how to fabricate their boats and work on their engines."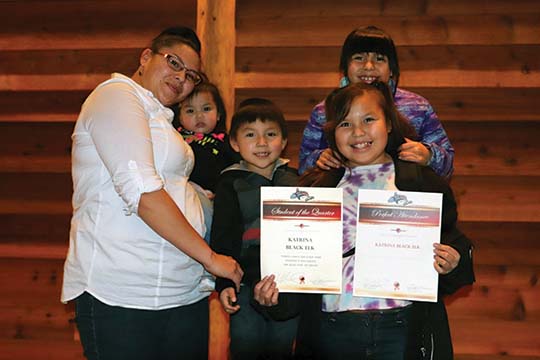 The TVTC participants work on a number of projects throughout the course, all while developing important and necessary skills like time management, finance and resume building. The program is largely based on creating a brighter future for tribal families. Therefore, TVTC puts a special emphasis on including the families throughout their loved one's journey, hosting fun family nights and providing a number of resources for children, to parents who are enrolled in the classes. 
As the graduation ceremony continued, the students received their diplomas as well as a tool belt they can put to use once they've landed their first job. Upon receiving their certificates, it was easy to see that each student shared a unique connection with their instructors Mark Newland, Billy Burchett and Lisa Telford.
"When I first started I wasn't sure if I would complete it because my whole life I'd quit things before finishing," expresses Tulalip tribal member and TVTC grad, Rose Runningwater. "Lisa pushed me really hard to do this for myself. I completed this class because I wanted it and I realized that because she pushed me. It was a really good experience and I know today that I'm a woman who can spread my wings, fly and get what I want out of life." 
 Many students offered hugs and even shared a few words of appreciation about their teachers, gifting them with items such as paddles and blankets. 
"I can't describe it; it makes me want to well up right now," says Mark after receiving a beautiful Eighth Generation wool blanket. "I'm so humble, I just try to pass on what I know to the people of my community. We had a large class – lots of strong personalities, leaders and also six strong women to help out. We built four tiny houses that will be utilized here in Tulalip and we also built some looms for this museum that are on display right now. It was a really fun class and I'm excited to see where this will take them."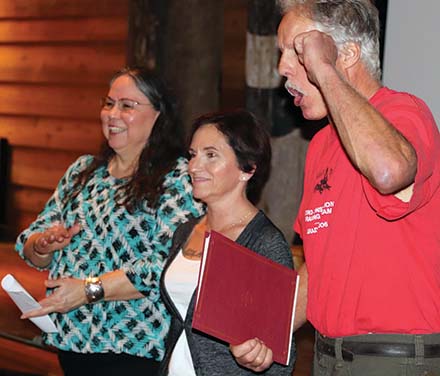 Committing to a program that takes months to complete is no easy feat by any means. Although a majority of the class lives locally, a handful of student's live hours away from Tulalip and made a long-distance trip every day, including Warm Springs tribal member, Nalani Brisbois, who lives nearly one hundred miles away in Nisqually. By befriending fellow classmate and Colville tribal member, Annette Squetimkin, Nalani fortunately did not have to make the entire commute alone.
"I would wake up at 3:30 every morning, get ready and hit the road by 4:30," Nalani says. "I'd stop in Tukwila and pick up Annette and we'd get here around 7:30. It was kind of hard – early mornings every day. Sometimes I didn't want to come back but I kept at it and I'm happy because it was really worth it." 
Puyallup tribal member, Sandy Dillion, can relate to his classmates as he had early mornings as well and would return home late evenings after traveling through stop-and-go traffic, taking away much needed family time from his wife and kids. 
"It was pretty tough," he says. "Waking up at 4:30 in the morning and having to leave the house at 5:05. It was worth it for me though because just thinking about it, in the long run, driving this far every day to make some money in my future is definitely going to pay off. Our TERO department [in Puyallup] is not as big as this one, so for them to reach out to other tribal members to get them educated and started on a career path is important. I'm really appreciative of this opportunity and I want to thank the Tulalip Tribes."
Several union representatives were in attendance, looking to introduce themselves and recruit new employees. The TERO department recognized two local construction business owners, Chris Winters and Gordy Sansaver, who acted as liaisons, assisting TVTC graduates find work throughout the years. Many TVTC Alumni sat amongst the crowd, supporting the new graduates. Alumni took a moment to share their success stories and experiences with the program, encouraging other tribal members to consider a career in the trades. 
"If you have any interest at all, come sign up," said Mark. "You'll find out that working with your hands, working outside and building a future is for you because the rewards are tremendous. The Tulalip TERO program has paved the way for so many students. It's there for the taking, you just have to reach out and put your mind to it and go for it."
The TVTC pre-apprentice construction program is accredited through Renton Technical College and South Seattle Community College and is funded by the Tulalip Charitable Fund and the W.K. Kellogg Foundation. There is no cost to enroll in the apprenticeship and the program comes highly recommended from previous students. 
For further details regarding the TVTC program, please contact TERO at (360) 716-4747.