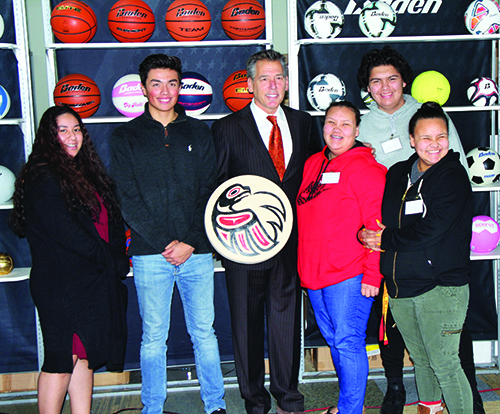 By Micheal Rios, Tulalip News 
Two Rivers Community Development Corporation, a non-profit located in North Bend, has created a new company called Native Sports to officially partner with Baden Sports Inc. in a new venture designed to empower Native youth through sports and business. The partnership also hopes to change the landscape of sports balls used on reservations across the country by providing exclusive tribal designed, top-of-the-line basketballs and footballs for play at all levels.
"Native Sports was created for the purpose of working with Native youth to create our next generation of leaders," explained Chairman Daucey Brewington, a citizen of the Lumbee Tribe of North Carolina. "One of our missions over the next ninety-days is to identify Native youth as potential board members both on their background/interests and their willingness to help develop this new concept."
Native Sports and Baden Sports formally launched their partnership at the first Native Sports Youth Development Summit held at Baden's headquarters in Renton on November 21st. Native youth from the twenty-nine tribes in Washington were invited to participate. Attendees learned about the newly formed Native Sports group and how they as youth can become involved in the organization.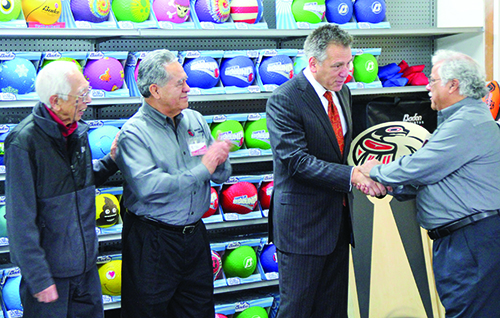 Baden representatives provided product overviews and demonstrations, including balls engraved with the Native Sports logo. Proceeds from Native Sports will be used to further educational, athletic, and social development of Native American youth.
"I am proud to stand with Baden Sports to realize this dream of empowering our youth to live better lives through their own efforts," said President and CEO of Native Sports, Lawrence SpottedBird, a member of the Kiowa Tribe of Oklahoma. "This dream is a result of many years of planning to come together. We will show this unique partnership can not only make a profit, but also engage young Native people to become leaders while learning key business skills along the way."
Among the Youth Development Summit attendees were several members from Puyallup Tribe's Youth Council and representatives from Muckleshoot. After listening in detail to how they could join the Native Sports business venture, the tribal youth got to meet Baden Sports Vice-President, Jake Licht, and then received a surprise meet and greet with Seahawks legend, Jim Zorn.
For more information about Native Sports or to learn about their products and programs for Native youth, please visit their website nativesportsllc.com