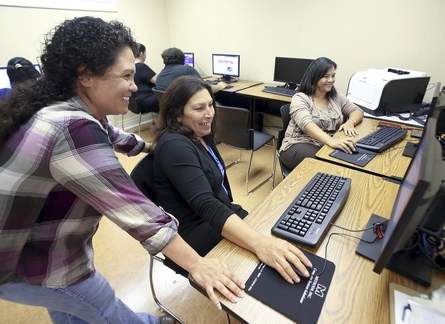 By Maki Somosot, Houma Today
Local and state American Indian tribes are addressing unemployment among their members through a new program that helps applicants become technologically proficient during their job search.
It's a cooperative effort by the United Houma Nation and Inter-Tribal Council of Louisiana.
Earlier this month, three Employment Skill computer labs in Houma, Marrero and Charenton opened up for use by individuals who wish to learn basic computing and job application skills, Inter-Tribal Council Executive Director Kevin Billiot said.
Applicants can also take advantage of walk-in services such as online job search assistance, resume development and interview practice.
"We've seen an increased demand for more complex skills in the workplace," Houma Nation Program Director Lanor Curole said. "The whole idea is to ensure that our people have the skills necessary to succeed. Unfortunately, not everyone has the benefit of computers at home."
Each lab consists of about 13 employees who are trained to provide job assistance and conduct monthly Microsoft Office classes. There is also a job developer who helps match applicants with job opportunities from the local oil, health-care and nonprofit industries.
Reducing unemployment is high on the council's priority list, Billiot said.
A 2010 Houma Nation survey reported that approximately 15 percent of tribal heads of household were unemployed. Of the total unemployed tribal population, at least 28 percent were also disabled.
As tribal members move away from the traditional fishing profession of their forefathers, Billiot said, there is a need for them to stay competitive given the demands of today's job market.
Currently, oilfield jobs are the most sought-after by tribes across southeast Louisiana, followed by nursing, business, office technology and cosmetology jobs, he added.
The decline of the tribal's fishing profession has been well-noted over the last 10 years, Billiot said. While some commercial fishermen are still around, fewer members of the younger generation are inclined to go into the industry due to its instability.
The Inter-Tribal Council of Louisiana and United Houma Nation began discussions early last year to pool their resources and develop a comprehensive jobs program for all tribal members in the state.
The computers were already available for use, but officials did not have a structured training component, Curole added.
"It's a response on on both of our parts to recognize the changing nature of employment and provide the resources our people need," she said.
Since the program just started this month, officials have not yet come up with a target number of applicants. However, they do prioritize disabled and older clients who may not have access to job opportunities or technology.
Officials plan to expand the program to all of the tribes they work with. Currently, the focus is on Houma Nation members because of their number, but there is available money to expand to the Chitimacha tribe, Billiot said.
The main United Houma Nation office, 991 Grand Caillou Road, Bldg No. 2, Houma, has six available computers and is open from 8 a.m. to 4:30 p.m. weekdays. The Marrero branch at Suite C, 931 Westwood Drive, has four available stations and is open from 9 a.m. to 2 p.m. Mondays through Thursdays.
The Chitimacha Tribal Fire Station, 215 Coushatta Drive, Charenton, has six stations and is open 24 hours.
Classes are held once a month and specific times are provided on the United Houma Nation's website, unitedhoumanation.org.