Conservatives will devote $25 million over five years to deliver plan
By Susana Mas, CBC News, Canada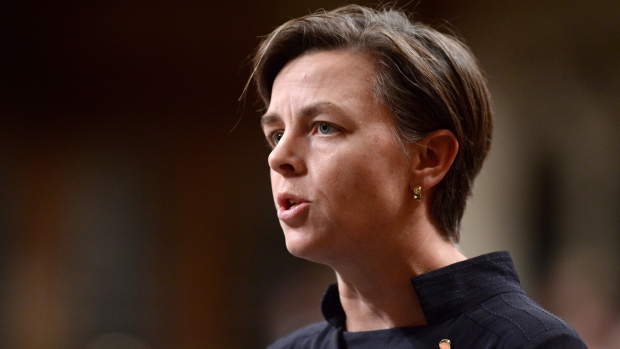 The federal government has tabled a plan to address violence against aboriginal women and girls, announced Minister for Status of Women Kellie Leitch as MPs returned to Parliament after the summer recess today.
"We have heard from victims' families directly and they want action. And that's precisely what we are delivering," said Leitch during question period today.
The government has budgeted $25 million over five years to deliver the plan — a commitment first announced in the February 2014 budget.
The plan flows from the 16 recommendations MPs sitting on the Special Committee on Violence Against Indigenous Women made last March.
The $25 million plan, which would run from 2015-20, would include:
$8.6 million over five years to support aboriginal communities in developing community safety plans.
$2.5 million over five years to help aboriginal people create projects and raise awareness "to break intergenerational cycles of violence and abuse."
$5 million over five years to work with aboriginal communities and stakeholders, as well as aboriginal men and boys, to denounce and prevent violence against aboriginal women.
$7.5 million over five years to help victims and their families through the Victims Fund and the Policy Centre for Victim Issues.
$1.4 million over five years "to share information and resources with communities and organizations, and report regularly on progress made and results​."​
The opposition parties continued to call on the Conservatives to heed calls for a national public inquiry into missing and murdered aboriginal women.
NDP Leader Tom Mulcair said only a public inquiry would get to the root causes of the problem. "There's still a lot of work than can be done looking at the systemic causes here, and that's what we're calling for," he told reporters on Monday.
Mulcair has said if the NDP were to form the government after the next federal election, it would call a public inquiry within 100 days.
Liberal aboriginal affairs critic Carolyn Bennett denounced today's plan as "political smoke and mirrors."
In a statement to CBC News, Bennett said "today's so-called 'Action Plan' simply implements the whitewashed recommendations of the Conservative dominated Special Committee … and is nothing more than a laundry list of existing piecemeal government initiatives, many not even specific to Indigenous women and girls."
Bennett said the Conservatives should call a "non-partisan" inquiry to find out "why this problem has persisted for decades and why successive governments have been unable to fix it."
Today's announcement is in addition to other initiatives the government has said it will support, such as the creation of a DNA-based missing persons database.