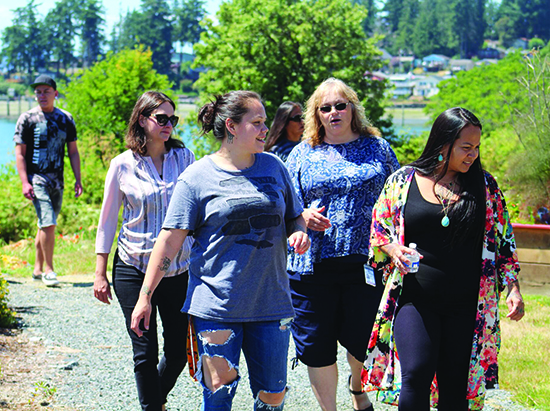 By Kalvin Valdillez, Tulalip News 
The Tulalip Supplemental Nutrition Assistance Program Education, or SNAP-Ed for short, is making strong efforts to promote healthy lifestyle choices in the Tulalip community.  SNAP-Ed teaches about the importance of good nutrition and exercise, alternating between live cooking demonstrations and guided workout regimens each week for Wellness Wednesdays at the Tulalip Administration Building.
Wellness Wednesday is popular amongst Tribal employees as the program has many participants who attend on a regular basis. However, SNAP-Ed is looking to expand their services to Tulalip community members who may not work for the Tribe as well as for those who aren't able to make it to the Administration Building on Wednesdays. In an effort to reach more community members, SNAP-Ed recently created the Tulalip Tribes Walking Club and held the first community walk on July 11.
"We are implementing the Waking Club to start at a low impact level to get tribal members and community members to be more fit, get outside and be more involved in physical activities," explains SNAP-Ed Assistant, Traci Fox. "We want to start a community within the community, for physical fitness, so that people feel like they have support and have other people they can talk to about their journey through physical fitness."
The Walking Club will host one to two sessions per week and the locations will vary between the Karen I. Fryberg Health Clinic and Tulalip Administration Building as well as other areas throughout the community. Walking Club members are awarded with incentives for their efforts and also have the chance to win prizes at the end of each fifteen to thirty minute walking sessions.
"We're trying to reach a larger demographic and make sure that all tribal people and everyone in the tribal community can be involved in physical activity and can learn to eat better to have a healthy lifestyle," Traci states.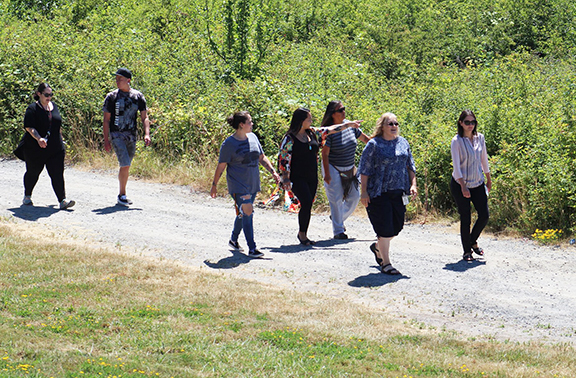 For further details about joining the Tulalip Walking Club please contact the SNAP-Ed program at (360) 716-4899.