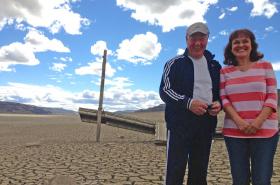 May 23, 2014 Anna King
NWNewsNetwork.org
Dramatically lowered water behind the damaged Wanapum Dam in eastern Washington means boaters are out of luck this Memorial Day on that stretch of the Columbia River.
But people who own vacation homes upstream from Wanapum, at Sunland Estates, say they are getting creative for the long weekend.
The drop in the Columbia River has produced a moonscape of vast sandy islands and miles of mudflats.
It's all clearly visible from Eugene and Karen Penix's second-story deck — and all that sand has been blowing into their yard. Penix said he and his neighbors have been fighting back that silt with troops of leaf blowers.
For the long weekend the Penix family has stocked up on a lot of chips, burgers and hot dogs.
They have also stocked up on patience. "You know Americans, they just won't give up. People are buying these kind of almost portable swimming pools made of vinyl," Penix said with a laugh. "And that's kind of a new thing."
Plus, Penix said wineries, the Gorge concerts and the eastern Washington sun are all good distractions.