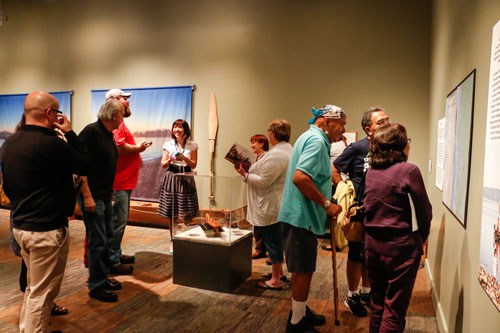 New Hibulb exhibit gives an in-depth look at Tulalip's canoe culture
By Brandi N. Montreuil, Tulalip News
TULALIP- "Imagine you are at the shore of the Salish Sea where a grand ocean-going family canoe floats patiently, waiting for you and others to begin your journey. The rivers, lakes and seas are our earth's arteries, carrying its life force of water. For thousands of years they functioned as our ancestors' highways, connecting our people together," reads the opening display panel in the new interactive temporary Hibulb Cultural Center and Natural History Preserve's exhibit, "A Journey with our Ancestors: Coast Salish Canoes."
The new exhibit, on display through June 2015, explores canoe culture in Tulalip and in Coast Salish tribes. A soft opening for the exhibit was held on Friday, June 27, with over 80 guests in attendance. This interactive exhibit features over 70 items that guests can explore canoe culture through, such as videos on carving canoes, maps, display panels, paddles and tools used to carve canoes with, and a large canoe that guests can sit in.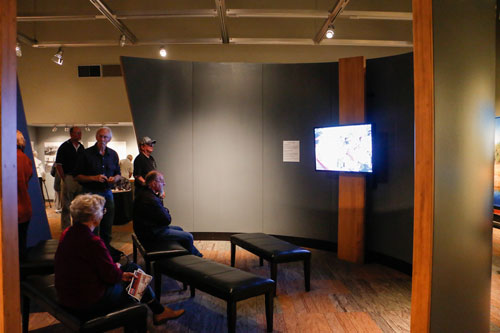 "We hope guests learn the importance of canoes and how they were tied to all aspects of our life," explains Mary Jane Topash the center's tour specialist, about what guests can expect from the new exhibit. "We hope to educate people on the types of canoes, anatomy, tools, what it takes to build one, and how they are still used to this day. This exhibit will encompass all aspects of the teachings, history, lifestyle, and how their importance hasn't changed a whole lot over the years."
Coast Salish Canoes highlights the roots of the Canoe Journey and the important role that canoes played in its revitalization during the 1989 Paddle to Seattle.
"It was a big learning process for us. It didn't just happen in 1989," explained Tulalip carver Joe Gobin, about the preparation involved in the Paddle to Seattle. "Frank Brown and Ray Fryberg Sr. got our [Tulalip] Board involved and the Board saw how this was something missing in our culture. They sent us to different reservations to learn, to Lummi and Makah, because none of us knew how to carve a canoe. We all talked about it and the tools we needed, and how when we were making the canoe we were bringing the tree back to life. And it did come back to life on the reservations, and it brought back so many things in our culture that were forgotten. I am glad to see this exhibit here."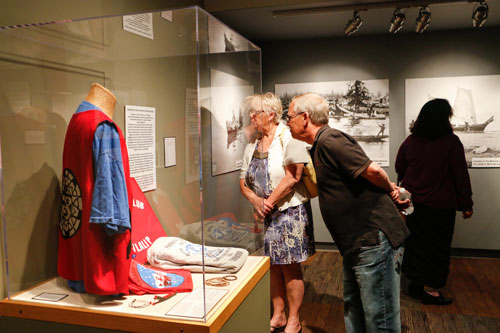 Lena Jones, the center's curator of education, says guests will leave knowing the importance of canoes in Coast Salish culture. "Our ancestors helped keep a rich environment with superb art. We hope the exhibit will help people appreciate the social gatherings of the Coast Salish people and help our young people recognize their community's role in revitalizing important Coast Salish traditions that can, and do, help the region."
For more information on "Coast Salish Canoes," please visit the Hibulb Cultural Center and Natural History Preserve's website at www.hibulbculturalcenter.org.
Brandi N. Montreuil: 360-913-5402: bmontreuil@tulalipnews.com