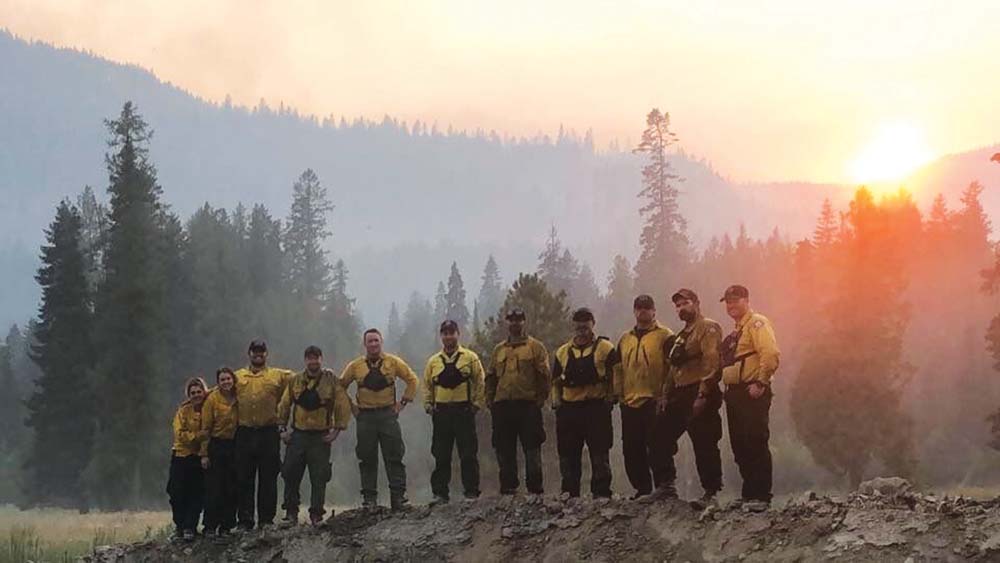 By Kalvin Valdillez, Tulalip News; Photos courtesy of Tulalip Bay Fire Department 
It's been a long hazy month for Washingtonians as wildfire smoke contaminated our air for the majority of August. At one point, Seattle even made national headlines for having worse air quality than Beijing, which is usually covered by a thick cloud of smog throughout most of the year. Smoke from both the Oregon and B.C. wildfires continues to circulate through the state, causing dangerous conditions for people with respiratory issues as well as pregnant women, elders, children and pets. Thousands of firefighters, covering a myriad of forest fires from all areas of the state, were called upon in an effort to control the flames during peak wildland fire season. 
Among the strike teams deployed across the state was the Northwest 3 Strike Team, comprised of firefighters from Bothell, East Jefferson, Skagit, Shoreline, Arlington and Tulalip Bay Fire Departments. Tulalip Bay's own Collin Chavez, Patrick Dineen, James Shockley, Lindsay Muller, Shawn Carlson and Jacob Shoresman were on the strike team and bravely fought three large fires in eastern Washington to protect nearby residents and businesses and help bring an end to all of the haze.
"Tulalip Bay Fire is now a part of state mobilizations," says Tulalip Bay Firefighter, Collin Chavez. "The way that works is when there's a big incident, a big fire that warrants the need of statewide resources, the state will send over strike teams. The team we were on was the Northwest Strike Team, they're comprised of departments from all over, typically bigger departments. Now Tulalip's a part of that strike team, led by Chief Hots of Getchell, and we're pretty excited to be a part of it."
The strike team was on duty for seventeen days, serving sixteen hours on the frontline and getting minimal sleep each night. The team setup camp at local schools, sometimes in tents on ball fields and other times inside the school's gymnasium.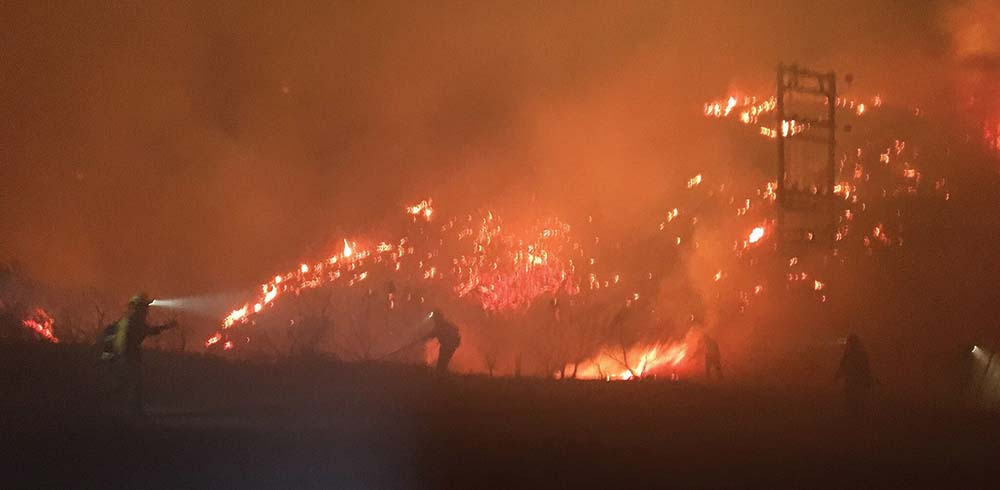 "It's a constant rotation but being out there is fun. You work with a lot of different departments so you get to make friendships with people," says Firefighter Patrick Dineen. "On the Cheney fire we got to work with an inmate crew, it was crazy but really cool. These guys are actually in prison and this is a job that they get to do."
The crew visited three sites to help suppress the fires at Silver Lake, Grand Coulee and Boyds (Kettle Falls). The reason for the fires is still under investigation but it's safe to say that the extreme heat and dry air were among the factors.
"The first fire was in Cheney, Washington at Silver Lake. We were the initial attack team.  As initial attack you arrive and you're the first ones to attack the fire for structure protection of homes and buildings in the vicinity of the fire," says Chavez. "From Silver Lake we went to Grand Coulee. That was a grass valley fire, it started out very small in acreage around five hundred to one thousand and within two days it jumped all the way to 78,000 acres. It spread very quickly, there were some high winds.
"The third fire we ended up on was the Boyds fire by Kettle Falls in Colville, Washington near the Canadian border. That was a bigger incident because there were a lot more residential and commercial structures nearby. Anytime there's more threat to homes or towns, the incident usually increases in scale. The first two fires were type three, which is a smaller incident and this one was type two. It can be a little tiring and you get very dirty but there's a sense of satisfaction. It was really cool to have our Tulalip rigs out there on the strike team. The citizens are a big part of it, there were a lot of evacuations, but there was still a lot of people in the town making signs, stopping by to say hi and just excited to see firefighters there to protect their towns and homes."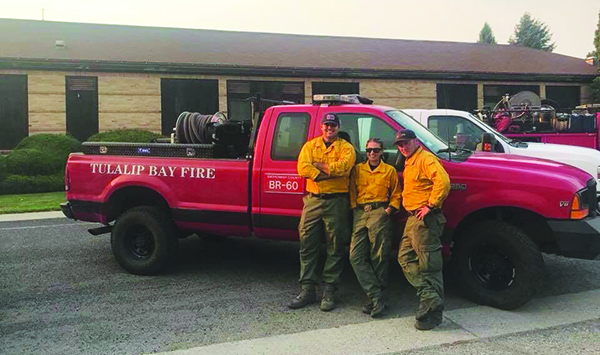 The strike team members returned to their respective departments now that nearly all three of the fires are under containment. The crew still remains cautious, however, ready to return to battle at any given moment. 
"The seasons not over," warns Dineen. "It's calmed down a little but one lightning storm or one person throwing a cigarette butt out the window, we could have a whole 'nother one pop up. Wildland season goes until October."
"Stay current on the burn bans," Chavez adds. "Adhere to the burn bans, that's a huge way to prevent any type of grass or brush fire. Don't go shooting any fireworks off, especially where there's dry fuels. And protect your house, it's always a good idea to have defensible space between your residence and any debris, wood or anything that could burn. And having sprinklers set-up will definitely be helpful. Just be aware and remember how dry it is and that fires can spread quickly."
For more information, please contact the Tulalip Bay Fire Department at (360) 659-2416.