Kathryn Smith The Spokesman-Review
January 12, 2014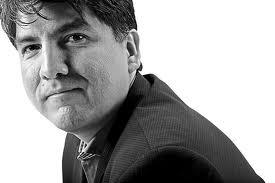 Death. Family. Loss. Love. Wealth. Poetry. Spirituality. Genocide. Prejudice. Sherman Alexie's new poetry collection, "What I've Stolen, What I've Earned," demonstrates the National Book Award-winning writer's ability to tackle big themes, weaving them together in the context of his Indian identity and with his wry, unapologetic sense of humor.
And he wastes no time doing it. Alexie takes on all these topics in the collection's first poem, the wide-ranging and powerful "Crazy Horse Boulevard," always through the lens of his Indian identity (a member of the Spokane Tribe, he uses the term "Indian" almost exclusively). He addresses being Indian in a white world ("Most of the people who read this poem will be white people"), as well as within Indian culture, on and off the reservation ("Among my immediate family, I'm the only one who doesn't live on the reservation. What does that say about me?"). The poem brings historical prejudices into a modern context, and Alexie calls things as he sees them, especially when it comes to the choices people make from what he sees as places of luxury ("If my sons, Indian as they are, contract some preventable disease from those organic, free-range white children and die, will it be legal for me to scalp and slaughter their white parents?").
The focus on racial and cultural identity comes through strongest in the book's first section. "Happy Holidays" pointedly discusses the complicated relationship modern Indians have with American holidays. "Sonnet, with Slot Machines" wrestles with the politics of Indian casinos and issues of gambling.
"Slot Machines" is one of many so-called "sonnets" in the book; the poems comprise the second section and are scattered throughout the others. In labeling these poems sonnets, Alexie initiates a conversation about form, forgoing the traditional 14-line rhyme and metrical structure and instead following formulas of his own. This reinvention of form allows Alexie to stay true to his own voice, never sacrificing his natural vocabulary for the sake of someone else's definition of "poetic." Yet Alexie pays homage to formal poetry and to his literary forbears by recognizing the significance of the form's constraints while giving it his own spin.
Whatever form he uses, Alexie stays true, too, to his own style of storytelling. And "What I've Stolen, What I've Earned" is, at its core, a book of stories, told piecemeal, which hit the reader with their poignancy in the way Alexie weaves the seemingly disparate pieces together. In "Sonnet, with Tainted Love" he does this with a missing persons case, nightmares and the movie "Dirty Dancing." "Hell" links Dante, Jimmy Durante, Moses and a fear of heights.
At 156 pages, it's lengthy for a poetry collection, and the book does drag at times. ("Phone Calls from Ex-Lovers," for example, probably doesn't need to list all top 100 songs from 1984. Surely 10 would have made the point.)
But the slow moments are overcome by the tenderness of "Steel Anniversary," by the undeniable momentum of "The Naming Ceremony," and by the sledgehammer truths that catch us off-guard, the laugh-out-loud surprises and the utter honesty with which Alexie delivers it all.
"What I've Stolen" creates a world that, to borrow a line from "Sonnet, with Tainted Love," "is equal parts magic and loss," and it's a book worth savoring to the final line.