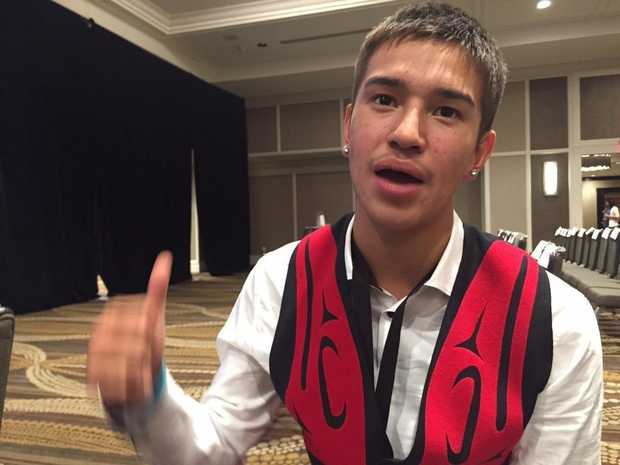 BY ROB HOTAKAINEN, News Tribune
WASHINGTON — After losing his father to suicide in 2012, teenager Hamilton Seymour said he wanted to find something positive in his life: He found healing by paddling his canoe.
"It's my personal outlet," said Seymour, a 15-year-old member of the  Nooksack Indian Tribe from Bellingham, Wash. "It's where I can get away, even if I'm with people."
Convinced that exercise is "a stress reliever" and the key to improving mental health, Seymour now is pushing other members of his tribe to deal with grief and celebrate their culture by carving canoes and singing traditional Native songs as they paddle their way to fitness. His efforts are gaining attention.
After Seymour won a national award earlier this year from the  Center for Native American Youth, he found the spotlight on Thursday at the first White House Tribal Youth Gathering, when he was picked to introduce  first lady Michelle Obama before her speech to the group.
"It was just surreal," said Seymour.
An official in the first lady's office said Seymour was chosen because his story served as a "source of inspiration" for other Indian youths. But Seymour speculated that there was another reason.
"I've been told they did a background check and they looked at our social media," he said. "And I luckily only have Facebook and I don't post anything vulgar, inappropriate or like just stupid stuff people post these days."
Seymour was one of five Indian youths from across the nation cited as a 2015 "champion for change" by the Center for Native American Youth, an award that recognizes youths who are making a difference in their communities. Center officials noted that while most adults are uncomfortable talking about such issues as sexual abuse and suicide, Indian youth leaders are tackling the issues head on.
Seymour, whose parents divorced when he was 6 years old, said he didn't want to discuss specifics of his father's suicide. But he said the act of violence leaves survivors suffering.
Growing up, he said, he has learned that "you only get out of this world what you put in," but he said he doesn't want to judge others who struggle. He said many Indian kids are growing up in homes where parents are fighting and the children aren't getting enough sleep or food.
"High school's tricky," he said. "You never really know what someone's going through."
Seymour said his application for the award focused on keeping culture alive through traditional sports. As part of his project, he has lined up 11 other teens to help him paddle canoes in races.
"What paddling is doing for us is getting us stronger – obviously physically, but also mentally, spiritually and emotionally," he said. "It's just beautiful."
Seymour said paddling comes naturally to him, with the tradition strong on both sides of his family.
He said his father, a Canadian Indian who was in his early 30s when he committed suicide, was a champion paddler.
"He was a phenomenal man, and I'd like to carry out his name and his spirit through paddling. . . . I feel like paddling is only one of the few things that I have left of him," Seymour said.
Some of Seymour's friends from Bellingham, who are also in the nation's capital this week as part of various tribal youth events, said Seymour has come a long way.
"I've known Hammi my whole life – he's our baby," said Sarah Scott, 21, a mentor for the Lummi Nation's tribal youth recreation program. "In the last year, he's just blossomed into this natural leader on a national platform, and to me that is just so inspiring."
William Lucero, 18, another member of the Lummi Nation, said it was remarkable to watch Seymour get a hug from the first lady.
"I was jealous," he said. "It's so cool."
Seymour, who will be a junior at Mount Baker High School in Deming, Wash., this fall, said it was a "once-in-a-lifetime experience" to share the stage with Michelle Obama.
"I didn't know she was that tall," he said.
When an announcer called his name, saying it was time to introduce the first lady of the United States, Seymour said he temporarily lost his breath.
"I took one step and I felt all the oxygen just leave my body," he said. "I got told to take three deep breaths. I did that, but my heart was pumping. It was just so great."
Seymour figures his life is looking pretty bright, too.
"I can't tell the future, but I'm really hoping, and I really feel like it's going to be great," he said.
Read more here: http://www.thenewstribune.com/2015/07/10/3910390_when-tragedy-struck-washington.html?rh=1#storylink=cpy