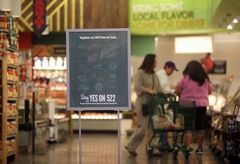 By Jerry Cornfield, The Herald
LYNNWOOD — You can't go far inside the Whole Foods Market in Lynnwood without knowing the company's stance on Initiative 522, the food labeling measure on this November's ballot.
There are banners hanging from the ceiling, brochures above the salad bar and a poster on an easel in the poultry section, all proclaiming, "We say Yes on 522.
The same message can be seen on every aisle and even under selected products of like-minded companies. It's coming to checkout stands soon. It's outside, too, where, parked a few strides from an entrance, is a forest green Chevy truck with Yes on 522 painted on the driver's side door.
And the store's roughly 155 team members — Whole Foods code for employees — carry literature in their aprons and are trained on the basics of the initiative should they be quizzed by a customer.
It's not just here but in each of the company's seven Washington stores, a reflection of how serious the international chain wants to win.
"We don't dabble a lot in the political world," said Leah Abell, marketing team leader for the store. "This is different because this is such a hot topic and we have been leading the way for organic labeling.
"Our customers are telling us we want to know what is in our food," she said. "We want to give that to them."
Whole Foods spent $250,000 trying to pass a similar measure in California last year. It has reached that mark in Washington already and expects to spend more, spokeswoman Susan Livingston said.
"We're trying to engage people in every way we can," she said, noting the company is funneling many resources through its Will Vote For Food effort.
If voters pass Initiative 522, many packaged and processed food products sold in retail stores will need labels revealing if the item was genetically engineered or contains genetically engineered ingredients starting in July of 2015.
There are a host of exemptions. For example, food sold in restaurants is exempt as are alcoholic beverages. And meat from animals that ate genetically engineered feed is also exempt.
Proponents contend requiring labels will give consumers needed information about the food they are eating. Opponents say it amounts to a costly new regulation that will manifest itself in higher prices.
Campaigns for and against the measure expect to spend millions of dollars in the next few weeks, much of it on the airwaves. Both sides launched their first television commercials this week.
Against that backdrop, individual farmers and businesses are trying to reach voters in a simpler and more direct way. Up and down the I-5 corridor and across the Cascades, businesses known for offering organic foods and products without genetically engineered ingredients are marketing a political message to customers.
Employees at PCC Natural Markets, which operates a store in Edmonds, wear Yes on 522 buttons. Information about the measure is available in the stores and has been sent to members of the nation's largest consumer-owned natural food retail co-operative.
"This is an affirmation to our customers that we are doing what they have been asking us to do for 20 years," said Trudy Bialic, director of public affairs.
So far no one's complained.
"I have not received one letter from one shopper that they didn't appreciate it," she said.
A spokeswoman for the opposition expressed little concern about the strategy.
"Proponents can share the information as long as they are reporting it to the PDC (Public Disclosure Commission)," said Dana Bieber, spokeswoman for the No on 522 campaign.
Bieber wouldn't say if they'll have retailers opposed to the measure put up materials too.
"We're committed to sharing the facts with voters," she said.
She did point out that one Whole Foods infographic echoes the message of their campaign as it urges customers to look for products with the USDA organic label if they want to avoid GMOs.
"That's what our campaign has been saying," she said. "They're reinforcing the message that the organic label is a better way to know if GE (genetically engineered) ingredients are in their food. It is better than 522."
Such tactics are not novel in Washington.
Two years ago, Costco used its shopping warehouses to gather signatures for the liquor privatization initiative and then dole out materials backing the measure. Other grocery stores and many restaurateurs put up materials in their businesses.
It's too soon to gauge the effect of such in-store campaigning on Initiative 522 because voters aren't focused on the election yet.
"I think it can make a small difference," said Seattle political strategist Christian Sinderman, who's not involved in the campaign. "People have more opinions about food than they do about politicians so to reach people where they shop and where they eat will have more impact than a yard sign."
Sinderman doesn't think it will swing the outcome.
"Voters are smart enough to know that the businesses only engage in these things because they impact their bottom lines," he said. "If they support that (company's view) they won't have a problem."