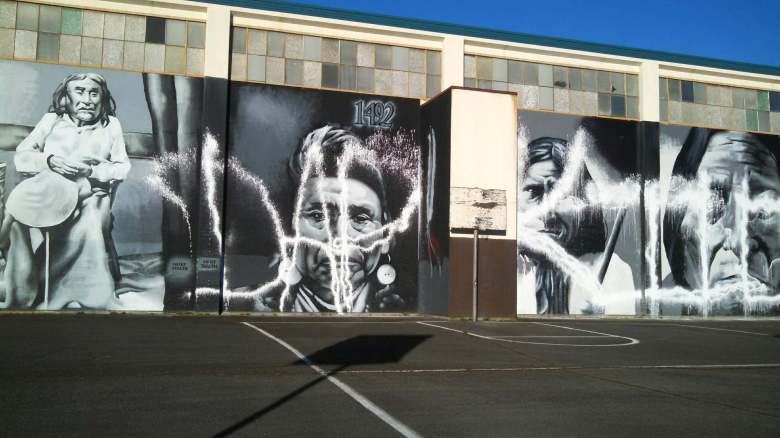 By Seattle Sketcher Gabriel Campanario, Seattle Times
Murals painted by local Native-American artist Andrew Morrison at the Wilson-Pacific school building have been desecrated.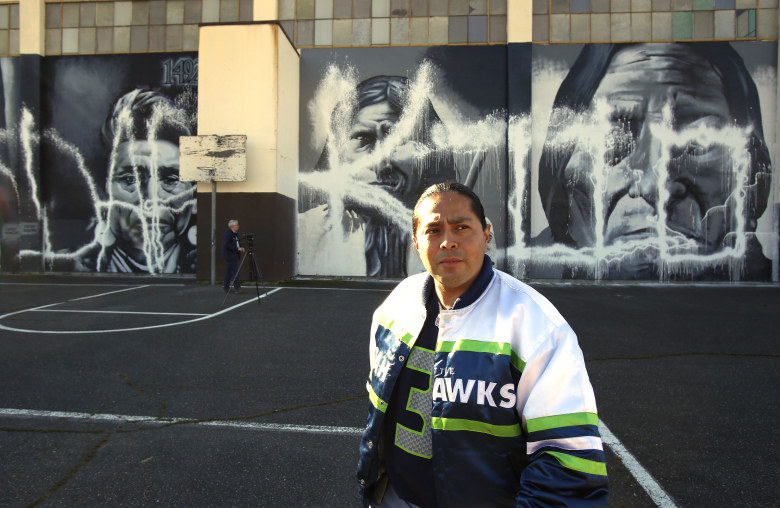 Andrew Morrison's murals at Seattle's Wilson-Pacific school building were desecrated over the weekend. The words DAPKILO were painted over, said Morrison, who sent me the photo you see above. DAP is the name of a crew of graffiti artists. It stands for Down Around Pike, said Morrison, and KILO is the name of one of their artists. "We know who did it," Morrison told me over the phone. "He was stupid enough to write his own name."
Morrison said the only explanation to the crime is "jealousy and hate." He said the murals, which the city agreed to preserve intact, have become known and are a celebration of life. "Only someone who is against that could do this."
The towering murals on the Wilson-Pacific School campus in North Seattle are among just a few notable examples of local public art honoring Native Americans. In 2013, they seemed destined for destruction when Seattle Public Schools announced plans to demolish the buildings to make way for a new campus. The school district proposed taking photographs of the murals and displaying them in the new school so the artwork could be remembered. But officials eventually changed their mind and agreed to preserve them given their cultural and historical value.
Johnpaul Jones, an architect involved in the preservation process, plans to visit the site Tuesday morning to assess the damage.
Below is a sketch of the murals from my article last month.