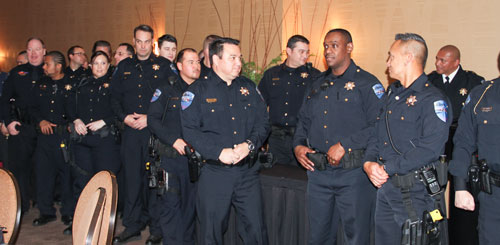 By Brandi N. Montreuil, Tulalip News

TULALIP – "Honoring one honors us all" was the theme of the 2015 Tulalip Police Department Awards Banquet, held Wednesday, February 11, at the Tulalip Resort Casino. The banquet was held in recognition for officers and staff who have demonstrated exceptional professionalism and leadership within their positions as Tulalip Police officers or Tulalip Police staff members.

This year three officers, one staff member and a community member were highlighted for their outstanding work in the department and with the Tulalip community. While all officers and staff put 100 percent into serving the Tulalip community, Tulalip Chief of Police Carlos Echevarria said, "these officers' and staff members' work stood out."
"With such a large staff it's hard to choose just a select few. They all do such a great job throughout the year," said Chief Echevarria.

Fish and Wildlife officer Clayton Horne was named Fish and Wildlife Officer of the Year for his service with the police department, while Lorelei Ranney was named Employee of the Year for her outstanding work and dedication in assisting officers and other department staff. The Chief's Award was presented to Senior Officer Jeremy Mooring for his leadership, integrity, and willingness to go above and beyond the call of duty.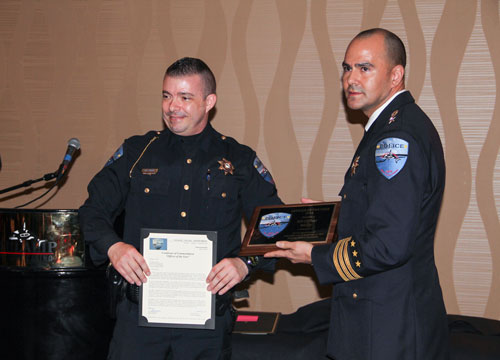 When presenting the award, Chief Echevarria had this to say about officer Mooring, "You have consistently performed your duties in an exemplary and professional manner." Echevarria commended officer Mooring's can-do attitude and praised his willingness to assist officers by taking on additional shifts when needed and helping to make safer road conditions for travelers in Tulalip.

The prestigious Officer of the Year award was presented to K-9 Officer Wolfy, whose watch ended on January 2, when she lost her battle with cancer. Wolfy's handler and partner, officer M.C. Engen, received the award in Wolfy's honor.

"Throughout their partnership, they have assisted in cases with the Tulalip PD Drug Task Force, FBI, DEA, and ATF agencies. We would like to commend you and your partner with the Officer of the Year award for the dedication and commitment you have provided to the department. Your devotion to the community, professionalism and commitment to duty reflected great credit upon yourself, the Tulalip Police Department and the Tulalip Tribes," said Echevarria to officer Engen.

The department recognized community member Nate Hatch for their Honoring Our Own award, an annual award that is presented to community members who exhibit a commitment to leadership, trust, respect and service above self within the community.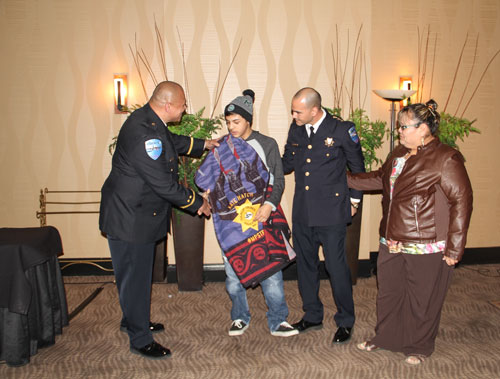 "Nate Hatch, you have shown strong character, a can-do positive attitude, brilliant smile, sense of humor and most importantly, you have been an inspiration to the entire world following the events that occurred on October 24, 2014. Your bravery is second to none and we applaud you," said Echevarria.

"Our year was cut short. As a tribal member, community member and chief of police it felt as though our year started on January 1 and ended on October 24. I literally cannot tell you what I did from October 24, until the end of the year; it is one large blur. As I look back, I can't think of a better group of individuals in this police department and as a team that showed great courage, leadership, professionalism and the willingness to go above and beyond for the community, as I did in this group, that I would want to serve with," said Chief Echevarria.

Wrapping up the banquet, all Tulalip officers and TPD staff members were presented a commemorative coin specially designed for them. Each coin symbolizes the dedication and commitment staff and officers have to keeping the Tulalip community safe.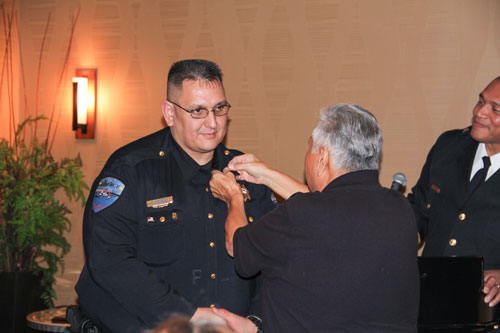 Brandi N. Montreuil: 360-913-5402; bmontreuil@tulalipnews.com