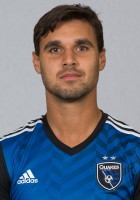 by Levi Rickert /  26 Jun 2014
RECIFE, BRAZIL— Chris Wondolowski, the first tribally enrolled American Indian to participate at the World Cup, will be on the field as the U.S. Men's National Team will plays Germany at noon, Thursday, June 26 in the World Cup in Recife, Brazil.
Wondolowski is a tribal citizen of the Kiowa Tribe of Oklahoma. He is a forward on the U.S. team.
Wondolowski plays Major League Soccer for the San Jose Earthquake. He is known by the nickname "Wondo."
In 2013, Wondolwski tallied 11 goals and three assists in 29 MLS games, becoming the 11th player in league history to record double-digit goals in four consecutive seasons.
Wondolowski was born into the Kiowa Tribe through his mother, Janis Hoyt. He was given a tribal name, Bau Daigh, pronounced Bowe Dye, which means "warrior coming over the hill."
His brother, Stephen Wondolowski, is also a professional soccer player.