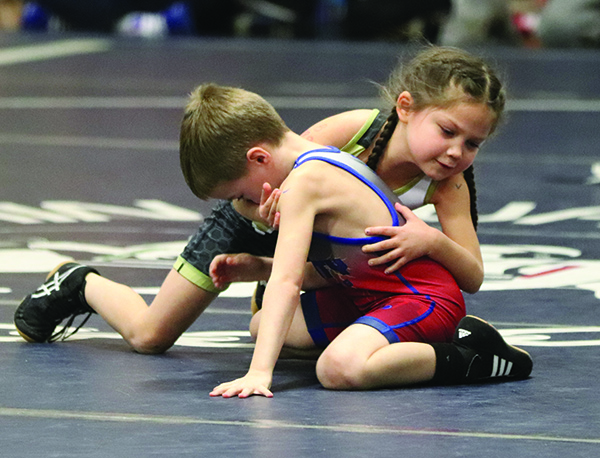 By Micheal Rios, Tulalip News 
Of the many sports children can participate in, wrestling is perhaps the most misrepresented, misunderstood, and underrated. Each year hundreds of thousands of kids participate in this non-violent combat sport, yet the average person knows as much about wrestling as they might know about rugby or polo.
"Wrestling is perhaps the purest form of athletic competition to exist in the realm of organized sports," explained Young Champions President Bill Campbell. "There are no bats or balls, or pucks or sticks. No pads or helmets or jerseys. There's no time to rethink strategy, regroup, or even to catch your breath. There's only you, and your opponent of equal weight and size. Experience, preparation and the will to succeed will determine the victor. There's no doubt about it, wrestling tops the list of intense, highly competitive sports."
Put that way, it's no wonder why there is a multi-generational connection of Tulalip athletes who are coming up in the sport and finding serious athletic achievement and personal growth, on and off the mat. Coached by Tulalip tribal members and former wrestling standouts, Sam Davis and Tony Hatch, the Marysville Tomahawks wrestling program has amassed quite the youth following. They have wrestlers of all ages, skill level, and quite a few girls who prove wrestling isn't just for the boys.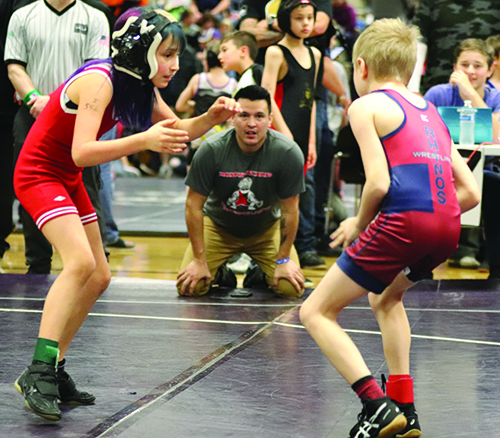 There are additional youth tribal members who are making quite the name for themselves while wrestling under the Punisher wrestling banner, located in Arlington. Regardless of team camp, the aspiring athletes are learning invaluable lessons such as self-discipline, hard work, skill building, and an inner strength that's only developed over countless hours of practice. Plus, there are many social skills and benefits that come naturally for athletes who learn what it means at an early age to be part of a team. 
"To us, Marysville Tomahawk wrestling is our family," shared Katie Lancaster-Jones, mother of two Tulalip wrestlers, Milo and Cole. "We started seven years ago when Milo was six-years-old and Cole was only four. They started with Tony Hatch and his family. Now, we work with coaches Sam Davis and Brandon Davis. From the coaches, athletes and families we are all here to help the youth move forward in life, not just the sport. 
"We motivate our wrestlers to keep their grades up, respect one another, and to stay healthy by being active," continued Katie. "The team is here to teach and to learn from. Wrestling is a life style. There's a lot of coordinating, planning, and fundraising that requires commitment by our athletes and their families. The team gives them a place to go; gives them goals to work toward. It's all about our future generations learning how to handle tough moments on and off the mats."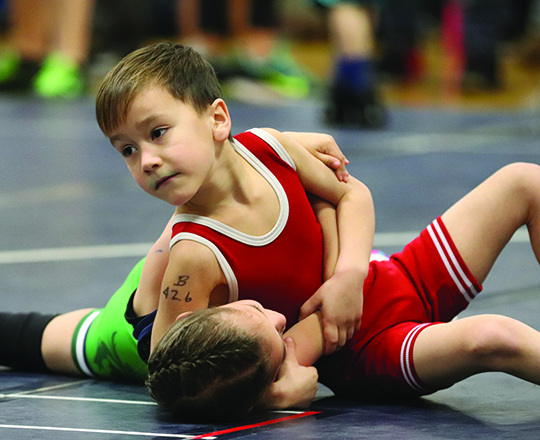 A large group of local wrestlers were invited to participate in the WWKWL 2019 Novice Championship, which took place on January 27 at Kirkland Middle School. The novice designation means only wrestlers within their first two years of competition. 
In front of family, friends, and hundreds of onlookers, the novice wrestlers competed in an all-day, round-robin style tournament. Win or lose, the collection of wrestlers demonstrated strong grappling maneuvers and a variety of defensive techniques. Several of the kids' wrestling prowess stood-out even in a gym where eight matches were going on at any given time. 
One such wrestler was 8-year-old Julie Blevins. Representing Tomahawk wrestling, Julie's limber frame and quickness caught spectator attention as she went heads-up with the boys. She held her own in every match, not allowing herself to be pinned nor giving up any points easy to her male counterparts, and came away victorious in the hearts of her adoring fans.
"She found wrestling naturally because her dad (Jason) wrestled for coaches Sam and Tony back in his wrestling days. Now, he coaches for the Tomahawks program," said Julie's mom, Victoria Blevins. "It's been so awesome watching Julie grow as an athlete. When she first started she was really scared and tentative, but now she pushes through even if she gets hurt or competes against boys tougher than her. Going up against the boys, Julie relies on technique more and that's given her opportunities to learn some go-to moves. Her confidence has soared since she has learned she's capable of picking up her opponent and slamming them for a pin."
Wrestling, like any sport, has its share of phenoms; those that make excellence look like ease. Five-year-old, Tulalip tribal member Julian Lawrence is such a phenom. This year alone he has accomplished quite a bit, taking 1st place in several tournaments held in Spokane and Oregon. In fact, the day before the Novice Championship, Julian competed in another tournament and entered in two separate brackets. He dominated both and took home two 1st place medals for his efforts.
The dazzling five-year-old put on a show in front of community members who couldn't help but gravitate to whatever mat he was competing on. Pin after pin, Julian overpowered his opponents en route to being crowned a novice champion and earning yet another 1st place medal.
"As parents, we couldn't be any more proud of our son. Watching him grow stronger, faster and smarter…pushing himself to be the best that he can be…he has so much passion and heart for the sport," beamed his mother Honeykwa Lawrence. "We are very proud of his sportsmanship, win or lose. Julian has grown into a polite, respectful little boy on and off the mat.
"He has grown so much within these past few months since joining team Punisher. He is constantly learning new things and he soaks it all up like a sponge," continued Honeykwa. "After this tournament, Julian's record is currently 50-4, so 50 wins and only 4 losses. We are looking forward to State coming up next weekend. We have high hopes for him and think he will take State title!"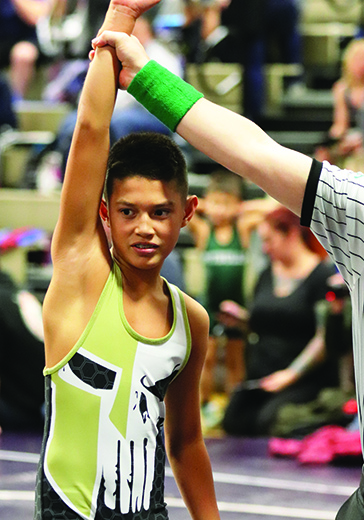 Out of the local Tulalip/Marysville competitors, quite a few wrestled into a high placing or earned a 1st place medal at the Novice Championship. Julian Lawrence, Donte Luong and Conner Juvinel all took home top honors for their brackets. Karter Wright took 2nd place, Troy Blevins took 3rd, and his brother Jason Blevins took 4th. 
For any parents who are interested in getting their kids participating in youth wrestling, feel free to connect with Marysville Tomahawk Wrestling through their Facebook page or email Marysvilletomahawkwrestling@gmail.com