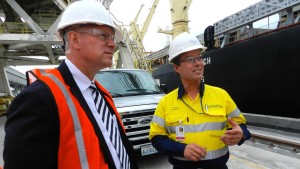 By: Earthfix; source OPB
Wyoming lawmakers have passed legislation that would allow the state to finance the construction of coal export terminals in the Pacific Northwest and elsewhere.
On Friday, Wyoming's state legislature sent to Gov. Matt Mead a bill that would allow the state to issue up to $1 billion in bonds to help fund out-of-state projects, including coal export terminals.
Lloyd Drain, director of the Wyoming Infrastructure Authority, said these projects would be good for Wyoming coal and the Northwest, too.
"If I'm looking at it with my Washington state or Oregon state hat on, I think there's a lot more benefits to be had than any risk," he said.  Wyoming plans to send a delegation to Pacific Northwest later this spring to lobby Native American tribes for support.
The Legislature's vote is the latest in a series of steps by Wyoming politicians to push for the construction of export terminals hundreds of miles away on the West Coast. Last June Wyoming's governor made a publicized trip to Washington to raise awareness of his state's interest in moving its coal through the Northwest. Then in October, Mead invited tribes and city and county leaders from the Northwest to visit Wyoming to see the benefits of supporting the export of Wyoming coal coal through their states.
Coal export projects are proposed on Puget Sound near Bellingham, Washington, and on the Columbia River in Longview, Washington. A third, smaller terminal on the Oregon side of the Columbia was rejected last August by state regulators. That decision is being appealed.
The projects have had trouble with financing. In late 2014 Ambre Energy sold its interest in terminals in Oregon and Washington to a private equity firm in order to remain solvent.
This was first reported by Inside Energy, a reporting team based in energy boom states.