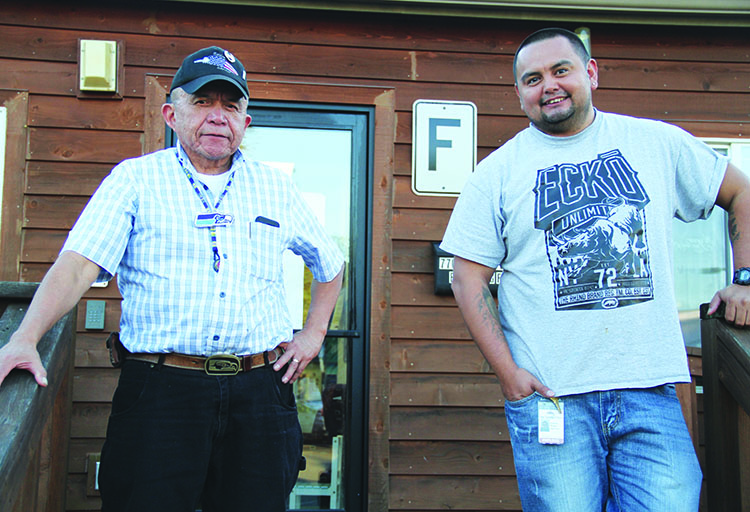 By Kalvin Valdillez, Tulalip News 
A new program that teaches the young men of Tulalip about their treaty, hunting, and fishing rights began this month. The group meets at the Family Haven center located across from the Boys & Girls Club. Led by Tulalip tribal members Andy James and Cody Monger, the group will meet on Tuesdays and Wednesdays after school from 3:30 p.m. to 5:00 p.m.
"We are saying ages 12-14 but that is a recommended age. We aren't going to turn anybody away who wants to participate," stated Cody.
Young Men's Group will feature many fun activities such as fishing and drum making. Andy expressed that while he is excited about making pre-cut hand drums, he eventually wants the group to start creating them from scratch. He believes that it is essential to know how to track, hunt, skin, soak and stretch the hide for their drums.
"That's where it all starts. Our ancestors never received pre-cut drum kits and its important our kids learn the teachings the ancestors passed down generation after generation. Afterwards, they can keep the drum and use it for cultural purposes and ceremonies or they can gift them. What they decide is up to them but the important takeaway is they wanted a drum, they made a drum, and now they know how to [make a drum] in the future." Andy stated.
Among the cultural activities and important lessons, Young Men's Group will also cover areas that teen males want advice in, but don't necessarily know how to ask for. Topics such as conflict resolution, how to deal with anger, and family, social, and romantic relationships will be discussed during group meetings.
Cody expressed, "We will be involved a lot, just helping with anything they don't get at home or in school."
"Our intent is not to take the place of the parents but to help these young men progress into life," Andy added.
By instilling values and culture, Cody and Andy are taking on an incredibly important task of molding the minds of the young men of the Tulalip community. Young Men's Group participants now have the opportunity to learn the teachings and traditions the Tulalip ancestors practiced and apply those lessons while learning how to survive in today's society.
To sign up and for more information please contact Andy James at (360) 716-4403 or Cody Monger at (360) 716-4935.