24,600 pounds of Chinook have arrived in Seattle.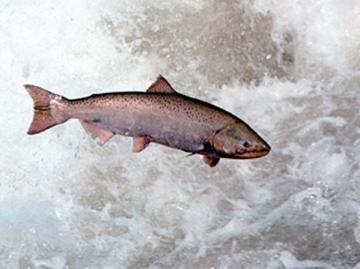 By GW Rastopsoff |
Alaska Native News
05/17/2013 10:15:00
Sea-Tac Airport saw the first planeload of Copper River King Salmon from Cordova this morning [Friday may 17th] . It is the first of four Alaska Airlines flights scheduled to bring the prized Alaska Salmon to Seattle on Friday.
The first flight this morning brought a cargo of 24,600 pounds of Chinook destined for restaurants in the area.
The Copper River is projected to harvest approximately 19,800 King Salmon during the 2013 season, with a total Chinook run of 46,000 according to ADF&G. this is about 23,000 fish lower than the 70,000 fish that is the 14-year average.
The Copper River fishery began at 7 am on Thursday and remained open for 12 hours. Within 24 hours of the opening, fresh fish made their arrival in the Emerald City. The first of the year Kings are expected to bring about $30 per pound.
It was a former Alaskan fisherman, Jon Rowley, that brought the Copper River King Salmon craze to Seattle back in 1983. It was him and his razzle-dazzle marketing techniques that stirred the fervor for the fresh caught first Alaska Salmon of the year. It has grown larger and larger ever since and is now a much anticipated event in the city and an annual rite of Spring.
The Alaska Airlines pilots carried the first salmon, a 40-pound King to waiting chefs.