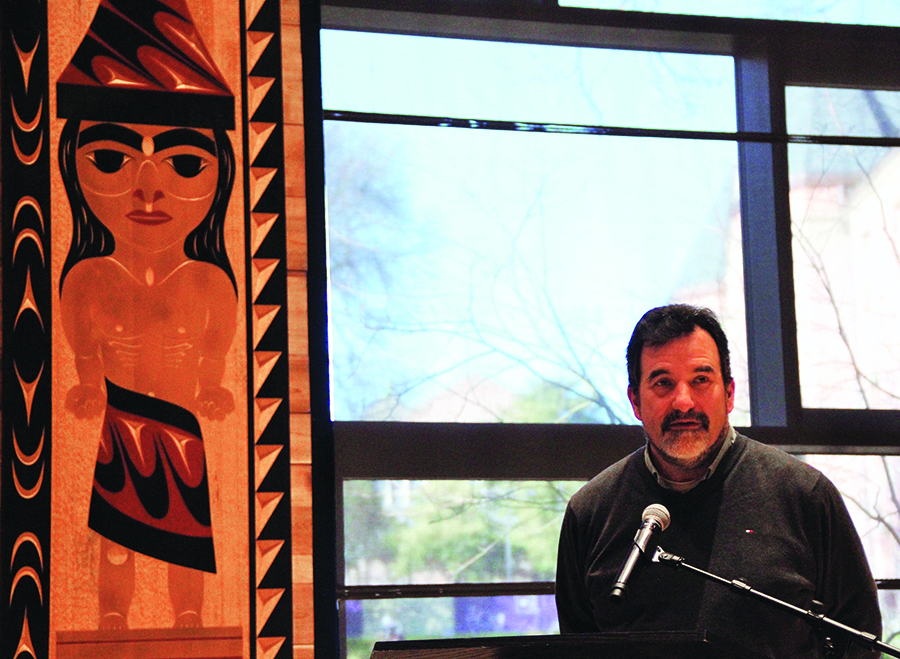 By Micheal Rios, Tulalip News 
The University of Washington has created a new seminar and workshop series sponsored by the College of Arts & Sciences, Office of Research, and the Burke Museum. These two-hour luncheon events bring together tribal representatives, tribal historic preservation offices, representatives from local, state and federal agencies, and cultural resources managers to evaluate the contemporary needs and challenges of preserving heritage in the Salish Sea. The objective is to foster the development of collaborative approaches to heritage management and historic preservation that integrate the needs of these diverse stakeholders.
On Thursday, January 12, the opening seminar of the four-part series, titled Collaborating on Heritage in the Puget Sound, was held at UW's ωəɬəbʔαltxʷ Intellectual House. Taking place was a facilitated conversation with representatives from local tribes, the Department of Archaeology and Historic Preservation, UW Law, and the Washington State Department of Transportation.
"We want to provide a forum for archaeologists, heritage professionals, and tribal cultural resource managers to consider the current challenges and future possibilities of managing heritage in our own backyard," explained Sara Gonzalez, UW Assistant Professor and seminar moderator. "Our objective is strengthen and build upon existing methods of knowledge sharing from the diverse stewards and stakeholders who are sitting here today. We have the unique opportunity to think more deeply and creatively about how we can best use our resources to contribute to the capacity of tribes, as well as local agencies and cultural resource firms to manage heritage within the Salish Sea."
Leonard Forsman, Chairman of the Suquamish Tribe and presidential appointed Vice-Chairman of the Advisory Council on Historic Preservation, was the key-note speaker and gave a heartfelt opening address that connected with many in the room. The following is an excerpt of his speech that explains the important of cultural resources and sacred site protection to Native peoples and how these topics apply to Standing Rock.
"Cultural resources has always been deep in my heart and remains a key pillar of my thinking as we move forward. There are a number of issues that face the tribes, from economic development to habitat protection to educating our children to justice and housing for our people. Many, many aspects of our tribal governments take into account the physical cultural resources unique to our respective nations and communities, as well as our spiritual culture.
One topic that there's been a lot of talk about recently is sacred site protection, especially in regards to Standing Rock. We know natural resources is vital as a part of the context for identifying a sacred site. We are hearing a lot that cultural practitioners are being asked to step in and explain those elements that essentially tell us why a place is important spiritually. The Standing Rock – DAPL protest is an example of this, where there are a lot of different factors and influences to the protest. There's a very strong argument based on sacred site protection. This highlights the importance landscape has to us as Native people, that we have these ancestral connections to the land.
Chief Seattle spoke of our interconnectedness with the land and nature in his most memorable speech. He explained how we live with our ancestors on a daily basis and how they are with us all the time. What happens to the land is permanent, and knowing this we are very concerned about what may impact the land because that in turn impacts our lives. That is why we are so adamant about protecting our cultural resources and sites we can preserve because we want to remain respectful of that constant presence in our lives."
Native American scholar John Mohawk (Seneca) defined culture as a learned means of survival in an environment. As tribes, our means of survival used to be finding what the need was within our community and then each member doing their part to fulfill that need.
In thinking about opportunities and challenges of caring for heritage and protecting our culture in the Pacific Northwest, there is a glaring need to better understand one another. We have to work together to communicate and understand each other's viewpoints, instead of making assumptions about one another. There are assumptions made about the tribes, about the government, about federal agencies, and seemingly everything in between. Some of these assumptions may be true, but a lot of them aren't. We have to make sure that we talk to each other and feel safe in doing that, even if it means being blunt in order to express how we feel.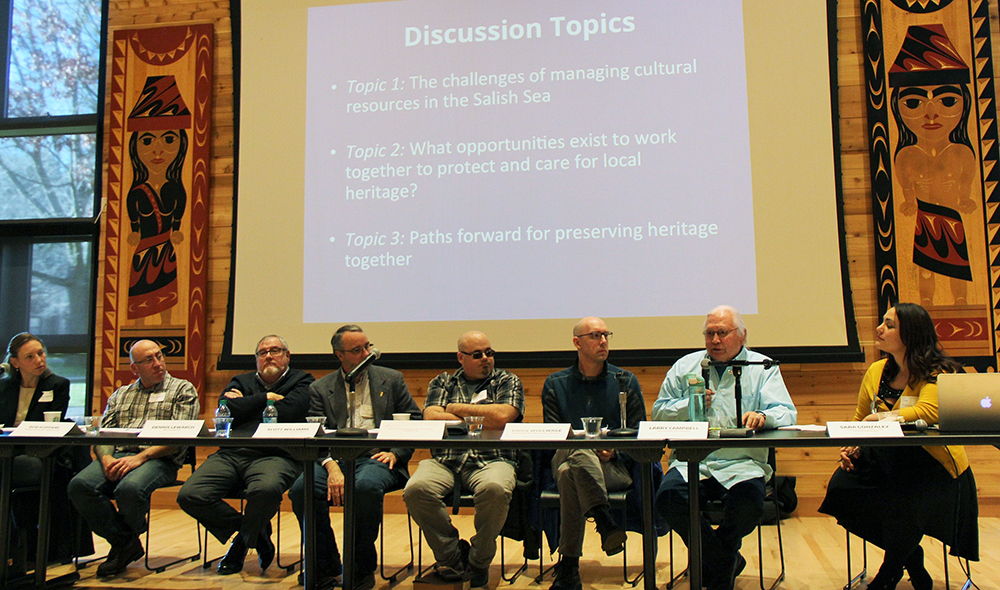 In order to preserve the past together and continue protecting our cultural resources there must be an open dialogue that allows for questions and understanding. This UW workshop series is a promoter of such dialogue and looks to build upon all the knowledge shared and communicated by all those who attend. The next workshop in the series, Meaningful Collaboration and Indigenous Archaeologies, takes place on February 16 from 12:30 p.m. to 2:30 p.m. in the Suzzallo Allen Library (located on the UW campus). For more information please visit http://blogs.uw.edu/preserve.
Contact Micheal Rios: mrios@tulaliptribes-nsn.gov