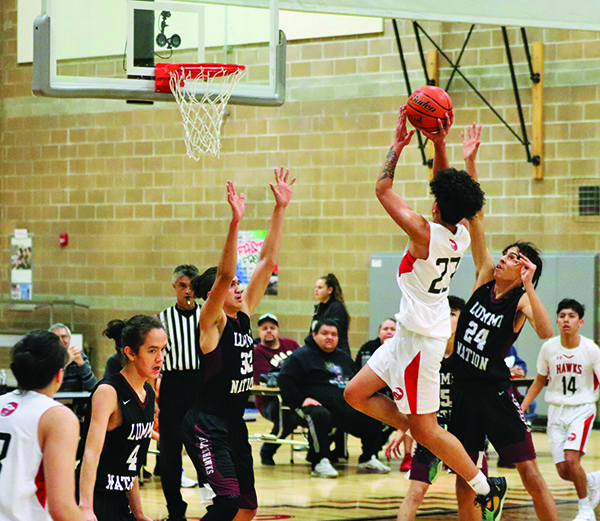 By Micheal Rios, Tulalip News
Riding a 5-game winning streak, the (7-2) Heritage Hawks hosted the (11-2) Lummi Blackhawks at Francy J. Sheldon gymnasium on the evening of January 17th. A large contingent of both teams' fans turned out to watch the matchup of tribal heavyweights play out on the hardwood.
The Hawks found themselves facing an early deficit, 0-7, after failing to score a single point midway through the opening quarter. However, the tide turned dramatically after senior guard Josh Miranda hit back-to-back 3-pointers to spark a 12-3 run by Tulalip and take the lead, 12-10.
The stands filled with energetic supporters cheered the loudest they have all season when the 2nd quarter began and their Hawks extended their lead to 14-10. After a series of plays in which Heritage players thought they were fouled, but the refs didn't blow the whistle, the frustration boiled over when senior point guard Leno Velo got T'd up arguing a non-call. Now trailing, 16-19, Lummi sharpshooters caught fire and found success shooting 3-pointers against the Hawks' zone defense.
By the end of the 3rd quarter, Tulalip struggles to keep up with the offensive pace of Lummi and lack of foul calls led to a 27-40 deficit. In the 4th quarter, Coach Bubba kept with his starters and urged them to keep playing their game. They responded by shocking Lummi with a 23-13 run in the final quarter. Led by Leno, Josh and Isaac Comenote all hitting 3-pointers and shots from the perimeter, while Alonzo Jones nabbed rebounds and steals, the boys fought back and got within one possession, 50-53, with under a minute to play.
An Isaac 3-point attempt with 20-seconds remaining rimmed just short. The bucket would have tied the game, but instead capped off a near stellar comeback by the Hawks. Lummi would hit their free-throws in the closing moments to seal the game. On an evening of back and forth runs, Tulalip's late game surge nearly overcame a big deficit. With the 50-56 loss came an end to the Hawks' season best winning streak.
Josh Miranda led his team in scoring with 21 points, while Alonzo double-doubled with 10 points and 15 rebounds.
"I liked our team's hustle tonight, for sure," reflected Coach Bubba following the game. "We played really hard and felt the game out possession by possession. We mixed up our defense throughout to give Lummi different looks. At halftime we were down by 13 points, but in the locker room we were focused on playing our game and urged the boys to push the ball for quick shots. In the last five-minutes, the boys got loose and let their shots go naturally and that's when the game turned in our favor. Another minute or two and we could have won that game."
The Hawks play two home games this week – January 22nd vs Lopez and January 25th vs Chief Kitsap Academy. Senior night is scheduled for Tuesday, January 28th vs Cedar Park Christian.