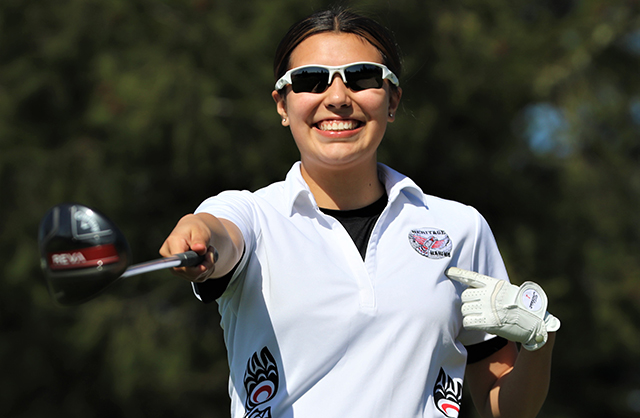 By Micheal Rios, Tulalip News
Now, that spring is in full bloom in the Pacific Northwest, there are hordes of reservations being made at local golf courses to capitalize on the warm weather. Most seek a full round of 18, while some prefer the laid-back atmosphere of just the back 9. We'd like to take a moment to advise locals enjoying an afternoon on the links intending to collect birdies or highly sought-after eagles, please be on the lookout for them hawks. Heritage Hawks that is.
This announcement comes as Tulalip Heritage High School is in the midst of its inaugural season for golf. Coached by husband and wife duo JT and Dinesha Kane, the history making team members are Lincoln Pablo, Damon Pablo, Matthew Miranda, Johnathon Rinker, Seattle Sabbas, Hazen Shopbell, Ponciano Guzman, and Tieriana McLean. They are impossible to miss while driving, chipping, and putting on carefully manicured, green golf courses while wearing their custom-made white polos featuring stunning black and red Coast Salish imagery.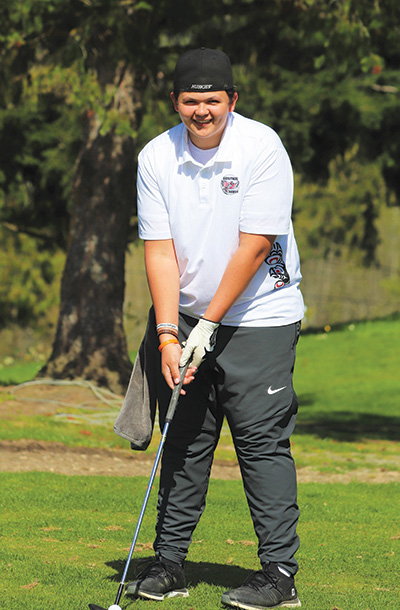 "When we were asked to coach there was no hesitation from my wife or I that we would accept the opportunity to co-coach. We believe our co-coaching model demonstrates to the youth how to work together and gives us the best opportunity to showcase our strengths as coaches," said coach JT Kane.
"We have been coaching for over ten years starting at Tulalip Battle Creek PGA Jr Academy, Battle Creek Summer Camps, and to the Tulalip Boys and Girls Club Inaugural season last year," added coach Dinesha Kane. "Our motto is 'family, team, wins'. The passion of ours to make a difference in youths' lives is clear, and it's an honor my husband and I were asked to apply to be coaches. We are excited about our inaugural season and are passionate about the future of the program."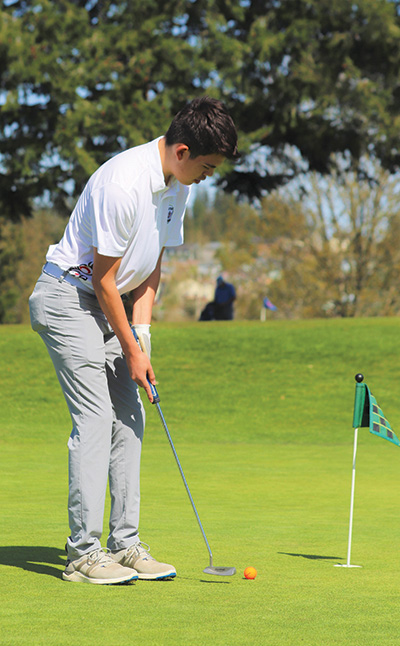 High school athletics have been known to provide numerous benefits to student-athletes, including improved physical health, leadership skills, and teamwork abilities. While traditional sports such as football, basketball, and baseball have long been popular among high school athletes, golf is becoming increasingly popular. In fact, according to a study by Axios in 2022, boys golf has risen to the eighth most participated high school sport. With a whopping 143,000+ participants playing high school golf nationally.
Golf is a low-impact sport that requires players to walk long distances while carrying or pulling their clubs. This promotes cardiovascular health and helps to build endurance. Additionally, swinging a golf club requires the use of multiple muscle groups, including the arms, shoulders, and core, which can lead to improved strength and flexibility. All that's to say, golf can do wonders for improving physical conditioning and getting otherwise sedentary teenagers to enjoy outdoor elements.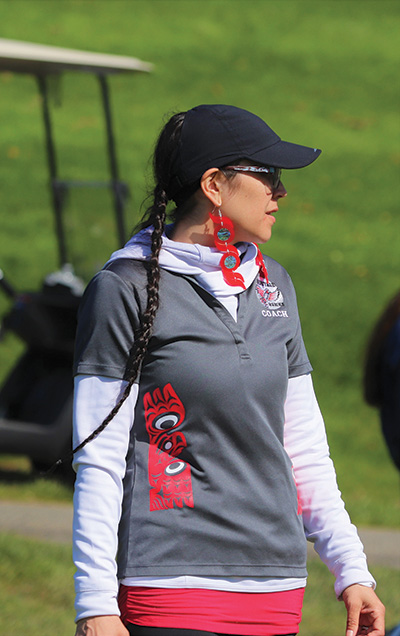 Golf is most commonly thought of as a mentally challenging sport that requires players to stay focused and maintain a positive attitude. The game is often described as "90% mental and 10% physical," meaning that success on the course is largely determined by a player's mental state. This mental discipline can carry over into other areas of a student-athlete's life, such as academics, interpersonal relationships, and even other fields of competition.
"My main sport is basketball. I didn't even know how to play golf two months ago, so this is all still pretty new to me," shared 11th grader Tieriana McLean. She carries the mantle as only female golfer on Heritage's inaugural team. "I'm fortunate that my dad is a really good golfer and has helped me, along with my team coaches, to learn the basics and develop a consistent golf swing. It's been a struggle at times learning a new sport and I still get frustrated when the ball doesn't go where I want it to, but being out here on the course, enjoying the weather, and being able to spend more time with my dad, I love it."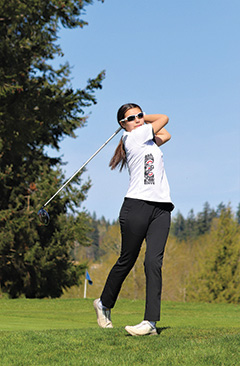 Golf is a sport that can be played and enjoyed for a lifetime. Unlike many other sports, which require a certain level of athleticism and physical ability, golf can be played well into old age. This means that high school athletes who play golf are not just developing skills for the short-term, but are also setting themselves up for a lifetime of physical activity and enjoyment.
For high school athletes who excel at golf, there are numerous scholarship opportunities available at the collegiate level. According to the National Collegiate Athletic Association (NCAA), there are over 1,300 men's and women's golf programs across all divisions. This means that there are plenty of opportunities for talented student-athletes to earn scholarships and continue playing the sport at the next level.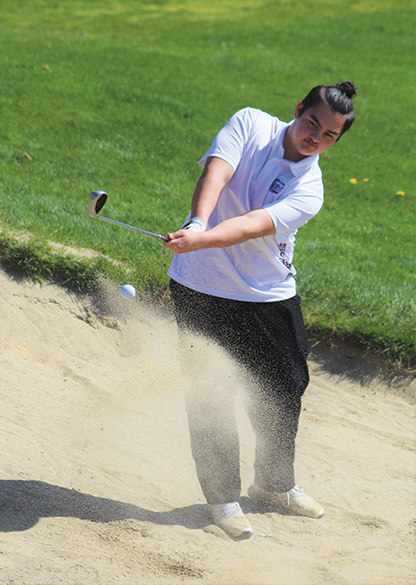 "I come from a golfing family. I remember my uncles putting a golf club in my hands at a young age and seeing how much they enjoyed it made me want to be better so I could compete with them. So it would be pretty amazing if I became the first member of my family to earn a college scholarship by playing golf," said Heritage team captain and 11th grader Lincoln Pablo.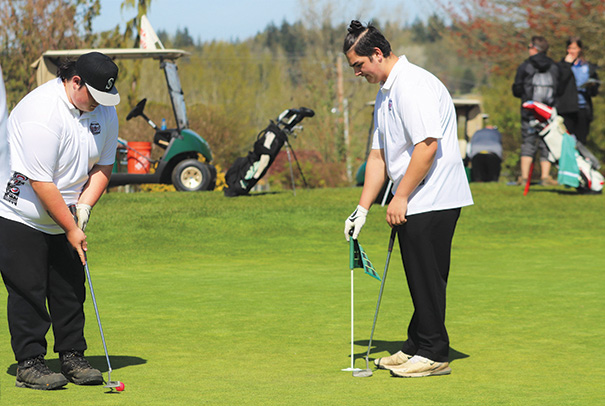 Lincoln was instrumental in developing the Heritage golf program. He recalled participating in the Boys & Girls Club's golf academy last year and wanting to continue his pursuit of a legendary hole-in-one at Heritage. Unfortunately, Heritage didn't offer golf as a spring sport, but that only motivated the 17-year-old to lay the foundation for them doing so. He spoke with his athletic director, had meetings with head pros of Battle Creek Golf Course, put budgets together and even developed a team schedule. For his dedication, Lincoln and his peers were rewarded with the creation of a Heritage Hawks golf team.
"It means everything to me to be out here with my cousins and friends, representing our Tribe and proving that we can compete not just in basketball and football, but golf too," beamed Lincoln with his patented smile before taking a practice putt.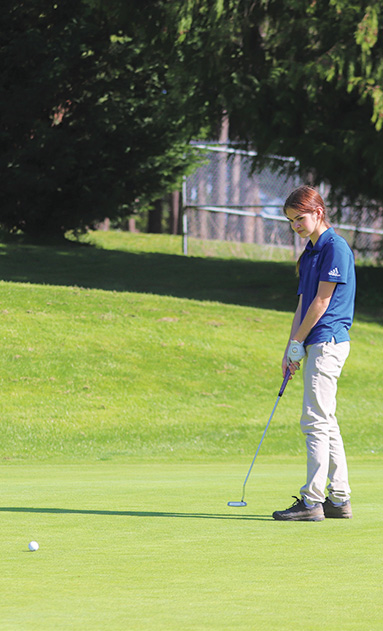 Golf is a sport that is open to athletes of all shapes, sizes, and abilities. Unlike some other sports that require a certain level of physical prowess, golf can be played by anyone who has the desire to learn and improve. This inclusivity can help to foster a sense of community and belonging among student-athletes who may feel left out of other sports. It's also one the rare sports where the girls can score just as well, if not better, than the boys.
"The boys are more athletic and stronger, so they can of course hit the ball further than me, but I can make up for that with finesse, accuracy and a better putt game," admitted Tieriana. "At least that's my mindset. I'm so competitive that I know there's always a strategy to success and if I get it down then I can achieve my goal of making it to State."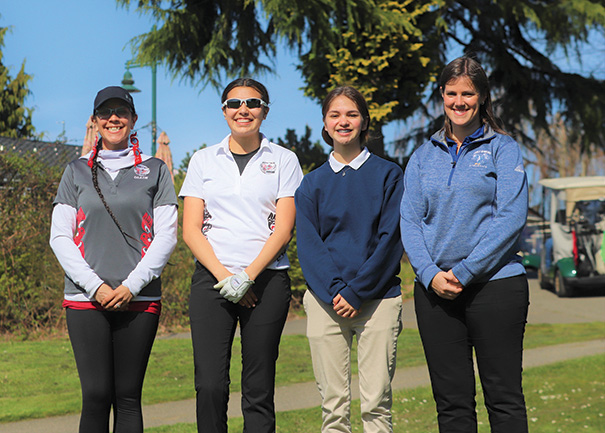 For the Heritage Hawks newest sport participants, playing golf as a high school athlete can provide numerous benefits beyond just the physical ones. The sport can promote mental discipline, personal responsibility, and inclusivity, while also providing opportunities for scholarship and a lifetime of enjoyment. With the popularity of golf on the rise among young athletes, it's clear that this is a sport that will continue to have a positive impact on high school students for years to come.