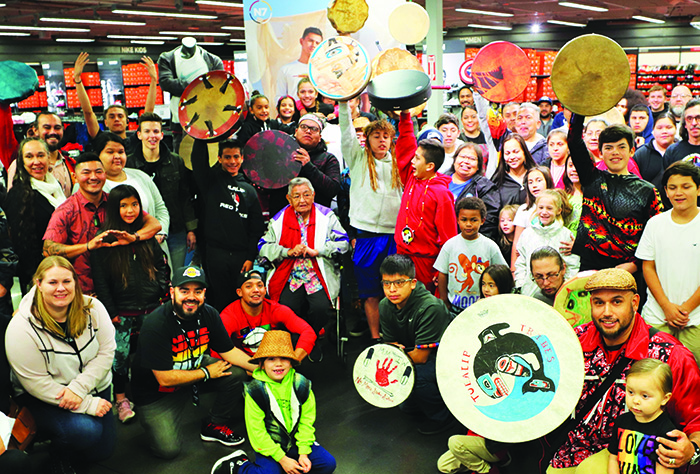 By Micheal Rios, Tulalip News
We live in an age where a message, no matter how positive or significant, is only as good as the platforms that give it life. Platform then is everything. So it was of utmost importance when 10 years ago the world's largest supplier of athletic shoes and apparel chose to collaborate with Native America. Together Nike and Native artists and athletes developed an all-new platform to bring cultural representation into the mainstream. Enter N7.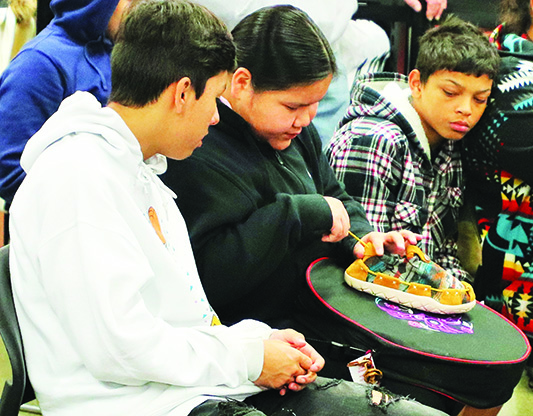 N7 is inspired by Native American wisdom of the Seven Generations: in every deliberation, we must consider the impact of our decisions on the seventh generation. It's Nike's commitment to bring sport and all of its benefits to Native American and Aboriginal communities in the United States and Canada.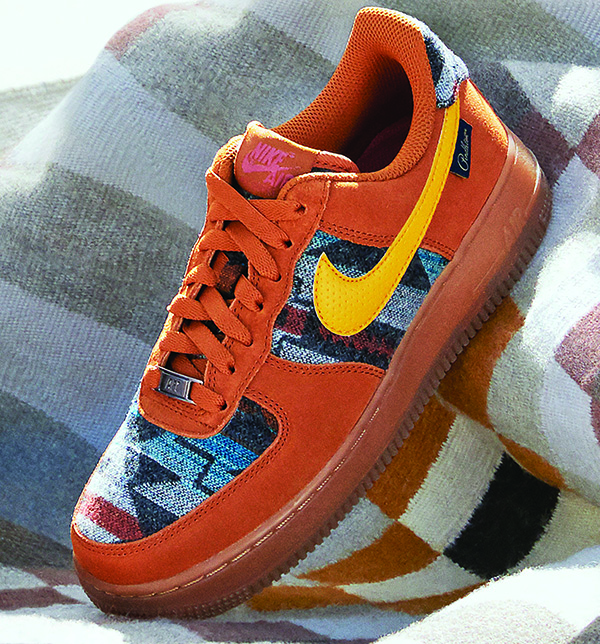 Over the past decade, N7 athletic attire has become a highly sought after product due to its exclusive releases featuring distinct Native designs and imagery. From the devout sneaker heads to rez ball youths dreaming of making it to the pros, every N7 release is an opportunity to represent something authentic – a living, breathing and, most importantly, thriving culture. 
"Self-representation, for me, is being authentic to my people and who I am," explained Nike graphic designer Tracie Jackson, who created this season's Nike N7 x Pendleton pattern inspired by the weavings of her great-grandmother, Phoebe Nez (Navajo). "Being visible means that we're acknowledged, our land is acknowledged, our community is acknowledged."
That authenticity and acknowledgment was on full display when Nike and Tulalip came together to celebrate the release of N7's 10th anniversary product line in early November. Over 150 special invitees packed the Nike Outlet located on the Tulalip Reservation two hours before the store officially opened. Among the gathering were several Nike brand ambassadors, urban Natives from the Seattle area, members of the Tulalip Youth Council, and several culture bearers with drum in hand.  
"My great-grandmother was still weaving right up until she passed at 92," continued Tracie. "Without my great-grandmother, I wouldn't have learned about my culture, and without my culture, I wouldn't have been a designer. My family ties are what influence my Native identity."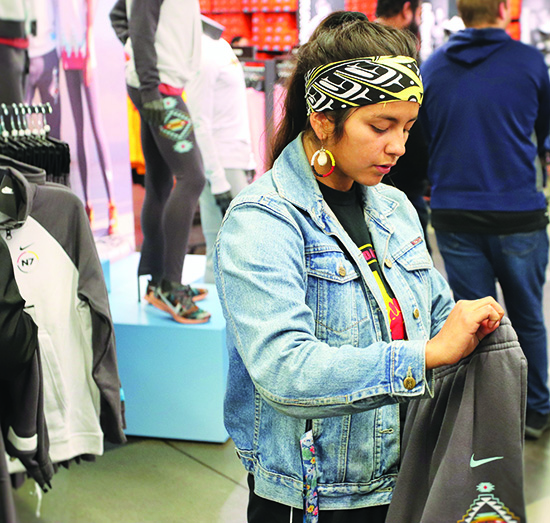 Tracie passed along her grandmother's legacy in the 10th anniversary of the N7 collection, honoring heritage through special patterns with Pendleton. Native heritage was celebrated both through the specialty clothing line being released on Tulalip land and for the tribal citizenship who turned out to support the cause with their wallets and through powerful song and dance.
The Tulalip drummers, singers and dancers displayed their thriving culture on the Nike Outlet showroom. Several songs and important messages regarding missing and murdered Indigenous women, unity through community, and the positive impact of sport were shared.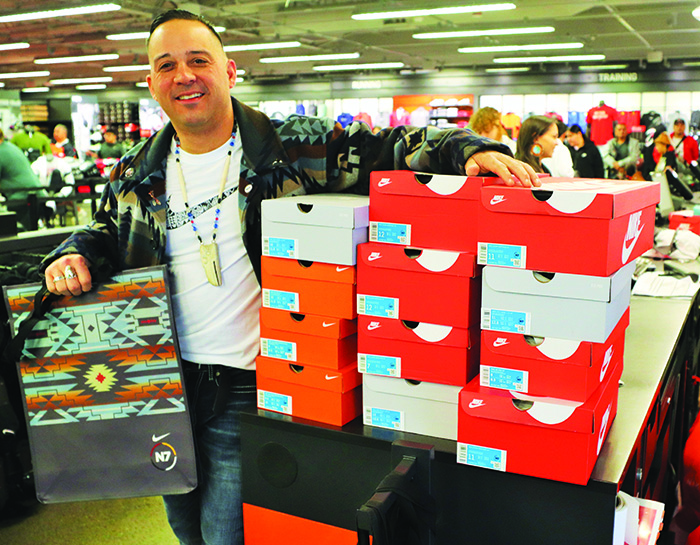 Afterwards, the gathering turned its attention to the N7 x Pendleton attire as all invited guests got first dibs towards shopping the exclusive clothes designed by and for Natives.
"I thought this whole event was fantastic," shared tribal member Marvin J. Velasquez as he was loading up with the latest N7 gear for his children. "What this collaboration represents for our Native people is huge. Just goes to show we are making a significant impression one step at a time."
Proceeds from all N7 product line sales go directly to the N7 Fund, which is committed to getting youth in Native America moving so they can lead healthier, happier and more successful lives. The N7 Fund helps Native youth reach their greatest potential through play and sport while creating more equal playing fields for all. Since 2009, the N7 Fund has awarded more than $7.5 million in grants to 259 communities and organizations.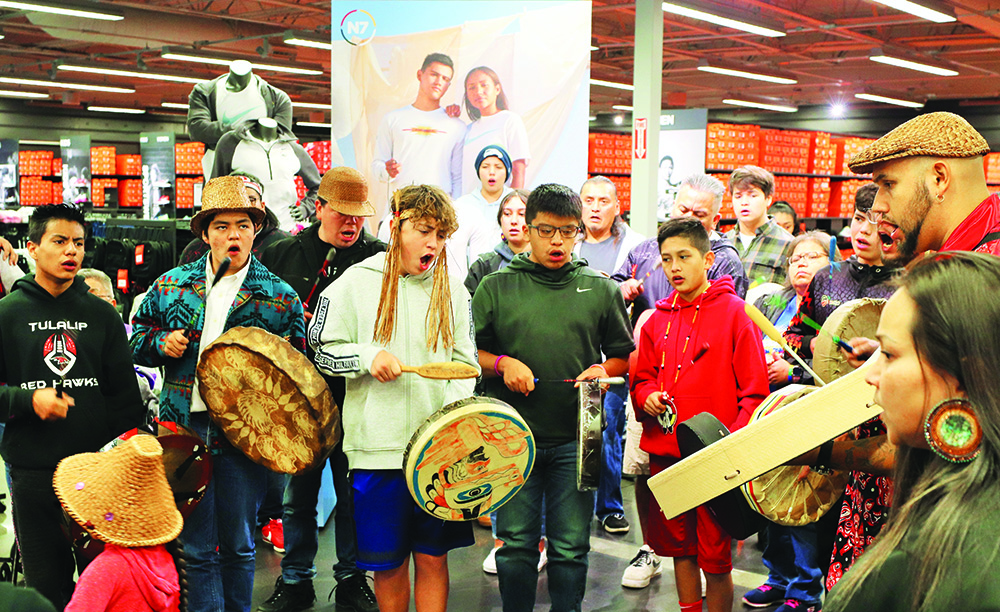 Co-coordinator of the Tulalip-based N7 event, Nate Olsen (Yakama Nation) reflected, "It was powerful to see our people really represented and celebrated in such a beautiful way. We really got to address some of the bigger social issues Native peoples face today thanks to the platform that Nike provided. Being able to present these issues to a wider audience and to have Tulalip drummer and singers sharing as well was just amazing."