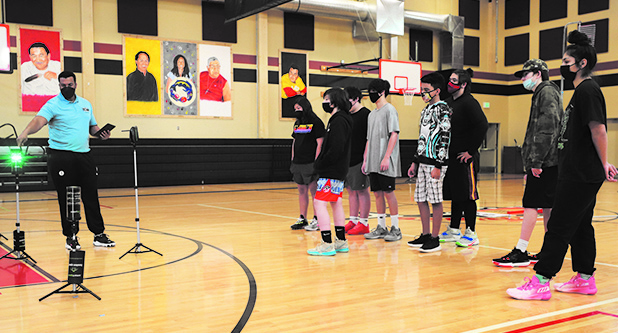 By Micheal Rios, Tulalip News
There are many things Tulalip is known for. Depending upon who is asked, the responses may vary widely. However, within Snohomish County coaching circles a common response is raw athleticism.
Indeed, for generations now, Tulalip has churned out athletes who have showcased an uncanny ability to learn and compete in sports at a high level. Whether it be at the beginning stages at the Boys and Girls Club or YMCA, middle school intermediate stage or varsity quality at local high schools, Tulalip is well-represented across the sporting spectrum.
As our proud athletes continue to push the boundaries of what's possible for a simple Rez kid, like those currently fulfilling their dreams to play collegiate sports, it's critical for the next generation to receive access to the newest training technology and latest performance-based guidance.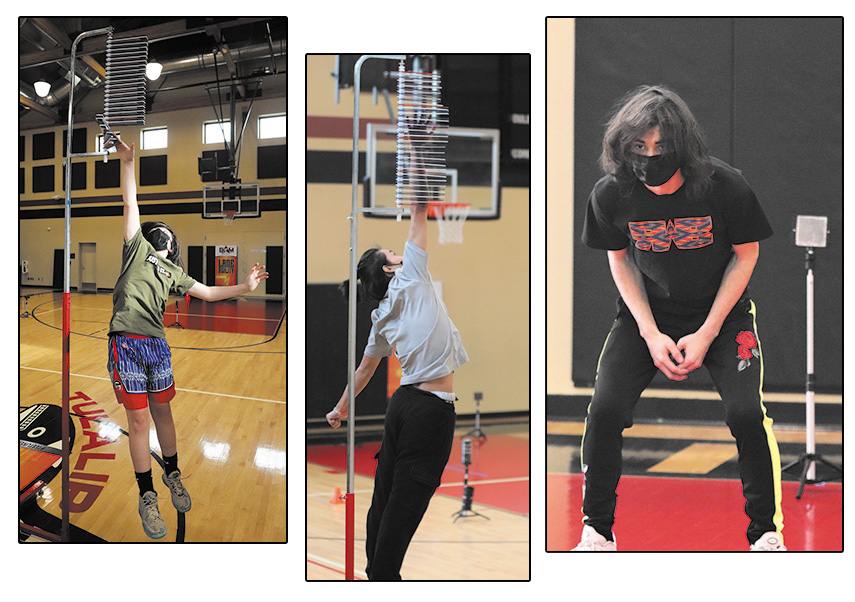 Analytics and data is quickly becoming the preferred method for evaluating college prospects and professional athletes. In keeping up with the data-driven times, husband/wife duo DeShawn and Sharmane Joseph created a first-of-its-kind partnership to bring cutting-edge athletic assessors Basic Athletic Measurement (BAM) to Tulalip.
"Moving in real-time, many Tribes, educational systems, and business institutions throughout the world are using data and analytics to make informed decisions about any number of things. Why not, then, use data and analytics to assess our children's athletic needs and abilities? This way we can showcase their talents and give them something real from top level trainers to motivate, inspire, and change their path, one kid at a time," explained DeShawn.
The Joseph's Reservations Without Borders program and BAM hosted a modified skills camp in the friendly confines of the Tulalip Youth Center on Saturday, January 29. The skills being tested? That raw athleticism Tulalip is known for.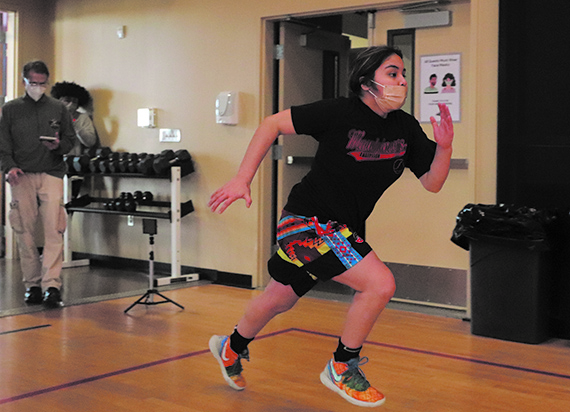 Athletic assessment typically relies on stop watches, manual data collection, and non-standardized testing protocols. Due to bias and inconsistency, comparing and benchmarking an athlete's performance has historically been a subjective measure. BAM has revolutionized the process with remote sensors, motion tracking lasers, and other SmartSpeed tech wizardry. BAM's staff and methodology have been stamped with approval by the NBA, ADIDAS, Under Armour, EuroCamp, and power 5 college conferences such as the PAC12 and the BIG10.
"We were invited to come to Tulalip and present our service we offer to athletes around the world," said BAM founder Brett Brungardt. He has nearly thrity years of experience as a strength and conditioning coach for the Dallas Mavericks and University of Washington basketball teams. "We brought this technology to the NBA fourteen-years-ago and since then its been utilized for twenty-two different sports. Our design assesses each athlete and provides them with a foundation to build from. This way they can workout or train in a manner that they know is making them faster, improving agility, increasing power…basically improving all the components necessary for becoming a better athlete."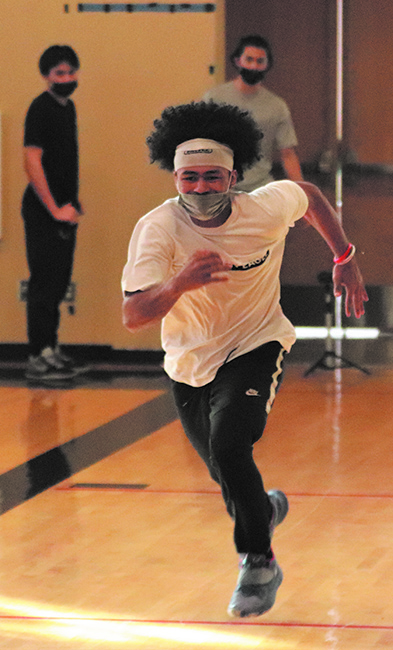 After the preregistered Tulalip athletes showed up at the Youth Center, joined by a few excited day of participants, things quickly got going on the freshly waxed gymnasium hardwood. Brett and his team gave the aspiring sport superstars a quick orientation and immediately got to warm-ups. Everyone hit the lines and participated in a 15-minute group warm-up session to adequately stretch and prepare for the training to come.
The traditional basketball court area had been reconfigured into five testing zones, each with a unique function and it's own set of challenges. The group of kids were split up into groups and rotated through each zone, being allowed a practice try and then two scored attempts. A nearly identical set up as professional ballplayers at the annual NBA Combine.
Each testing zone provided a key measurement that when used as a whole can determine a participant's overall athleticism. The zones were as follows:
Vertical Jump. Evaluates the ability to exert a maximal force in as short a time as possible within vertical distance depending upon sport specifics.
Sprint. Evaluation to determine acceleration, maximum speed and endurance speed. Sprint time can be performed over varying distances, depending upon sport specifics.
Reaction Shuttle. Evaluates the ability to show how quick and effective decisions are made and actions initiated, plus the brief interval of time it takes to react to an external stimulus.
Broad Jump. Athlete starts within 15 feet of the Vertec. It is a running start vertical jump. Measurement is similar to the vertical jump, but also includes athlete's ability to coordinate and incorporate strength and power with reach.
Agility. Valuation measures the ability to make quick changes of direction while moving at speed and the ability to move quickly and change directions. 
Every basketball player knows that major bragging rights go to the player with the most hops, and the easiest way to determine that is the though an official vertical jump test. One by one the athletes got into position, buckled their knees for an added boost and then leaped skyward, extending their fingers as far as possible. After the competitive jumping session, the day's vertical jump crown went to 17-year-old Tommy Nguyen.
 "I knew I could jump high, but not that high! A thirty-seven inch vert is definitely low key bragging rights," said Tommy to his fellow Marysville-Pilchuck teammates.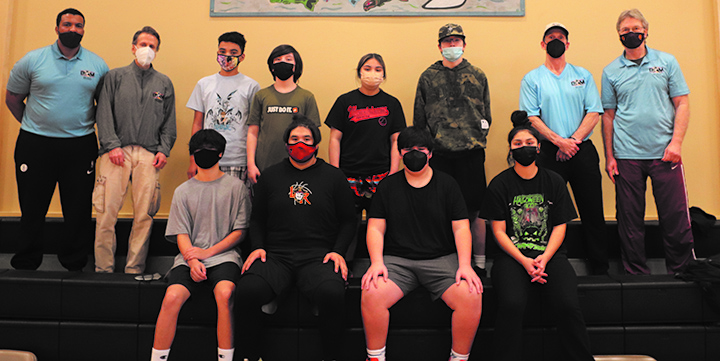 During the agility and reaction shuttle drills, it become apparent to the athletes that pure speed and power could be outdone by light, nimble feet and a lightning fast reaction. It was in these events that 13-year-old Mayleah Madera shined brightest.
"My favorite sports are basketball, softball and volleyball. I can't choose just one, I love them all," beamed Mayleah after her days testing session. "Today was a lot of fun and different than anything I'd ever done before. The coaches told me that by being light on my feet and continuing to develop better foot work that I'll be an overall better athlete for all my sports. Also, it was really cool to outscore the boys on some activities."
New and developing technologies like BAM's athletic assessment system make it possible to standardize a player's performance level. Giving them not only an athletic GPS to track their progress, but to recognize areas in need of growth as well. For families who dedicate endless time and financial resources to their child's dreams, these assessment systems validate a commitment to athletic excellence.
Emphasizing the event's unique nature, BAM staff made sure the young athletes recognized how special they were by remarking multiple times this was the first group of Native Americans to ever test their athleticism under the BAM system. Something DeShawn and his wife are proud of, as they hope to test thousands of Native kids throughout the country with this latest partnership.

"They got to witness the beautiful athleticism come out of our kids. The showcasing talent we've always seen in our communities came to life today, in front of real professionals who were able to track the data we need to move our kids forward in a good way," reflected DeShawn after the day's session concluded. "With this technology, our kids and athletes can gauge themselves and know exactly which parts of their training they need to focus on to improve their overall skills.
"With this BAM partnership we hope to achieve the same outcomes in Indian Country that the professional institutions are getting from their athletes – the inspirational improvements and the amazing stories," he continued. "I'm hoping over a 5-10 year span we can test over 10,000 Native American kids in all of their communities throughout the United States and Canada."
DeShawn added a special thank you is in order to the Tulalip Board of Directors for believing in his vision for our athletes and the Youth Center for providing an amazing facility and lunches for all the participants.