By Micheal Rios, Tulalip News
A season filled with much excitement and anticipation came to an abrupt end over the weekend, as the Tulalip Heritage boys basketball team (13-7) hosted Tacoma Baptist (16-7) in a 1st round matchup of the 1B Tri-District tournament.
The loser-out game was played on Saturday, February 15 at Francy J. Sheldon gymnasium. The stakes were simple, win and be guaranteed two more Tri-District games or lose and be finished.
Adoring fans filled the gym's bleacher sitting prior to the game's opening tip-off.
Early in the game Tacoma Baptist was dictating tempo and shooting a high percentage of 3-point shots against the Hawks' defense. Making matters worse, the Tulalip boys were struggling to find their rhythm offensively.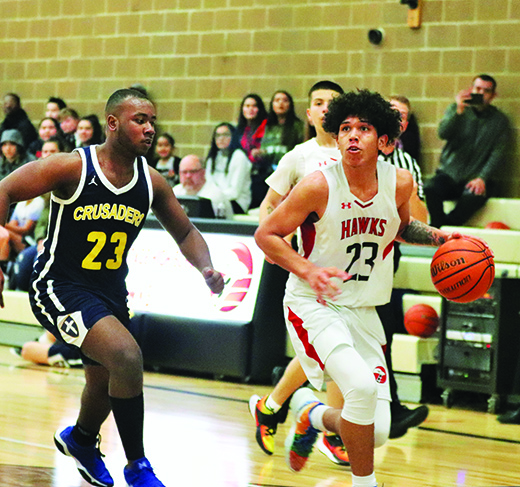 At the end of the 1st quarter, the home team trailed 7-21. That deficit grew to 18-35 at halftime.
During the intermission, Tulalip coaches emphasized to their players to not scoreboard watch, but instead simply play their game: High energy on both ends and leave nothing for later because there might not be a later.
In the 2nd half, trailing by 17 points, the boys kept their heads held high and came out determined to make a game of it. They came out hustling on defense, going all out to force turnovers, while routinely diving on the floor for loose balls. On offense, they finally found a rhythm and made a point of attacking the basket.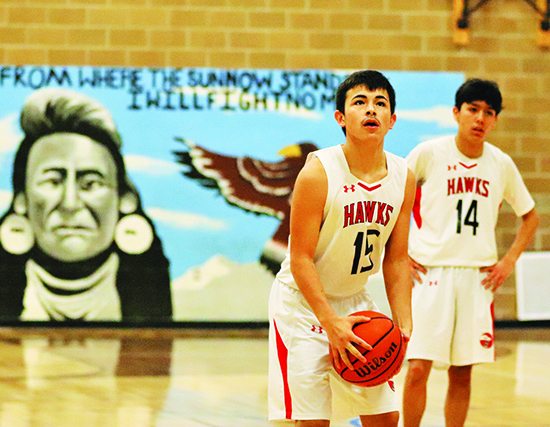 Leading the comeback charge was junior forward Alonzo Jones. He connected on five straight shots at one point, capitalizing on the steals his fellow backcourt players were coming up with. The crowd was fully engaged and back into it, cheering madly for their squad to come up with a miracle comeback.
The Hawks trimmed the Tacoma Baptist lead from 17 points all the way down to just 4, when they trailed 56-60 with just over a minute remaining in the 4th quarter. Forced to foul to preserve precious seconds of game play, they boys hoped their opponent would miss critical free-throws. Instead, Tacoma Baptist clutch free-throw shooting iced the game.
Tulalip lost 59-67. Alonzo led his team with 25 points and 18 rebounds. Senior guard Leno Velo added 16 points and 3 steals in his final high school game.
Heritage finished the season with a (13-8) record overall and, most impressively, continued the school's streak of eight consecutive years making it to at least the Tri-District phase of postseason play.