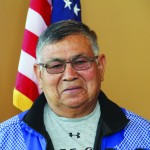 Article and photo submitted by F. Hillery
TULALIP, Washington – Don Hatch Jr., Tulalip Tribes Board of Director, and long time advocate for tribal children and education is appealing to all eligible Native Americans to vote in the general election.
"This is about protecting our Treaty and our future," said Hatch.  "We need to support the candidates who will represent our interests in Olympia and Washington D.C. – by voting we help to maintain our livelihood."
There are many reasons why some Native Americans do not vote.  Some feel that only the tribal political process is important to their interests.  Others believe that because Native Americans are such a small percent of the larger U.S. population their votes do not matter.  This couldn't be further from the truth, says Hatch.
Hatch sees the protection of the Treaties as the number one reason why Native Americans should vote.  "It has taken some time, but we have built good relationships with our representatives, who know our issues and are willing to defend them, and if we don't vote for them, it is going to be more difficult to maintain our treaty rights."
"Everything we do here in Tulalip begins with the Treaty," said Hatch.  "Housing, education, health care – these are all issues that are central to our well-being – and we need to do everything we can to make sure we elect representatives who understand why these issues are so important to us."
Hatch is motivated to get out the Native Vote because he sees it as protecting future generations of Tulalip people.  He would like to see more participation in the political process from young people because the tribe will one day be in their hands.  "We need to get our young people to understand how important their participation in the political process is," said Hatch.  "Whether it is a tribal election, a school board election, or a general election – it all matters."
Hatch has long been part of the local political process and has learned a few important lessons.  The most important lesson is that every vote really does count.  "One year when I was up for re-election to the school board I won by 113 votes.  Afterwards I thought about all the Tulalip people who did not vote – if they had it wouldn't have been so close."  This is important he said because that year his opponents were not friends of the Tribes and they would not have been advocates of tribal children getting a good education.