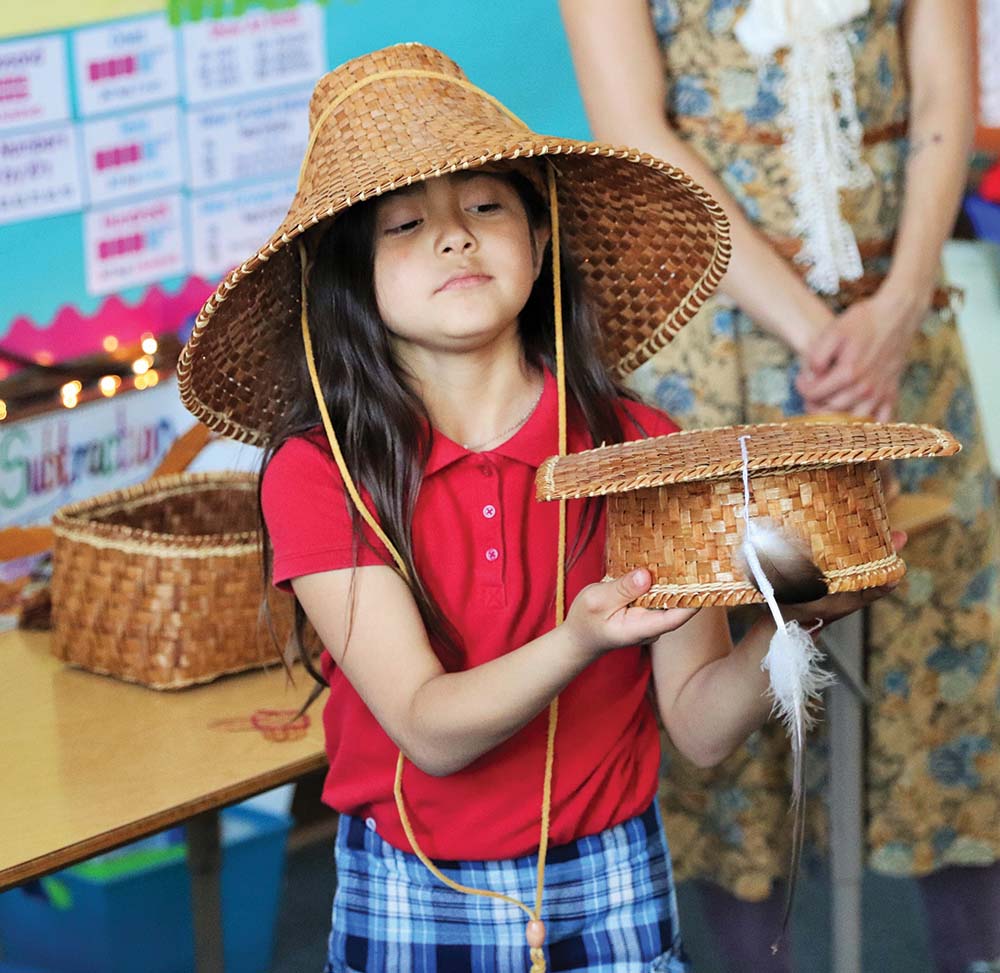 By Micheal Rios, Tulalip News
During a recent in-class lesson, 2nd grader Tiyanna Bueno sat at her desk inside Immaculate Conception Catholic School reading about a Native American rug weaver from New Mexico. Suddenly, inspiration struck the 8-year-old Tulalip tribal member and she yelled out excitedly, "My mom is a weaver! She weaves with cedar."
A dash of persuading here, some finagling there, and Tiyanna had whipped up an hour-long session for her mother Malory Simpson and Lushootseed language teacher Maria Martin to be guest presenters in her Everett classroom. The idea was to teach the 2nd grade class about local Native American culture while giving a cedar weaving lesson in the process. Fancy that: actual Tulalip culture taught by actual Tulalip educators.
"We want our Native kids from Tulalip to feel like they are represented as an important part of our school," explained 2nd grade teacher Mrs. Hegg. "Our school's values are enhanced by promoting the cultures of our students. It's vibrant, it's beautiful and goes well with our shared teaching to be good stewards of the Earth."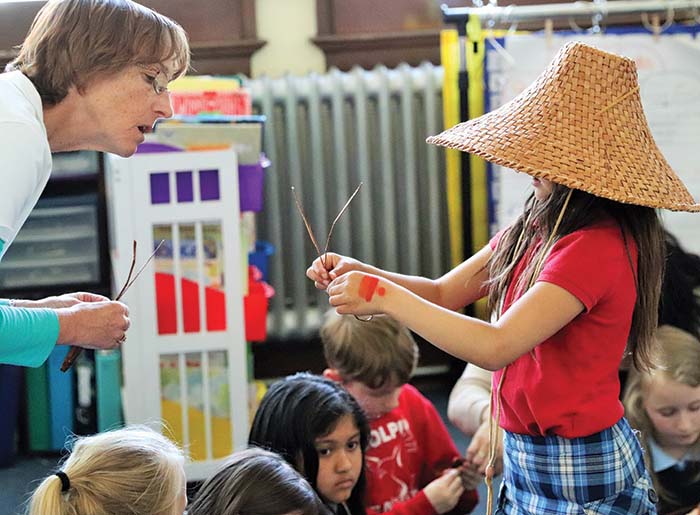 So on a Friday afternoon in early May, Tiyanna, wearing a traditional cedar hat, beamed with pride as she introduced her fellow students to their special guest presenters. Malory and Maria brought in a treasure trove of cedar along with their life-long experiences from being Tulalip citizens.
"We come from the Tulalip Tribes, live on the Tulalip Reservation, and wanted to talk to you all about cedar and what it means to our culture," said Miss Maria. "I'll be reading the story Her First Basket. If you listen carefully, you'll come away with a few lessons that are meaningful to us."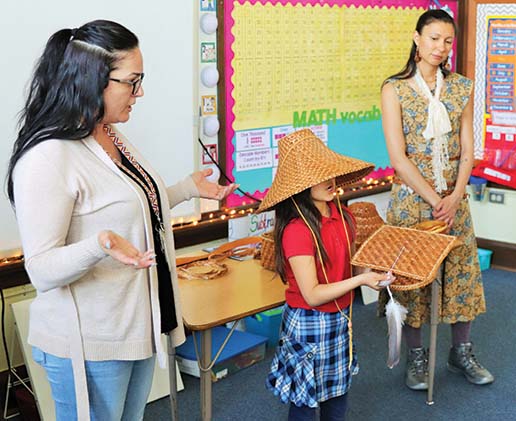 Coast Salish tribes believe the Creator gave their people cedar as a gift. Traditionally, a prayer was offered to honor the spirit of the tree before harvesting its bark, branches and roots. Their ancestors taught them the importance of respecting cedar and understanding how it is to be used, so it will be protected for future generations.
Cedar was the perfect resource, providing tools, clothes, baskets and carvings in addition to having medicinal and spiritual purposes. The highly sought after golden inner bark is separated into strips or shredded for weaving. The processed bark is then used like wool and crafted into clothing, baskets and hats.
Those same traditional teachings are practiced today, along with many others, and passed down to the next generation. While Malory and Maria shared their stories and personal experiences through cedar teachings to the attentive group of youngsters, an ecstatic Tiyanna embodied the spirit of her ancestors by not being afraid to express herself culturally and modelling a variety of cedar creations.
Traditional knowledge was shared and memories made, especially when the trio of Tulalip culture bearers gave a hands-on lesson via cedar rose making. They not only received 100% participation from the students during the activity, but after explaining its tradition to give away your first creation, the 2nd graders quickly got to work making a second and, in some cases, even a third cedar rose.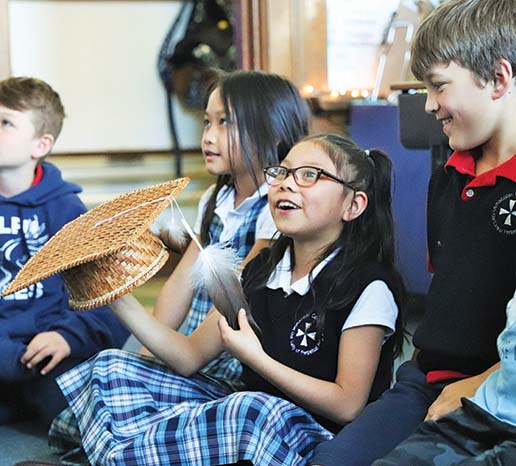 "[Cedar] smells like nature's perfume," described one eloquent kiddo. While another quick learner insisted, "Cedar roses are better than real flowers because those die. These ones will live for 1,000 years!"
A definite highlight was when the students asked how to say 'cedar' and 'thank you' in Lushootseed. After getting the pronunciations down, they were heard using their learned Lushootseed over and over again amongst each other.
"It felt so good to be able to share a piece of our culture," said Miss Malory, Native Education Advocate. "It makes my heart happy to see the students being so welcoming and eager to learn about another culture. Tiyanna is such a free spirit and takes pride in being open to share about herself, her family and our culture."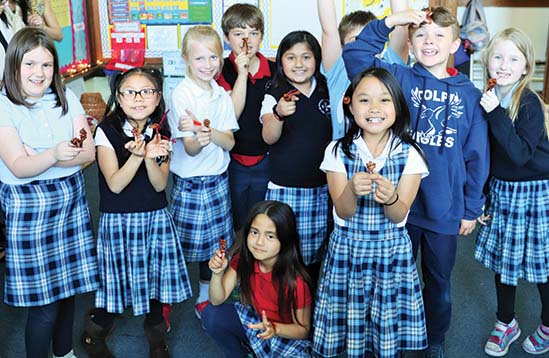 Reflecting on an afternoon she got to bring her Native American lifeway into the classroom, 8-year-old Tiyanna shared, "My favorite part was showing off the cedar hats, cedar headbands, and a cedar heart. I liked showing these things to my class because they remind me of my home in Tulalip."
Mrs. Hegg's 2nd grade kids received hands-on teachings with cedar weaving, learned how to say 'cedar' and 'thank you' in Lushootseed, and, most importantly, learned about a local Native culture not from a textbook, but by living, breathing Tulalip educators.