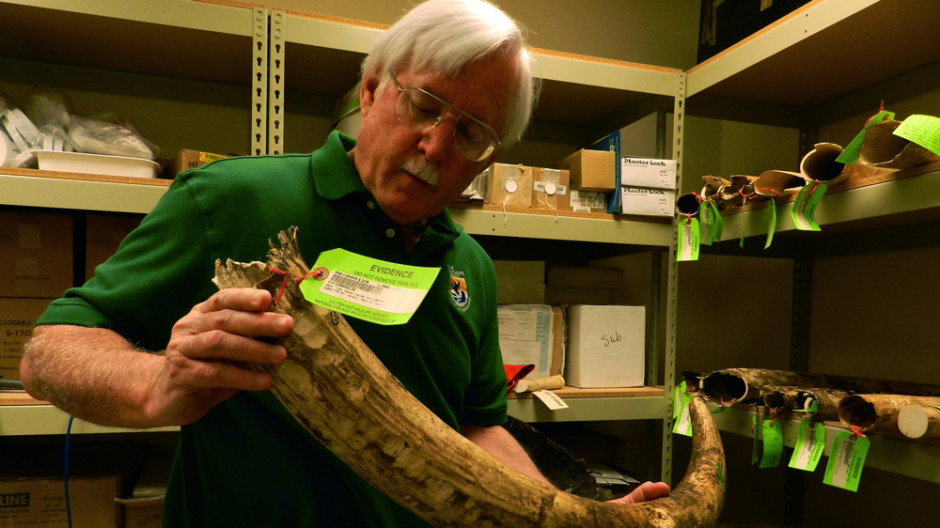 Seattle billionaire Paul Allen is financing a campaign that could ask Washington voters  to impose penalties for selling animal parts from certain endangered species.
The proposed ballot measure aims to protect 10 keystone species: elephants, rhinoceroses, tigers, lions, leopards, cheetahs, pangolins, marine turtles, sharks, and rays.
Conservation groups say they are among the most trafficked or poached species worldwide. They say illegal wildlife trafficking is the fourth largest transnational crime in the world, delivering ill-gotten profits of $20 billion annually.
Sandeep Kaushik is a political consultant for the initiative. He said  it would place in state law tough penalties beyond those imposed by federal anti-trafficking laws. People caught buying or selling animal parts or products from the 10 species covered by the proposed law would face up to five years in prison and a $10,000 fine.
Backers of the initiative say the best way to protect these endangered animals is to cut off the market where poachers can profit.
"The problem has been getting worse and we're seeing just in the last few years more species being put at risk," Kaushik said.
Sam Wasser, director of the University of Washington's Center for Conservation Biology, said this initiative would help reduce wildlife trafficking in Washington state. He said right now it's hard to police trafficking once items cross into the U.S.
"In a state like Washington where it is such an important port for materials coming in from Asia, it's really quite critical that our state agents have the ability to apprehend the ivory," Wasser said. "Much of the laws now refer to ivory passing across international borders, but state borders — there's nothing."
Wasser said the U.S. is one of the largest markets for wildlife products in the world.
"One of the biggest things is trying to deal with the demand side," Wasser said. "It's very, very important to have steps all along the way to have steps to increase the consequences if you're caught and to make it harder for you to get the product in the first place."
Allen co-founded Microsoft. His conservation philanthropy has been brought into question in 2013 when a Seattlepi.com investigation and lawsuits said his sister, Jody Allen, made employees help her smuggle giraffe bones and ivory out of Africa.
More recently, a bill in the Washington Legislature to increase trafficking penalties for ivory and rhino horns was met with pushback from the National Rifle Association, the Seattle Symphony, and antique collectors, according to The Seattle Times, which reported Sunday on the initiative proposal.
The measure's backers say they've written the initiative to protect trade for antiquities and estate sales, musical instruments, and scientific and research purposes.
"We made sure that this was about targeting those people that are really a part of this international poaching and trafficking problem that is really putting all of these animals at risk," Kaushik said.
The Humane Society of the United States, the Seattle Aquarium and the Woodland Park Zoo have also endorsed the initiative.
Kosher said New York and New Jersey have also recently implemented similar laws, which have helped curtail ivory and rhino horn trafficking.
Petitioners for the initiative must gather 246,372 valid signatures by July 2 for it to qualify for the November ballot.