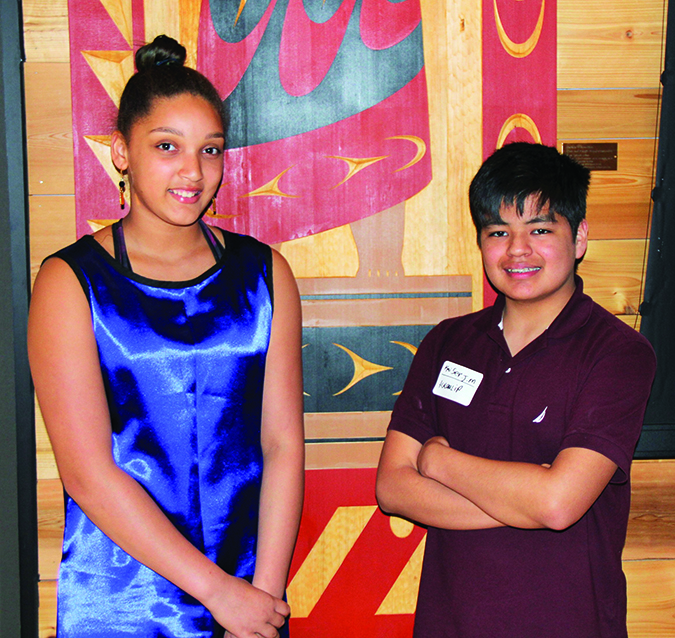 By Micheal Rios, Tulalip News
Over the weekend of May 5, the University of Washington's longhouse, dubbed Intellectual House, held its 5th annual 'Living Breath' Symposium. This year was highlighted by Native youth grades 7th-12th who were willing to give a presentation or conduct an interactive workshop that aligned with Indigenous knowledge and tribal sovereignly.
After sifting through many deserving applicants, the Intellectual House advisory committee accepted a one-of-a-kind presentation from Tulalip youth who offered to share their experiences and knowledge gained as participants in Tulalip's Mountain Camp program. Tribal members Jacynta Myles-Gilford, 7th grader, and Kaiser Moses, 8th grader, bravely conducted a 40-minute presentation, with little assistance, in front of a jam-packed Intellectual House audience on Friday, May 5.
Jacynta and Kaiser's presentation was titled 'Swedaxali: Huckleberry Fields Forever'. The young, prideful tribal members worked as a team and took turns on the mic describing their many experiences from their two summers participating in Mountain Camp. They shared critical details like how the camp is located in our ancestral mountain areas, which are now part of the Mt. Baker-Snoqualmie National Forest. Tulalip Tribes has reserved treaty rights to continue to hunt, fish and gather on these ancestral lands in the mountains, like Swedaxali (Lushootseed for "place of mountain huckleberries"). With a base camp at about 5,000 feet elevation, the area is very remote and beautifully untouched by the deconstruction that comes with urban areas.
They spoke of the many different kinds of plants that our ancestors used for medicinal purposes and as nourishment for their ever mobile bodies. Jacynta reminisced about walking in her ancestors' footsteps while learning to make a traditional berry picking basket out of cedar bark from our grandmother cedar tree.
"My first summer at Mountain Camp was the first time I ever ate huckleberries. That was two years ago during a drought in that area, so they weren't as ripe. The shrubs were dry and it was sad to see this usually lush green area look like that," described Kaiser. "We still did all as planned and was still fun and enjoyable to pick the berries, eat them, make baskets and so on. At last year's Mountain Camp adventure, there were so many berries, all of them were ripe and the taste was spectacular!"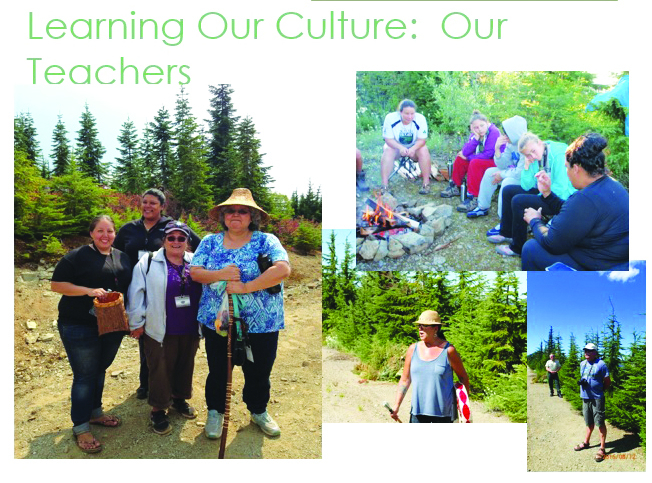 As part of Mountain Camp last year, campers launched the very first work that is part of our Tribes' 10-year plan to make sure huckleberries continue to grow in this area.  The work they began in the huckleberry fields involved work to enhance the huckleberries' growth by cutting down competing species that were shading out the berries and could prevent the mountain huckleberries from flourishing.  This was a team effort by all the kids, camp staff and a few more volunteers. A highlight of their presentation, pictures and video were shown detailing the huckleberry stewardship work.
Concluding their presentation there was a question and answer segment provided for the many inquisitive minds in attendance. The huckleberry stewardship being diligently done by the Tulalip youth was further asked about. Jacynta provided an awesome response to one such question, "Working with the huckleberries and being taught how to take care of them like our ancestors once did is such an amazing experience. I feel we continue to gather berries in the area and take care of the plants in a good way like our elders teach. It's really important to share our experience with others because then that means we are helping to spread the message behind Mountain Camp and what us youth are trying to do for the better of the Tulalip Tribes community."
Dr. Charlotte Coté (Nuu-chah-nulth First Nation), chair of the UW's Intellectual House Advisory Committee and co-founder of the 'Living Breath' Symposium, was among the audience who listened intently to Jacynta and Kaiser's presentation.
"It was really inspiring to see young people from these Native nations understanding their culture, their traditions, and understanding it's more than just about health. It's about culture, community, family, and spirituality," remarked Dr. Coté about the Tulalip youths' presentation. "It's all tied into connecting or reconnecting to your traditional foods and we really saw that in their presentation. You could tell they were speaking from their heart. It's so important because this event focuses on youth so that we can inspire each other, but to also emphasize listening to the next generation. They are our future leaders, and here they are at such a young age understanding the importance of living their culture, while sharing their beautiful experiences with us."