By Micheal Rios, Tulalip News
On Thursday, May 11, Snohomish County Public Utility District (PUD) officials joined with the City of Everett, the Tulalip Tribes, and various state and federal resource agencies to recognize the success of the Fish Passage Project. The location of this gathering was on-site at the Jackson Hydroelectric Project Powerhouse in Sultan, Washington.
"It's an honor to be here today to celebrate completion of the PUD Fish Passage Project. We raise our hands to all of you who have helped ensure safe passage of our precious salmon," stated Tulalip Chairwoman Marie Zackuse during the Sultan celebration. "Our water and salmon are the foundation of our culture. Our people occupied lands ranging from the islands near Seattle, north to the Canadian border and east to the Cascades. Some of our people descended from a village near the mouth of the Sultan River. Today, one-hundred years after the diversion dam was built, we can finally welcome our salmon home."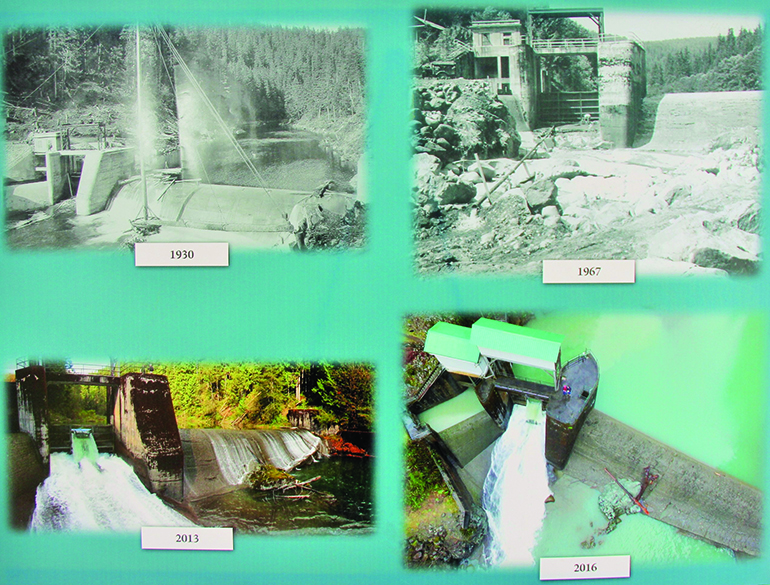 Back in 1919, the City of Everett oversaw the first timber crib dam on the Sultan River built for water supply. In 1929, a decade later, Everett built a new concrete diversion dam at the same location to meet water needs of their growing region. The way the diversion was managed, there were times of the year that the Upper Sultan River was completely dry. Although the Lower Sultan River received enough water from other tributaries to allow salmon to spawn, miles of the Upper Sultan River were no longer accessible to spawning fish resulting in massive population losses.
Fast forward to 2011, when the PUD received a new 45-year hydroelectric license, requiring volitional fish passage construction at the Diversion Dam based on a biological need for more habitat.  In May to December 2016, the Diversion Dam received several modifications that allow for unrestricted access (upstream and downstream) for resident and anadromous fish to additional six miles of habitat, an area not accessible to them since 1929. Within the few short months since the dam's modifications, Natural Resources and Fisheries staff have already seen Coho and Steelhead return in the area above the dam and anticipate Chinook will return in the upcoming season.
"Creating passage for fish past the 1930's era diversion dam was a significant endeavor, but the best part is the fish are already taking advantage of this new opportunity," said PUD Natural Resources Manager Keith Binkley. "These actions, as well as others on the horizon, are indicative of the substantial and collaborative effort by those of us who know and care about this river system."
Earlier this year, the PUD's Diversion Dam Project received the National Hydropower Association's "Outstanding Stewards of American's Waters Award" in the category of "Recreational, Historical, & Environmental Enhancement."
For more information on the PUD Fish Passage Project and several other projects taking place in the Jackson Hydroelectric Powerhouse house area please visit www.snopud.com/jhp