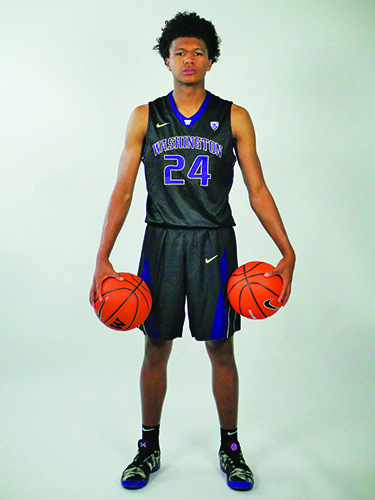 By Micheal Rios, Tulalip News
Seventeen-year-old RaeQuan Battle's basketball journey is filled with tales of amazing athleticism, skyrocketing potential, and a relentless determination to get buckets. The teenage Tulalip tribal member has gone from rez ball regular to Marysville-Pilchuck stand out to a four-star prospect committed to play at the University of Washington.  
"Basketball is in my blood. Without it I don't know where I'd be," explains RaeQuan of the sport that has come to define his past, present and future. "Everyone in my family has played. Basketball has given me the opportunity to travel the country and, hopefully in the future, it'll allow me to travel the world."
In his junior year at Marysville-Pilchuck High School, RaeQuan dazzled opposing coaches and college scouts everywhere as he averaged 21.4 points and 8.0 rebounds per game. He was instrumental in guiding the Tomahawks to a 19-5 record, their first District title in over two decades, and a memorable trip to the Class 3A state regionals last winter.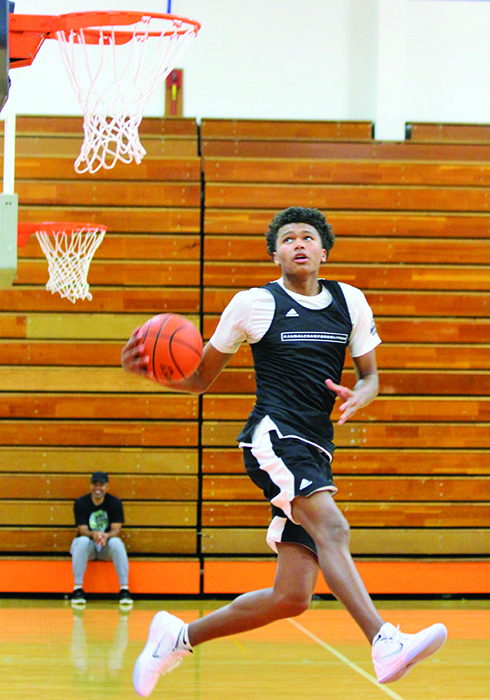 Following his career year at M.P., the University of Washington's recruiting team was again at his door with scholarship in hand. They convinced the 6-foot-5, 200 pound RaeQuan he'd be a perfect fit in the up-tempo style that features outstanding guard play. Plus, the idea of staying in state to remain close to his family and reservation was a huge perk.
"Being able to play the game I love at my dream school is amazing," says the future Husky. "I was super excited to receive the offer, especially since the University of Washington had been with me since my sophomore year. They never switched up, they believed in me the whole way, and I really appreciate the coaching staff for that."
Over the last several seasons, RaeQuan has continued to work on his basketball skills while playing on the national AAU circuit. He's traveled the country playing for Seattle Rotary, a high-profiled team that competes as part of the Nike Elite Youth Basketball League. With his height advantage and skill set both growing, so has his profile. Per ESPN's composite rankings, he is listed as a four-star prospect and the No. 4 overall player in the state of Washington.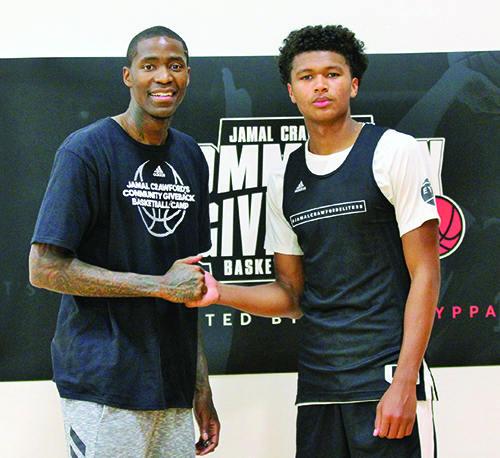 The national attention has garnered him invite after invite to national tournaments and high profile basketball camps, where he can showcase his talents against the best high schoolers around. Such was the case during Labor Day weekend, when RaeQuan was invited by Jamal Crawford, NBA player and Seattle hoops legend, to participate in his Top 30 camp held at Rainier Beach High School.
"This camp means everything to me because it's all about these kids and giving them perspective that'll come in handy at the collegiate and pro levels," admits eighteen-year NBA veteran Jamal Crawford. "I understand that basketball is everything for these kids. The player development coaches we have assisting are here to further develop skills and give knowledge. We want these kids to keep dreaming and to never cheat the game because I promise them if they truly love the game and give their all to it, the game will be good to them."
During Top 30, RaeQuan not only hooped against some of the best basketball players in the state, but received important advice and training tips from several current NBA players who've come out of the greater Seattle area, such as Jamal, Isaiah Thomas, Nate Robinson, and Zach LaVine. 
"The group of high school players I competed against here, everyone had the mentality to just compete and play their best every scrimmage, every drill," reflects the high-flying RaeQuan, who had a number of acrobatic dunks during the three-day camp. "I learned a lot from Jamal and Isaiah, too. They both emphasized just how hard you have to work, how you have to separate yourself all the time because you can be replaced at any moment. I will take these lessons and apply them to my own game for the remainder of high school, college, and the rest of my life."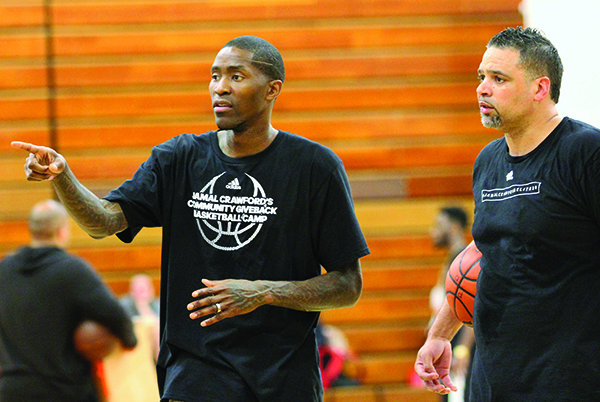 The combination of height, athleticism and scoring touch that has come to define RaeQuan's game stood out, even in a gym full of Washington's Top 30 high schoolers. Lead trainer and former men's basketball coach at Evergreen State College, Arvin Mosley, points out "RaeQuan's obviously explosive, but his ability to shoot the ball is what separates him. Yeah, he's athletic and can dunk, but at the next level his shooting touch and range will prove even more valuable."
Now, the high school senior looks forward to wrapping up his career at Marysville-Pilchuck and dreams of graduating with a state championship. With his Division 1 collegiate playing days only months away, RaeQuan will continue to sharpen his skills on and off the court in order to be a foundational player for the Dawgs of U.W. In his own words, "It's all up from here."