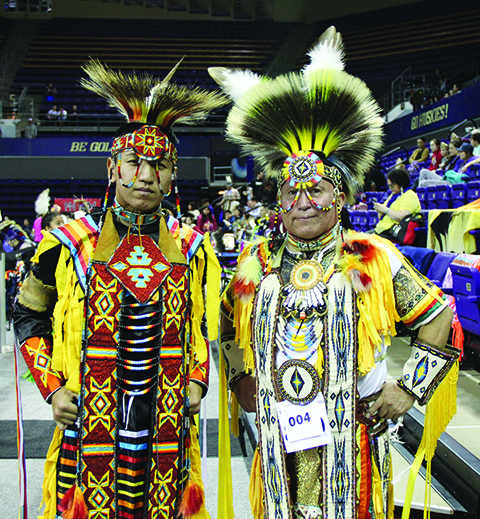 By Micheal Rios, Tulalip News
Tribal families from all over the Coastal Pacific Northwest gathered on Saturday, April 8 to partake in the Grand Entry that marked the beginning of the University of Washington's 46th annual Spring PowWow. The yearly UW powwow is hosted by the First Nations @ UW student organization and takes place at Alaska Airlines Arena at Hec Ed Pavilion.
The purpose of the annual Spring PowWow is to preserve the customs and traditions of the University of Washington Native American community and to promote cultural education and diversity on campus. The powwow is the largest student-run event on campus, attracting over 5,000 people expected to attend throughout the weekend every year.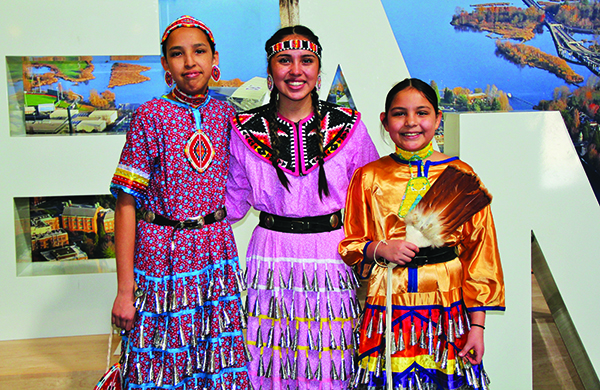 First Nations @ UW is run by both undergraduate and graduate students of Native and non-Native descent. They hold weekly meetings for Native students to socialize, eat food, and plan events. The First Nations organization often partners up with other Native establishments on campus for field trips and cultural educational activities.
When it comes to cultural activities it doesn't get any bigger than the coming together of Natives from all across Indian Country to celebrate heritage and pride in the form of a powwow. The indigenous mentality was clearly on display through the traditional regalia, songs, dances, and heartfelt words shared by all those involved.
"It's just not something you see every day, all these Native people coming together as a community," said Lyndsey Brollini, a member of the UW student group First Nations and a Haida native. "Powwows have become kind of a pan-Native thing instead of just one tribe."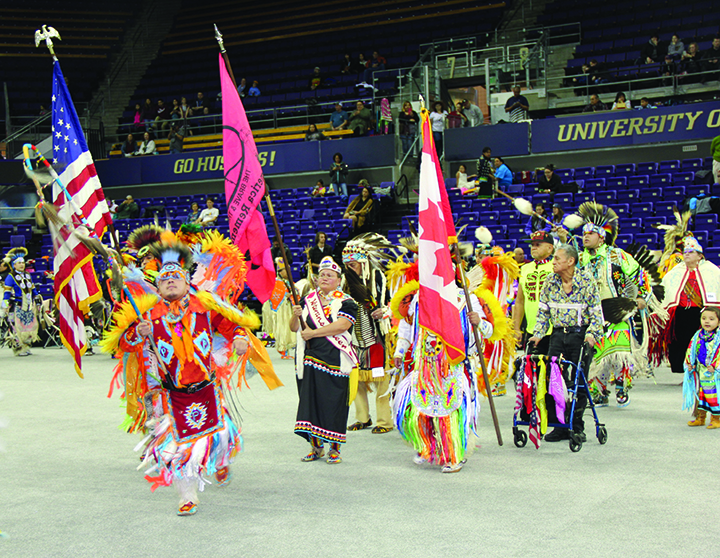 Over a dozen Northwestern tribes were represented at the powwow, including the Yakima, Spokane, Quinault, Tulalip and Skokomish Nations. Among this year's Spring PowWow participants were several Tulalip tribal members (e.g. Myrna Redleaf, Terrell Jack and Jobey Williams) who represented their tribe and heritage proudly on the main stage during the Grand Entry.
The Spring PowWow is a competitive powwow, meaning it includes dance contests according to age (junior, teen, adult, 50 and up) and style. The dancers specialized in a variety of styles: grass, cloth, jingle, fancy, chicken, their regalia reflecting the style. Dancers compete for monetary prizes.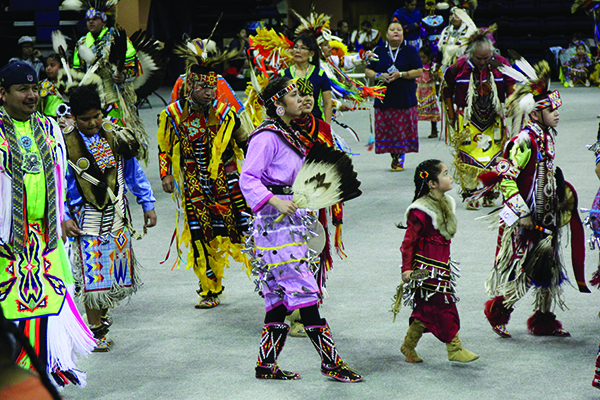 Grand Entry not only opens the powwow, but allows the dancers to showcase their ceremonial regalia for all the spectators in attendance. The MCs announced the Grand Entry in an upbeat, enthusiastic voice, while dancers entered in a line, led by veterans bearing the U.S. and Canadian flags. The arena was filled with Native American dancers of all ages, representing a multitude of styles and regalia. The stage was awash with color and movement, glittering gold and silver, the earth tones of leather and feathers, and all manner of bright colors.