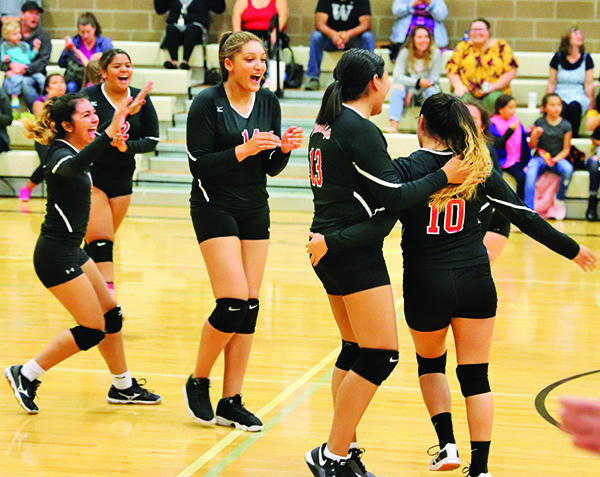 By Micheal Rios, Tulalip News 
After opening the volleyball season with a subdued 0-3 record, the Tulalip Heritage Lady Hawks were anything but disappointed. They understood that this year's squad was full of new faces that required a few games, a lot of practices, and some line-up tinkering before success would be found the court. 
Behind the scenes, the new look Lady Hawks were working diligently to craft a team identity; one that each player was able to participate in and be proud of even when working through an early season rough patch. With seven underclassman on the team, it was important for the junior and senior girls to lead by example and remain uplifting whenever possible. 
"We've really been stressing the importance of communicating on the court at all times, never giving up on a play, and always fighting hard," said team captain Deachae Jones.
"We're coming together and realizing what everyone's strengths and weakness are so that we're in the best position to help our teammates," added co-captain Krislyn Parks. "We've definitely grown as a team. Everything is starting to fit together."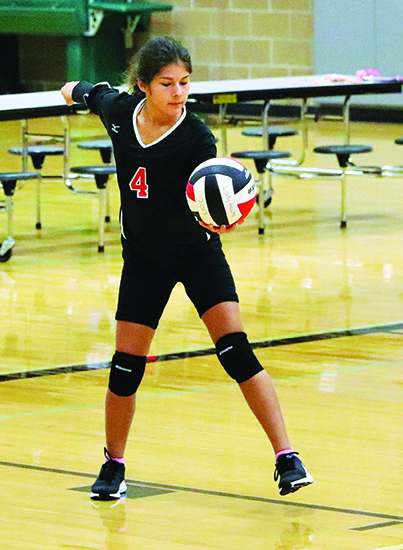 Playing for one another and keeping high spirits allows the new faces to find a comfort zone. As the team identity forms, so does the contributions of each Lady Hawk player. 
Tulalip displayed their new team identity on September 19 when they played Cedar Park Christian. The Lady Hawks would win their first match of the season in convincing fashion. They won in three straight sets. Then they kept the momentum going when they took on Skykomish days later in another straight set victory. 
With back-to-back wins under their belt the girls felt really good going into a matchup with the undefeated Lopez Lobos. Tulalip got humbled by Lopez in straight sets, but took the loss in stride. They were eager to get back to practice and work on the holes in their game Lopez was able to exploit. 
After a few practices the Lady Hawks (2-3) hosted the Knights of Arlington Christian (0-4) at Francy J. Sheldon gymnasium. Plenty of fans came out to cheer on the home team.
In the opening set, the score was tied 4-4 when Deachae and Martie McLean showcased their service games by combining for one ace after another. They served their team to a comfortable 18-5 lead. The Lady Hawks went on to take the first set 25-8.
The second set saw Tulalip run out to an 8-1 lead before the Knights battled back to tie the score at 9-9. With the home crown getting lively and the bench players cheering them on, the Lady Hawks settled into their game and took control. They went up 21-13, before a mass substitution to get the bench players some reps, and closed it out 25-21.
Coach Tina Brown left the bench players in to start the third set. The back-ups played well and were consistently cheered on by the starters in between points. Tulalip trailed 17-20 when the starters were put back into the game and quickly dispatched the Knights 26-24, winning the match in straight sets.
"Our new rotation is working well, but most importantly this group of girls has taken it upon themselves to pump each other up and really focus on teamwork," said Coach Tina. "Even  in the games we've lost, you would think we are winning by how the girls cheer each other on. Their sportsmanship and teamwork is the best I've seen."
Having won three of their past four matches, the Lady Hawks (3-4) hit the road to play at Grace Academy and at Muckleshoot before returning home to play Providence Classical Christian on Monday, October 8.