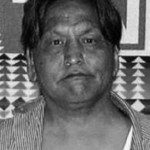 Clinton "Bodie" Kevin Sam was born February 6, 1962 in Everett, Wash. to William E. Sam Sr. and Carole B Allen. He went to be with his heavenly father December 15, 2012
He is survived by his wife, Maureen Fryberg; daughter, Carole M. Allen; sisters, Wanda (Ray) Sam, Augusta (Archie) Lobehan, Jessica (Joe) Myers, Angela Sam and Loreen Barr; brothers, Stacey (Sherina) Sam, William Sam Jr., and Anthony Sam; step siblings, Donald Allen Jr., Nick Allen, Emma Allen; grandchildren, Virginia Allen, Malikai Allen, Jayson Sanchez, Aunt Jo (Walt) Landert.
Bodie liked taking long walks around Tulalip and Muckleshoot Reservations. He enjoyed going to the casino to play the machines. Bodie enjoyed going fishing and woodcutting or taking long car rides. He enjoyed the company of his nephews and nieces.
He is preceded in death by his parents, William Sam Sr. and Carole B. Allen; step dad, Donald G. Allen; and children, Anita Maurice and Clinton Fryberg.
Visitation was held Tuesday, December 18, 2012, at Schaefer-Shipman Funeral Home; an Interfaith Service followed at the Tulalip Tribal Gym. Funeral Service was held Wednesday at 9 a.m. at the Tulalip Tribal Gym with burial following at Mission Beach Cemetery.
Arrangements entrusted to Schaefer-Shipman Funeral Home.