By Kalvin Valdillez, Tulalip News 
"When you think about the heart and soul of Washington, what we do is we get better," stated Washington State Governor, Jay Inslee. "We build better jets every couple years, we build better software every couple years. Isn't it a joy to know that hundreds of Washingtonians are going to get better because of the Smokey Point Behavioral Hospital? What a joy to celebrate that effort and to know that these folks are going to get better."
Hundreds of Snohomish County community members recently celebrated the grand opening of the new 70,000 square-foot behavioral hospital on July 13. The 115-bed psychiatric and addiction center will provide both inpatient and outpatient care for children, teens, adults as well as elders; and will offer specialized programs for the youth, women and veterans of the community who are in need of mental health care. Operated by US HealthVest, a behavioral healthcare company that runs multiple behavioral hospitals nationwide, the Smokey Point Behavioral Hospital aims to provide care to individuals suffering with mental disorders as well as to those battling drug addictions.
"This facility fulfills an incredible need in the state of Washington," Governor Inslee continued. "We have not had the capacity, not even close to the capacity, to provide for the mental health of our citizens and this plugs an enormous gap in this community. The effort of this company to work with others including the Tulalip Nation, who I understand has a contract with this facility, what a beautiful partnership."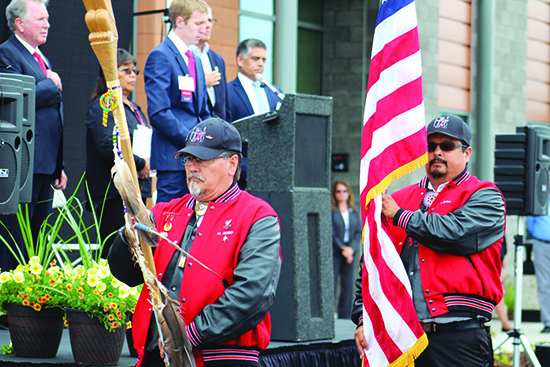 The behavioral hospital is working with local tribes to offer culture-based healing for the Native American community. The hospital also features Native American artwork and incorporates traditional teachings for tribal members receiving care.
"I want to offer my congratulations on behalf of our elders, our youth and community at large for building a facility that was a need like twenty years ago," expressed Tulalip Tribes Chairwoman, Marie Zackuse. "I want to thank Dr. Richard Kresch and US HealthVest for the work they have done these past five years, to build and now manage this facility. Your staff has worked with ours, and the Tulalip Tribes look forward to a strong and supportive relationship."
"Thank you to Misty Napeahi, our Tulalip Tribes General Manager, for helping build a relationship between our Tribe and the Smokey Point Behavioral Hospital, it will help ensure Tulalip tribal members and other Native Americans in this area have access to the care they need," said Marie.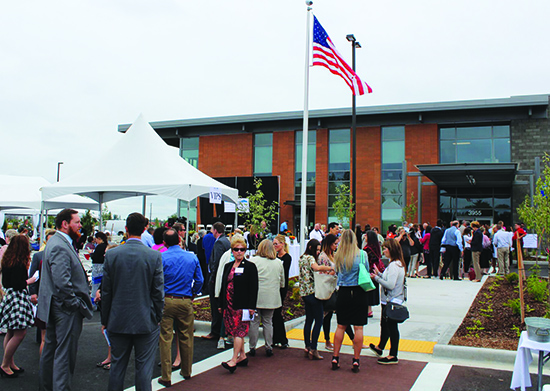 Community members had the opportunity to tour the two-story facility during the grand opening celebration. The hospital features a recreational room with board games, coloring books and fitness equipment such as yoga mats and stability balls. The hospital also utilizes uplifting colors throughout the building and each patient room is free of any sharp edges and hooks, creating a safe environment for patients to grow and heal.
"We have been talking a lot recently about healthy communities," Marie stated. "Working together as community partners to identify the needs of our people was a critical first step. The essential services in acute behavioral health care and addiction treatment are necessary if we want to heal our communities. Again, I just lift my hands to each and every one of you who helped this dream come alive."
For further information, please contact the Smokey Point Behavioral Hospital at (844) 202-5555 or visit their website www.SmokeyPointBehavioralHospital.com