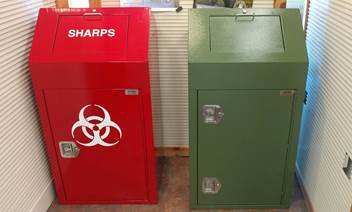 By Kelvin Lee, Tulalip Clinical Pharmacy, Pharmacy Director
I am pleased to announce the new Expired/Unused Drugs and Sharps disposal services at the Tulalip Clinical Pharmacy.  We installed two secured aluminum kiosks inside the pharmacy consultation area to take unused/expired drugs and used sharps from our patients at no charge ($5 disposal fee for non-customers).  We hope the new service  will help remove these hazardous items from your homes and prevent unnecessary accidents from happening.
Patients who wish to use this service please ask for assistance at the pharmacy counter before putting any disposal items into the kiosks.   To ensure proper disposal, we appreciate your cooperation in adhering to the following policies:
Expired/unused drug disposal kiosk
Acceptable disposal items:
unused or expired prescription medications (including controlled substances)
over-the counter medications
pet medications
Unacceptable disposal items:
Illegal drugs
Inhalers
Lotions/liquids
Aerosol Cans
Needles
Hydrogen Peroxide
All drugs must be in their original containers/vials.  Loose pills cannot be put into the kiosk.
Sharps return kiosk
All sharps must be disposed in an approved sharps container that can fit into the chute opening of the kiosk (8" X 14.25" X 11"), approx. 8.2 Quarts.    Tulalip Clinical Pharmacy will not accept loose sharps, unapproved or oversized sharps containers.