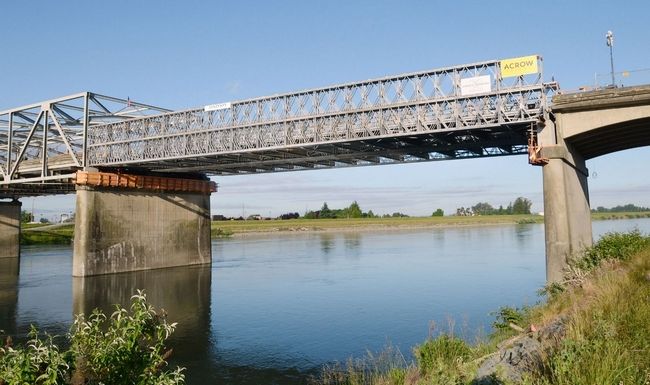 Jerry Cornfield, The Herald
MOUNT VERNON — The Skagit River bridge on I-5 is slated to reopen Wednesday with slower speeds for vehicles and a ban on trucks hauling excessively large cargo like the one which caused it to crumble into the water.
A temporary four-lane span will open without fanfare just shy of a month after a semi-truck carrying an oversized load struck several of the bridge's overhead trusses, causing a 160-foot section to fall into the river.
Two vehicles went into the water but the three people traveling in them survived the harrowing May 23 incident.
Gov. Jay Inslee visited the site Tuesday as workers paved and prepared to stripe the roadway, a major artery for commuters and commerce that carries an average of 71,000 vehicles a day.
There will be some new rules when the bridge reopens.
The maximum speed will be 40 miles per hour, down from the 60 mph limit in effect before the collapse. That's because each of the four temporary lanes will be 11 feet wide, which is about a foot narrower than those on the section that fell into the water.
Nearly all cars, commercial vehicles and big rigs carrying legal loads allowed on the bridge before will be able to use it again, transportation officials said.
There will be a barrier between north and south traffic, but it will be made of steel trusses instead of the concrete that separates traffic on the rest of the bridge.
What won't be allowed are trucks that require a special permit to travel on state highways because they exceed legal rules for height, width, weight or length, said Travis Phelps, a Washington Department of Transportation spokesman.
"If you're getting a permit to drive on the highway, you won't be going over this bridge. You'll be using the detour routes," he said.