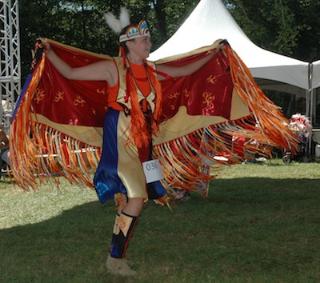 Kirk Boxleitner, Arlington Times
ARLINGTON — As the Stillaguamish Festival of the River and Pow Wow head into their 24th year on Saturday, Aug. 10, and Sunday, Aug. 11, festival coordinator Tamara Neuffer has promised attendees that they'll encounter an entirely different map of the grounds to go along with the event's renewed focus on community education.
"Rather than placing them in separate areas, we've reorganized our layout of educational and vendor booths to mimic the Stillaguamish River and its tributaries," said Neuffer, who also serves as the education and outreach coordinator for the Stillaguamish Tribe of Indians, which presents the festival and pow wow at the River Meadows County Park, located at 20416 Jordan Rd. in Arlington. "By simulating a journey down the river, we hope to give people a sense of why it's important to protect this watershed. We're really stepping up our game to be more interactive and find better ways of reaching out."
To further engage festival-goers in the event's educational mission, Neuffer hopes to incentivize it through "passports" that require attendees to receive stamps from each educational booth before they can become eligible for raffle prizes.
"We've also increased the size of our kids' zone, which is now called the 'Fun Zone' and sponsored by the Community Health Plan of Washington," Neuffer said. "We're teaching kids to get outdoors by showing them all the fun things they can do. We've really beefed up the activities for kids and adults alike to make this even more of a family friendly event."
Neuffer believes that visitors to this year's pow wow will likewise find it even more inviting than before.
"This year, we'll have the Yellow Bird Dancers doing hoop-dancing, as well as a Hispanic dance troupe," Neuffer said. "We've installed a roof with lights over the pow wow area, and we've even put bleacher seating in the back. I think some people might not have been sure if they were welcome at the pow wows, so hopefully, these steps will make them less tentative about being spectators to that event."
Just as the festival's stated mission is to aid people who live and work in the surrounding region in understanding how their actions can help make their environment healthier for people, fish and other wildlife, so too does Neuffer see the potential of the festival and its pow wow to promote cultural awareness and outreach efforts.
"Our musical lineup is what brings a lot of people in, which allows us to educate a lot of people at one time," Neuffer said, touting the two stages of performers that will be running concurrently on both days. "We want to make learning about the environment and cultural communities fun for them."
The gates to the River Meadows County Park open at 10 a.m. on both days of the Stillaguamish Festival of the River and Pow Wow. While admission to the event is free, parking is $5 per car until 4 p.m., after which it becomes $10. For more information, log onto http://festivaloftheriver.com.