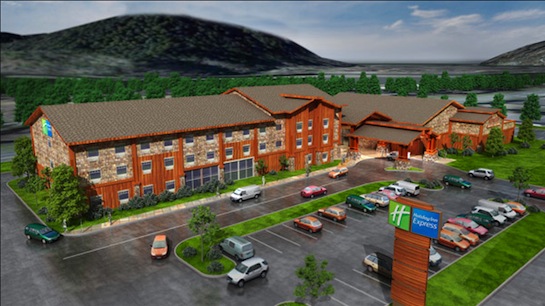 April 9, 2014 Indianz.com
The Yurok Tribe is nearly finished with construction of a casino and hotel in the Redwoods of California.
The tribe broke ground on the $15 million Redwood Hotel Casino last fall. The facility will feature a casino with 125 slot machines and a Holiday Inn Express with 60 rooms.
The casino will be the only one of its kind in the Redwood National and State Parks system. It's part of the tribe's $25 million campaign to boost the local economy — other projects include a visitor center and amphitheater across the street from the gaming facility and a village that will showcase traditional culture.
"We hope by investing in the town's infrastructure and facilities we can help existing local businesses and attract new ones to our area," Chairman Thomas P. O'Rourke Sr. said in a press release. "This will create long‐term prosperity for all."
Also Today:
Press Release: Table Trac, Inc. Signs Contract to Supply Casino Management System to the Yurok Tribe's New Redwood Hotel Casino in Northern California (Table Trac 4/9)
Related Stories:
Yurok Tribe hosts ceremonial groundbreaking for first casino (04/26)