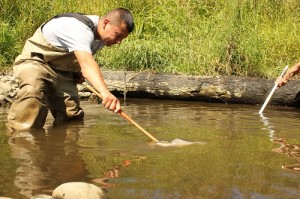 Source: Northwest Indian Fisheries Commission
This summer, the Nisqually Tribe, the Nisqually Land Trust and the South Puget Sound Salmon Enhancement Group are tacking on another 1.5 miles of restored habitat to Ohop Creek.
"In this stretch of creek, salmon aren't really given much space to feed or hide," said David Troutt, natural resources director for the tribe. "We'll be restoring the creek back to a natural shape and giving the salmon the habitat they need to survive."
Over a century ago farmers turned the creek into a straight-flowing ditch in an attempt to dry out the valley floor and create cattle pasture. However, deep clay deposits in the soil continued to hold water year round, and despite the failed effort to completely dry the valley the stream remained channelized.
"It went from a shallow, meandering stream that was very good for salmon to a straight ditch," Troutt said.
The Ohop Creek restoration will include digging an entirely new channel as well as adding other features, such as logjams and deep pools, that will provide habitat for salmon.
Salmon habitat restoration on the creek began in 2009 with a repaired one-mile channel just upstream of the new site. That channel was constructed to restore a sinuous stream that connected to its floodplain. The floodplain, now replanted with native vegetation, re-creates 80 acres of healthy riparian habitat that controls water temperatures and stabilizes the stream banks.
The project partners have already documented the progress of the upstream restoration. "We've seen a lot of changes, down to the types of birds that visit the site," Troutt said. Early results include increased use by salmon and the return of wildlife species, such as elk, that had not been seen in the valley for decades.
Ohop Creek is one of two major tributaries to the Nisqually River that can support chinook salmon and steelhead, both of which are listed as threatened under the federal Endangered Species Act. "Because there are only a few places other than the mainstem of the Nisqually River where they can spawn, increasing the quality of habitat in those places is important," Troutt said. Ohop Creek also supports coho and pink salmon and cutthroat trout.
"Throughout Puget Sound, we're seeing available salmon habitat continue to disappear, despite millions of dollars spent to restore and protect it," Troutt said. "There is no larger threat to treaty rights than lost salmon habitat. Projects like this are a small step to reversing that trend."