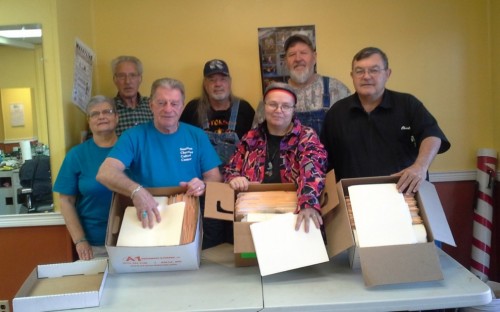 The Rolla Southern Cherokee have spent the past 15 years preparing an application for tribal status
By Casey Bischel, AlJazeera America
ROLLA, Missouri — The paperwork for Southern Cherokee's application to become a federally recognized Native American tribe weighed 79 pounds. Members divided the forms into three boxes, posed for a picture, and shipped them to Washington for $105, plus $12.90 for a signature upon delivery. More materials, 26 boxes of genealogies and family trees, will soon follow.
"It's going to open some eyes," said Steve Matthews, the group's leader.
Fifteen years ago, members of the Southern Cherokee Indian Tribe — the group's official name — began researching their ancestry and heritage. Finally, after years of compiling materials, in early May of this year, the group's 484 members reached the end of the first step of the tribal recognition process.
Also called the acknowledgment process, it determines who is or isn't a Native American tribe in the eyes of the federal government. Being granted tribal status gives a group access to federal funds, to the legal processes to obtain land and water rights, to tribal sovereignty, or self-governance, and to the right to define what indigenousness means.
Although there is no universally agreed-upon opinion about federal recognition, benefits do include an immediate financial infusion. Through the Bureau of Indian Affairs, the New Tribes Program gives tribes with fewer than 1,700 members $160,000 a year for a period of three years.
If the Southern Cherokee receive federal aid, Matthews said, they would use it to address health problems within the community, and to fund heritage preservation and education. But unless they are federally recognized, they'll never see a dime — and even under new regulations, which went into effect on June 29, it could take years before that happens.
In Missouri, there are nearly 30,000 American Indian and Alaska Natives, according to the 2010 Census. Although some belong to federal and state-recognized tribes, none of these groups are legally headquartered in Missouri. If their paperwork is approved, the Southern Cherokee Indian Tribe could become the first one. The only question is whether their story will stand up to scrutiny.
Hiding History
Traces of Missouri's first peoples are scattered throughout the state. Osage Beach, a town on Lake of the Ozarks, was named after the Osage Indians before they were edged into Oklahoma. Chillicothe, a 10,000-person town in northwest Missouri now perhaps more famous as the home of sliced bread, was named after the Shawnee, who had their own "chillicothe," or big town, nearby. The name of the state itself is indebted to the Missouria Indians.
Many Native groups fear fading away without federal support, but the Rolla group has held on for decades without it. Fearing persecution from the state and the bigger Cherokee Nation of Oklahoma, with whom it has long-standing disagreements, the group's ancestors would meet in secret in one another's homes, Matthews said. Charles Wilcox, a barber and Southern Cherokee member, said that when he was young, his mother would tell him and his siblings to hide whenever someone came to the house unexpectedly. When he would ask her how much Indian heritage he and his siblings had, she would always respond, "just a little," Wilcox said. "And she was a full-blood."
When Wilcox and Matthews' generation decided to take up the cause of recognition, their parents didn't like it. Some were wary that just being a member of a tribe might mean that they would all be relocated to Oklahoma.
Guidelines and reform
The majority of the 566 tribes officially recognized in the U.S. never had to go through the recognition process. Their origins were established long ago via policy decisions, lawsuits and treaties with the government. Those who have gone through the process have often found it, as the Southern Cherokee do, monumental, overwhelming and expensive.
From 1978, when the Bureau of Indian Affairs implemented its previous standard, to this year, when the new system was put into place, there were 316 petitioners. Only 51 managed to complete the application, and just 17 were "acknowledged as an Indian tribe within the meaning of Federal law." The other 34 were denied. Even tribes with documented historical lineages have taken decades to be acknowledged: The Mashpee Wampanoag, who greeted the Pilgrims in Massachusetts in 1620, waited 29 years before they were federally recognized in 2007.
The new guidelines will make it easier to obtain recognition. Under the revised criteria, only 80 percent of a group's members have to be descendants of a historical tribe (instead of 100 percent); and only 30 percent need to maintain an active community (instead of a "predominant portion"). Tribes that have already been rejected won't be able to re-petition. Luckily for the Southern Cherokee, the new standards will not force groups currently in the middle of the process to start over.
Not everyone is pleased about the reforms. Some politicians fear incursion from the casino industry if more petitioners are acknowledged. Then there are financial limitations: the more tribes there are, the less the federal government can assist each one. Recognized tribes also worry about diluting tribal sovereignty and the meaning of being Native. Principal Chief Bill John Baker of the Cherokee Nation of Oklahoma, for example, worries that groups with "loose citizenship requirements" might have an easier time becoming tribes. Baker, like many tribal leaders, fears imposter groups may undermine the power and legitimacy of recognized tribes.
In evaluating candidates, the BIA uses a three-person team that includes a historian, a genealogist and an anthropologist. To be recognized, a group must satisfy seven mandatory criteria, including the tricky stipulation that petitioners show they have maintained community and political authority since 1900 to the present. For this reason, approving the Southern Cherokee in Rolla may be difficult. There are three other "Southern Cherokee" petitioners in different states, and the BIA frowns on what it calls "splinter groups."
Differences between the Cherokee Nation of Oklahoma and the Southern Cherokee, for example, are reflected in the records they use to evaluate members — preferring certain records over others means privileging a specific interpretation of the past. For Cherokee Nation, the Dawes Rolls, which were kept from 1898 to 1914, are the most important. Signing the Rolls was necessary to receive a land allotment during a period when the federal government was attempting to break up reservations. Members of the Southern Cherokee, Matthews is proud to say, never joined the 101,000 Dawes signatories. Instead, Southern Cherokee membership is based on the Tompkins Roll, a census of Cherokee living in Oklahoma in 1867, and on the muster rolls of Stand Watie, a Civil War brigadier general who is viewed as one of their founding leaders.
Still, these records don't clarify what makes a tribe and when exactly a new one forms.
For example, several Southern Cherokee groups claim the 1834 Treaty of New Echota, which led to the Trail of Tears, as their founding document.
The treaty was signed by Major Ridge, a minority leader in the Cherokee tribe, amid pressure from the federal government to sell Cherokee land in what is now Northwest Georgia and parts of the southeast. The treaty deeply angered Cherokee Principal Chief John Ross and his followers, who had wanted to sell the land for a better price. This led to deep divisions between the groups, and after both resettled in Oklahoma, members of the Ross Party began to attack the Ridge Party and assassinate some of its leadership. When the Civil War came, Stand Watie, a confidant of Ridge, formed a military regiment and fought for the South, which is where the Southern Cherokee get their name. After the war, Steve Matthews said, some Southern Cherokee families moved to Missouri to escape Ross Party violence.
The complexities of histories like this, and the BIA's reluctance to acknowledge them, are why many Native people are frustrated with what they see as a narrow recognition process. "We're not any better or worse than the federally recognized groups," said Robert Caldwell, a member of the Choctaw-Apache in Ebarb, Louisiana, which has not been officially recognized by the federal government. "We're just different."
Looking ahead
The Rolla Cherokee hold meetings once a month at the Elks Lodge a little south of town. On a cold night last February only one door was unlocked. It opened into a long white hall with a disco ball and a drum set at one end, and a mounted deer head at the other.
They spend a lot of time here reviewing birth and death records to trace individual members' lineages back to their rolls. Other records — from letters to signatures in Bibles — are scrounged from handed-down papers and official repositories. The group's journal, which Steve Matthews kept from 1976 through 2004, will also help establish their history, but the Rolla Cherokee will try to bolster their claims with anything relevant they can find. No one knows if they have enough material.
With the first part of their application finished, raising money to send the other 26 boxes of genealogies and ancestral charts is now the biggest challenge. All that weight is expensive, but they hope to send it in a month or so.
When asked what's driving them, Steve Matthews replied, "We couldn't tell our kids we didn't try."