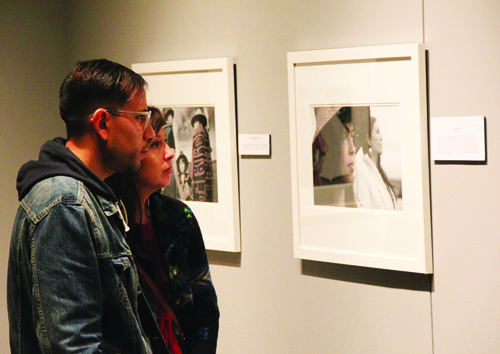 By Micheal Rios, Tulalip News
During the evening of Friday, October 23, the Hibulb Cultural Center and Natural History Preserve held a small, intimate gathering to unveil its latest exhibit, Natural Wanderment: Stewardship. Sovereignty. Sacredness. An exhibition of Native American portraits and stories that honors and seeks to protect ancestral ways of life and lands in North America.
Matika Wilbur, of the Tulalip and Swinomish tribes, presented an extraordinary exhibition of Project 562 portraits of Native Americans devoted to the protection of the sacred and the natural. Project 562 aims to build cultural bridges, abandon stereotypes and renew and inspire our national legacy by documenting people from 562+ Tribal Nations in the United States.
"Project 562 is my offering to you. It is for the people. For each of us. It is with deep respect that I welcome you to my newest collection: Natural Wanderment: Stewardship, Sovereignty, Sacredness," said Matika in a welcome pamphlet to all those who attended the opening night's unveil. "This collection of images is meant to help us understand our relationship with the mother earth."
Matika, one of the Pacific Northwest's leading photographers, has exhibited extensively in regional, national, and international venues such as the Seattle Art Museum, the Burke Museum of Natural History and Culture, The Tacoma Art Museum, the Royal British Columbia Museum of Fine Arts, and the Nantes Museum of Fine Arts in France. Her photographs have been acquired for the permanent collections of the Tacoma Art Museum and the Seattle Art Museum.
"Most of the portraits are accompanied with excerpts from our interviews recorded on the road," stated Matika. "The responses of the featured people provide a special opportunity to bring you closer what we have experienced and come to understand from so many Native Americans in their own lands. These speakers' words allow imagination of identities and realities, history and places that are otherwise difficult if not impossible to experience. It is so important to us that people be able to tell their own stories from their own places."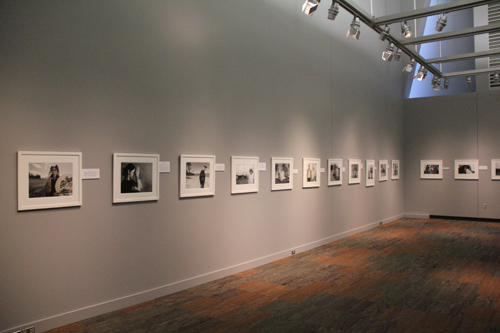 Matika studied photography at the Rocky Mountain School of Photography in Montana and received a bachelor's degree from Brooks Institute of Photography in California. Her work led her to becoming a certified teacher at Tulalip Heritage High School, providing inspiration for the youth of her own indigenous community. She is unique as an artist and social documentarian in Indian Country. The insight, depth, and passion with which she explores the contemporary Native identity and experience are communicated through the impeccable artistry of each of her heartwarming photographs.
"This is just the beginning," Matika concluded. "There are many miles of the journey left to travel, and many, many more stories to share. I offer deepest thanks to my family, the Tulalip Tribes' Hibulb Cultural Center, the Project 562 Team…and other supporters for believing in and helping us continue our work. I am so grateful that you are here; my hands are raised to you!"
Project 562, with intense and widespread attention, will when completed produce a fine arts book series, curricula, documentary, project-derived fashion, and other cutting edge Native American aesthetic material distinct in creativity and quality, origin and insight. To learn more please visit project562.com.
The exhibit unveiling included a gathering at Hibulb's longhouse, opening prayer by Tulalip Board of Director Marie Zackuse, welcoming songs by the Tulalip Canoe Family, and song and dance by Tlingit dance group, the Náakw Dancers,
Following the exhibit preview, Matika took to Facebook to express her overwhelming gratitude for all those who made her evening a special one.
"A great big thank you to the Tulalip Hibulb Cultural Center for hosting a beautiful opening for Project 562 last night! My heart is so full of love and gratitude… A million thanks to our Tulalip leaders, community members, singers and dancers that blessed us with your beautiful words and songs, I could hear your drum beat in my dreams last night! Thank you to my incredible family and friends for your unwavering support and uplifting encouragement– it was so good to see so many relatives! I'm overwhelmed with gratitude this morning- thank you for believing in this great big idea to 'change the way we see Native America'. It took so many people to bring it all together, thank you for being a part of it. You make it possible."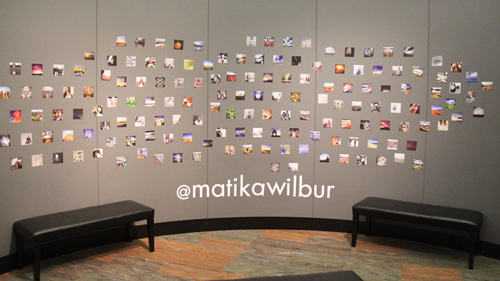 The 42-piece photographic exhibit, Natural Wanderment: Stewardship. Sovereignty. Sacredness, will be on display through June 11, 2016 at the Hibulb Cultural Center and Natural History Preserve.