Submitted by Sydney Gilbert, Forensic Interviewer Tulalip Tribes Child Advocacy Center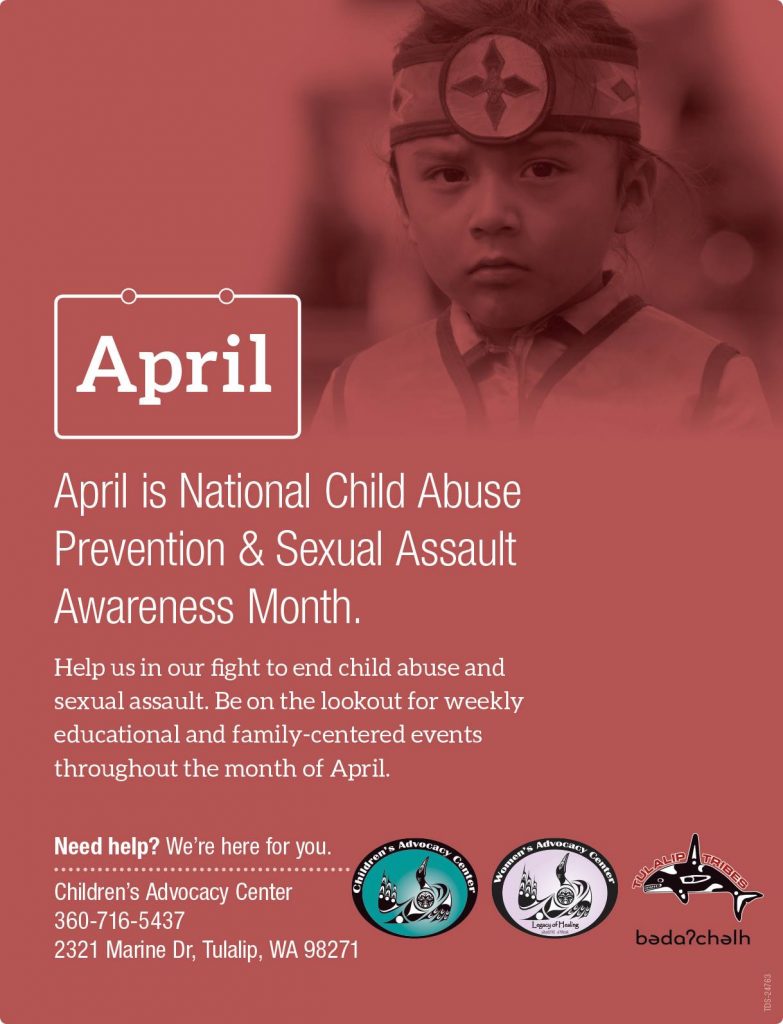 You may have seen our blue and silver pinwheels and our save-the-dates floating around for the month of April, which is both National Child Abuse Prevention Month and Sexual Assault Awareness month. You may be wondering "What is Darkness to Light?" and "Why is it being offered twice in April?' 
This article is to explain the importance of Darkness to Light and to encourage you to attend our free two hour training that teaches the steps necessary to protect our children from childhood sexual abuse. Childhood sexual abuse is a difficult subject to talk about but it is highly likely that you know a child who has been or is being abused. Experts estimate that 1 in 10 children are sexually abused and that over 90% of them know their abuser. 
Child sexual abuse is likely the most prevalent health problem children face with the most serious array of consequences. Sexually abused children are more likely to experience the following, during childhood and throughout their lives: 
Post-Traumatic Stress disorder
Anxiety and Depression
Substance Abuse

 

Aggression, oppositionality, and defiance
Attention Deficit Hyperactivity Disorder
Sexual Promiscuity
HIV and Sexually transmitted diseases
Teen pregnancy and motherhood
Self-inflicted harm
Delinquency
Runaway behavior
Homelessness
Decreased school performance and drop-out
Criminal behavior and violent offenses
Greater healthcare use
Obesity
Diabetes, cancer, heart problems
Stoke and hypertension
Suicide
A child's safety is an adult's job. Children are often taught how to keep themselves safe from sexual abuse-and that's important for them to learn-but it's no substitute for adult responsibility. We make sure children wear seat belts. We walk them across busy streets. We store toxic household cleaners out of reach. Why, then, would we leave the job of preventing child sexual abuse solely to children? 
Our free, two hour trainings will teach you how to prevent, recognize and react responsibly to child sexual abuse. This class isn't just for parents or those who work with children, this class is for anyone who has a child that they care about in their lives.  We will be offering two trainings during the month of April: Tuesday, April 10th from 5:00-7:00pm in admin 162 and Wednesday, April 25th from 5:00-7:00pm in admin 162. These classes are open to any and all adults and food will be provided. 
Please contact Sydney Gilbert at 360-716-4097 or at sgilbert@tulaliptribes-nsn.gov if you would like to reserve a space at one of our April trainings as spots are limited to 25 per class, or if you would like to bring a darkness to light training to your department. 
References: Darkness to Light's Stewards of Children Interactive Workbook. (2013). Charleston, SC